Demi Lovato Reveals The Major Detail That Makes Their New Album Different From Their Last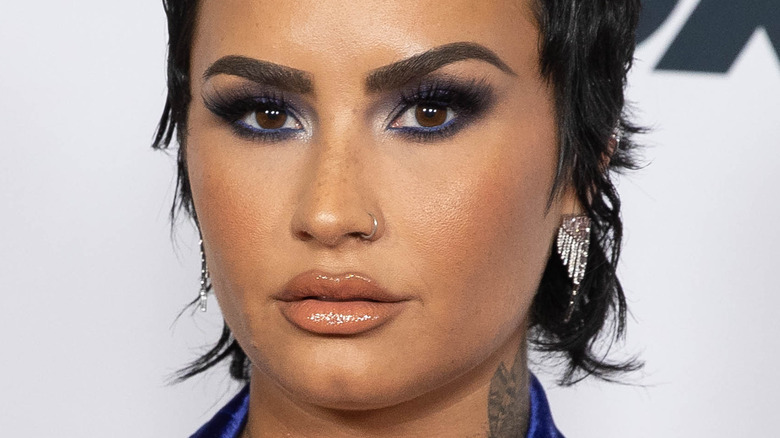 Emma Mcintyre/Getty Images
Pop star Demi Lovato has long been candid with fans about their history of drug addiction. In 2018, Lovato, who identifies as non-binary and uses they/them pronouns, nearly died after suffering an overdose, per TMZ. Just a month earlier, the singer hinted at their struggles by dropping "Sober," which revealed that they had begun using drugs again. Lovato then owned up to their relapse and aimed to educate fans with the release of a YouTube docu-series entitled "Demi Lovato: Dancing with the Devil." In the series trailer, they revealed that despite their close brush with death, they were starting over. "That was ultimately my purpose [for] putting this out, to help people on this path," Lovato said at a CTAM Winter 2021 Press Tour, per IndieWire.
Following their overdose, Lovato attended rehab, but embraced a "California sober" lifestyle as of March 2021, allowing themself to smoke marijuana and enjoy the occasional alcoholic beverage. Their seventh studio album even featured a song called "California Sober," which paid tribute to this lifestyle with lyrics like, "Used to live in fear of always slipping / But living for perfection isn't living." But by December 2021, Billboard reported that Lovato had renounced their "California sober" ways, voicing on Instagram that "sober sober is the only way to be." Now, timed to the release of their new single "Skin of My Teeth," Lovato is reflecting on how this lifestyle change impacted their upcoming album, "Holy Fvck."
Demi Lovato is completely sober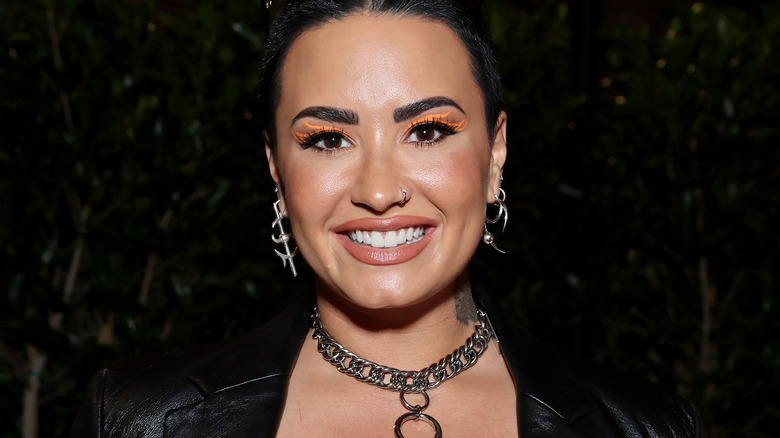 Amy Sussman/Getty Images
While Demi Lovato publicly shared how they were "California sober" during the making of their album "Dancing with the Devil," they took a different approach this time around. Appearing on "The Tonight Show," Lovato explained how in order to make the best album possible, they abstained from drugs and alcohol. "The best way to do that and the easiest way to do something the most authentic is to do it clean and sober. I made this album clean and sober. I can't say that about my last album, but this one, I'm really, really proud about," they said.
Lovato teased a change was ahead on Instagram when they posted a picture in January captioned, "A funeral for my pop music." Clearly, a new musical era was coming, and indeed, "Skin of My Teeth" features a punk sound that fans haven't heard from Lovato in a while. "It's definitely a change of pace for me but I'm also going back to my roots because that's what I started singing when I released my first album and my second album," Lovato told host Jimmy Fallon. 
"I'm alive by the skin of my teeth / I survived but it got harder to breathe," the star sings on the track, showcasing some of their most vulnerable lyrics yet. In a statement (via Variety), they told fans, "Never have I been more sure of myself and my music, and this record speaks that for itself."
If you or anyone you know is struggling with addiction issues, help is available. Visit the Substance Abuse and Mental Health Services Administration website or contact SAMHSA's National Helpline at 1-800-662-HELP (4357).