How Many Times Has Justin Bieber Been Arrested?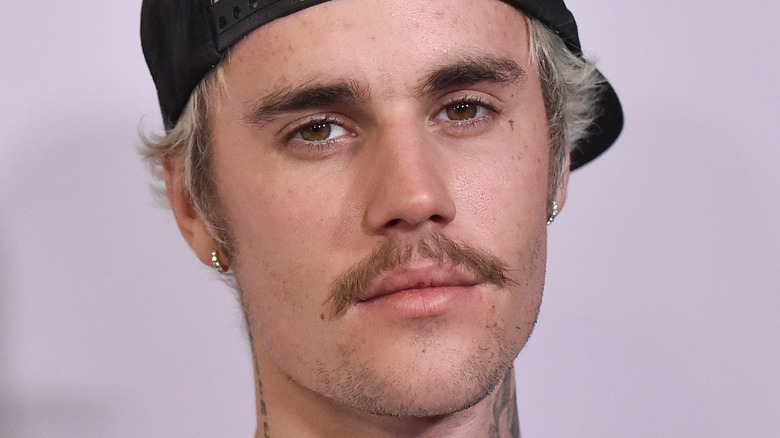 DFree/Shutterstock
Justin Bieber has evolved a lot in his 13-year career. Since breaking onto the music scene in 2009, he's ditched his signature floppy hair and gotten hitched to model Hailey Baldwin. On the surface, it would appear that Bieber has achieved the impossible: He's managed to maintain his fame and fanbase for over a decade. To this day, his popularity hasn't faded.
Still, Bieber's rise to the top hasn't been without its challenges. Like many who grew up in the public eye, the Canadian pop star has had his fair share of scandals and nightmarish headlines. In 2014, fellow celebrity Seth Rogen took to Twitter to declare, "All jokes aside, Justin Bieber is a piece of s***." The hot take got over 150 thousand retweets.
A bad-boy image can be hard to shake. For those who aren't a fan of the artist, the most memorable thing about his career may forever be his mugshot, memorialized by TMZ. But as Bieber returns to the public's good side, it's easy to wonder if reports of his antics were overblown. How many times was he even arrested? 
Bieber's legal trouble began with assault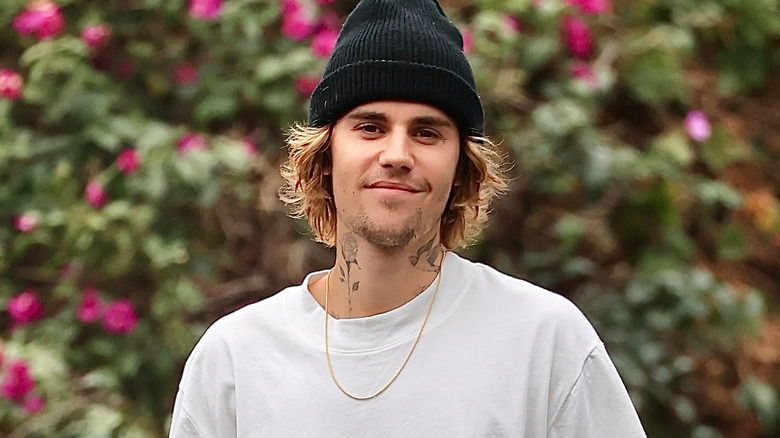 Babak Rachpoot/Shutterstock
Justin Bieber saw increased public scrutiny beginning in 2013, when TMZ leaked photos of the star holding what appeared to be a blunt. Although the singer faced no charges for the incident, this was our first clue that Bieber was beginning to shed his wholesome image.
Fans' fears came true when, later that same year, Bieber had an altercation with a photographer in Argentina. According to TMZ, the paparazzo claimed that Bieber assaulted him in an effort to retrieve his memory card. Just one month later, in his home country of Canada, Bieber again faced allegations of assault. The driver of his limousine claimed that Bieber struck him on the head several times. ABC News reports the charges were dropped, though the driver later filed a lawsuit against the pop star.
Finally, and perhaps most famously, Bieber was caught egging a neighbor's home in California. As NBC News reported, the singer pleaded "no contest" to the 2014 egg attack, paying the victim $80,900 in damages and enrolling in an anger management course.
Bieber was only arrested once
Uri Schanker/Getty Images
Although Justin Bieber's run-ins with the law were constantly landing him in headlines, he didn't land in jail until 2014. Just prior to the egg incident, CNN reported charges against Bieber for "drunken driving, resisting arrest, and driving without a valid license." Police had pulled him over around 4 a.m. while he was street racing. According to The Hollywood Reporter, 19-year-old Bieber was found to have alcohol, marijuana, and Xanax in his system. Seven months after the singer bailed himself out of jail, he reached an agreement with prosecutors and accepted misdemeanor charges. They came with fines, a mandatory charitable contribution, and another anger management course.
It's clear that the Bieber we know and love has come a long way since 2014. He hasn't been arrested since then, and shared mature reflections on the incident in an Instagram post.
It's worth acknowledging that Bieber did narrowly escape a second arrest, however. Remember that assault in Argentina? According to TMZ, the country put a warrant out for Bieber's arrest, effectively forcing him to not return. Although the issue has since been resolved, as TMZ reported in 2018, our thoughts are with the Argentinian Beliebers who went without tour stops for five years.