How Florence Pugh Felt About People Criticizing Her Relationship With Zach Braff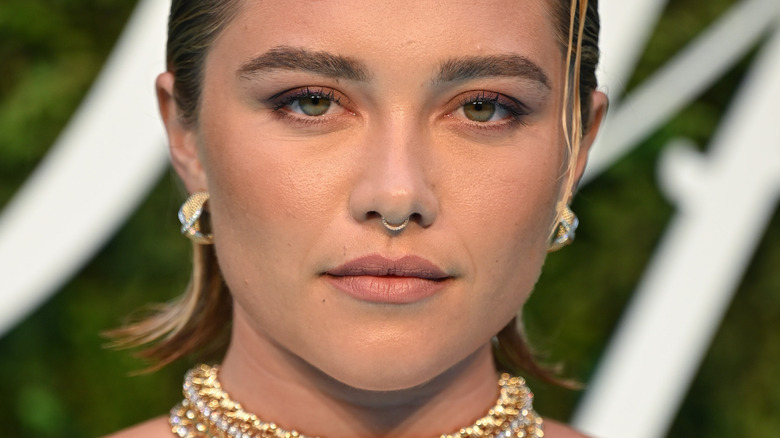 Karwai Tang/Getty Images
Since breaking into the international acting scene in 2019, Florence Pugh has been in a relationship with Zach Braff. The two have been an item at least since the year the British actor made waves for her portrayal of wrestler Paige in "Fighting with My Family", Amy March in "Little Women," and stunning performance in "Midsommar," according  to HuffPost. But Braff was already a fan even before she caught Hollywood's attention. "I watched an incredible film last night that I cannot stop thinking about: 'Lady Macbeth,'" the "Scrubs" alum tweeted in August 2018, referring to the 2016 indie production that earned Pugh a British Independent Film Award. "Florence is a movie star."
While it is unclear when Pugh and Braff met in real life, Pugh starred in Braff's short film "In the Time It Takes to Get There," which came out on YouTube in April 2019. That same month, they were photographed clasping hands in New York, E! News reported. The couple kept their relationship private, though Braff uploaded a few posts here and there that included Pugh among other people.
It wasn't until April 6, 2020, that Pugh made their romance Instagram-official by dedicating a post to Braff's birthday. Almost immediately, she received online hate over it. Why? Pugh and Braff have a 21-year age gap. They may have been together for years, but the two are no strangers to criticism. Pugh has publicly fought it off, but nothing changes how she really feels about it.
Florence Pugh doesn't care to 'please people' with her relationship
Florence Pugh doesn't think the naysayers have constructive criticism embedded in their attacks of her relationship with Zach Braff. "I've always found it funny ... I'm old enough to be an adult and pay taxes, but I'm not old enough to know who I should and should not have sex with," Pugh said on "Sue Perkins: An hour or so with..." in July 2020 (via People). She doesn't think the critics are unaware of the incoherence. It's deliberate, she said. "It's making a young woman feel like s**t for no reason." 
The "Black Widow" star's response came just three months after she uploaded an Instagram video addressing the backlash she received for wishing Braff a happy birthday. "I am 24 years old. I do not need you to tell me who I should and should not love," she said in the April 2020 clip. Braff had just turned 45 then. While Pugh rarely posts about her boyfriend, she disables the comments section when she does. More often, Pugh chooses Instagram Stories for anything romance-related. 
Pugh believes people project their own wishes onto her relationship. "I think it bugs people that it's not who they expected," she told The Sunday Times in July 2021, venturing that the public might have imagined her with someone like Timothée Chalamet. "But it's my life and I'm not doing anything to please people or to make it a better headline or story."
Zach Braff has also defended Florence Pugh
Zach Braff has also opted to keep his relationship mostly away from social media. Like Florence Pugh, he also disabled the comments section when he celebrated her birthday in January 2021 on Instagram. While he is much less vocal about fighting off the haters, Braff praised Pugh for her courage to speak up. "She literally sat down, hit record on her phone and said that," Braff told Mr. Porter magazine in November 2020. "I thought, 'How could I possibly follow anything as intelligent and articulate as that?' So, I chose not to."
Instead of focusing on their relationship, Braff tends to focus on Pugh's attributes. In March, Braff praised Pugh's acting abilities, describing her work in the upcoming "A Good Person" as "the most miraculous thing you will ever see," he told Collider. His admiration for her isn't restricted to this or that role, though. "People say she's maybe the best actress of her generation. I think she's one of the best actresses working," Braff raved.
While Pugh and Braff sparked breakup rumors in May when she was spotted in Ibiza with "Midsommar" co-star Will Poulter, they seem to be still going strong. In Pugh's true style, she took to social media to share her thoughts on the paparazzi's editing choices. "We went to the beach with our friends (who) have been cleverly cut out/framed out so that it looks otherwise," she wrote on her Instagram Stories (via People).