NeNe Leakes Calls Kim Zolciak's Daughter Brielle Biermann 'Racist Trash'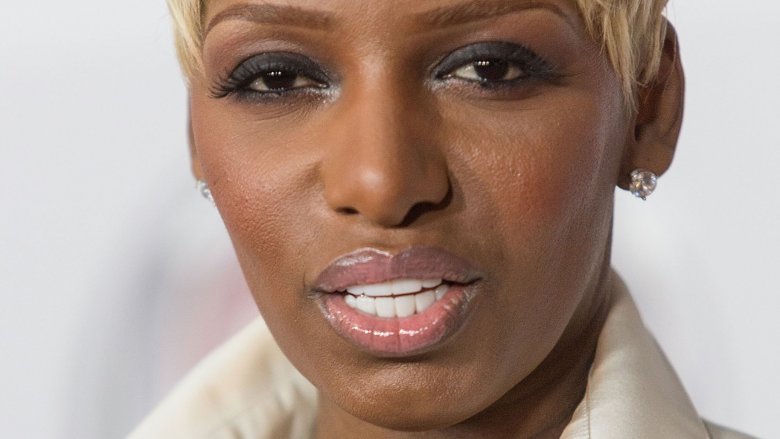 Getty Images
These Real Housewives of Atlanta stars just can't get along.
The drama all started after Kim Zolciak's 20-year-old daughter, Brielle Biermann, took a video at NeNe Leakes' home. In the clip, Biermann crouches close to the floor to pose in front of cabinet mirrors while what appears to be a roach can be seen on the floor. According to E! News, Biermann released the pre-recorded video after hearing that "Nene was talking negatively about Kim" on a recent cast trip.
Leakes, 49, responded to the video on Instagram, first by sharing a selfie and writing, "On the way back to the A, I fell asleep thinking about how imma live in my ROACH infested brand new home."
Then on Thursday, Oct. 5, 2017, Leakes shared Biermann's video on social media. Writing a message directly to Biermann, Leakes said, "We don't have roaches! If you found 1, u brought it with u or it fell outta yo funky p***y!"
"Please know I will get You all the way together when you start f**king wit me and mine! Go somewhere and let the air outta those fake lips, fake t**ties and fake a** because you will never be @kyliejenner," she continued. "Yo trashy mama should have taught you better! My home is Brand New but you guys were so jealous of it, you couldn't even give a compliment. You had to stoop so low and be so disgusting." Leakes added the following hashtag "#racisttrash," among others.
Biermann's mom, Zolciak, later replied to Leakes' messages, posting a text message exchange with her daughter. In a lengthy caption, Zolciak tried to set the record straight (via Page Six). "First off that video is a combination of 2 videos! I COMBINED THEM! Brielle posted the first video on snap unaware of the large bug in front of her when she was kneeling down .. until her DM's blew up! She removed the video immediately!!" the 39-year-old wrote. "I was filming as an INVITED guest at @neneleakes for RHOA!! Brielle was invited as well! Brielle went to the bathroom and saw several bugs and had sent ME the video on snap and NO ONE ELSE!!!"
She added, "We ARE filming a show, remember that, (RHOA) and Nene released this video herself! No one has EVER seen this video but RHOA! Nobody would have ever seen this video!"
Posting a text photo on Instagram, Zolciak wrote, "It's so sad and offensive that someone can stoop so low as to call someone a racist just because they are mad," she wrote. "In a day and age where racism is very much alive and people are actually dying because of real racists, it's heartbreaking that NeNe would cry wolf like this only because she's upset."
In her own text photo, Leakes then claimed that Zolciak was the one who'd release the video, sharing it their Real Housewives co-stars Cynthia Bailey, Shereé Whitfield, Marlo Hampton, Porsha Williams, and Kandi Burruss. Leakes went on to allege that Zolciak, who she called a liar, had never been invited to her home but had come as a plus-one to a party.
Co-star Kenya Moore also threw in her two cents, sharing one of Leakes' Instagram posts and writing, "I totally agree with you about that devil."
Sounds like things are only getting started between Leakes and Zolciak. And given that Zolciak's daughter is involved, their feud could get ugly.
Real Housewives of Atlanta's 10th season premieres on Nov. 5, 2017 at 8 p.m. on Bravo. But fans don't have to wait that long for drama. Zolciak's spinoff Bravo show, Don't Be Tardy, premieres on Oct. 6, 2017 at 8 p.m.
While we wait for the premieres, read up on all the dark secrets that the stars of Real Housewives tried to hide.