Was There Really Drama Between Emma Roberts And Gabourey Sidibe?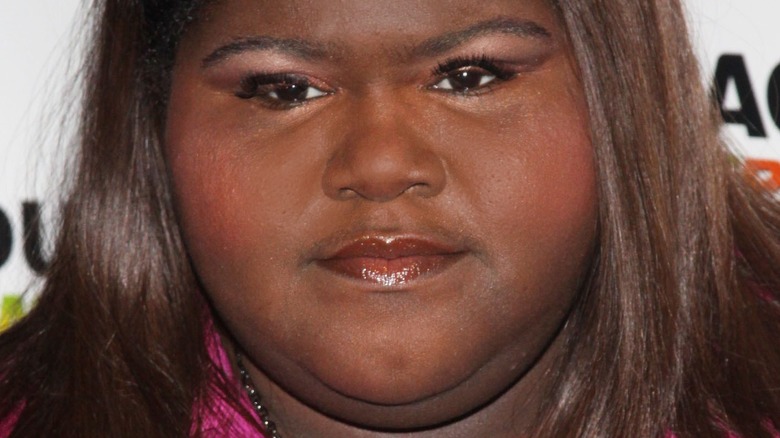 Everett Collection/Shutterstock
What the heck really went on between Emma Roberts and Gabourey Sidibe? You may remember that the duo started starring alongside one another in Season 3 of "American Horror Story," titled "American Horror Story: Coven," with Roberts in the main role of Madison Montgomery and Sidibe popping up in the recurring role of Queenie.
But as is all too common with females on a big name show, it wasn't long until rumors began to swirl that the two supposedly weren't getting along on the set. This gossip all stemmed from Star, who alleged in October 2013 that the two were locked in what the outlet described as a "feud." A witness from the set of Ryan Murphy's FX show dished on the supposed drama, claiming, "Emma complains about the tiniest things and won't speak to crew members. Gabby finally told Emma to cut her attitude and stop being rude." They then claimed Sidibe's supposed call out helped just a little, but Roberts supposedly "still acts like she's above everyone else."
Sidibe has since opened up about her relationship with the "Scream Queens" actor and all those persistent reports of drama. So, what really happened here?
Emma Roberts and Gabourey Sidibe's feud was fake
Sorry to disappoint you, drama fans! But Emma Roberts' feud with Gabourey Sidibe was all made up. Sidibe got very candid about the fabricated story from the gossip magazine in her 2017 memoir, "This Is Just My Face: Try Not to Stare," where she called the whole thing "100% made-up!" She shared four reasons the rumors absolutely could not have been true, writing, "First, Emma is lovely. She's also a nerd. She reads books on set. She always has her nose in a book; I don't see how she would find the time to be mean to anyone. Second, I wouldn't yell at someone in front of people. I've been there and it's embarrassing. Third, there were way more interesting things happening on that set than some dumb cat fight, and fourth, I'm super into minding my own damn business."
But there was a little something good that came out of the fake story. Sidibe revealed that she wanted to quash the rumor so much at the time that it actually inspired her to start a Twitter account, which is where she initially dispelled the rumor. Way back when in November 2013, she tweeted a snap of herself in costume (she wore a black and gold mask and Roberts rocked a bright pink headband), alongside the caption, "What?! @RobertsEmma and I are in a feud?! You sure?" alongside the hashtags "#thatsmyhomegirl" and another urging people not to mess with her friends.
What did Emma Roberts say about the drama?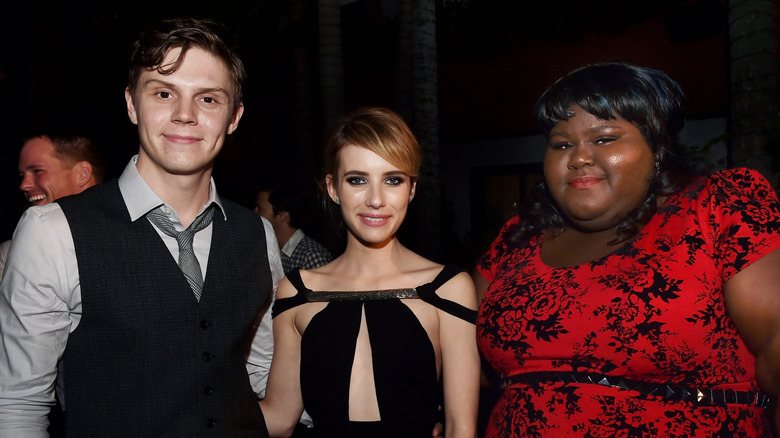 Kevin Winter/Getty Images
Likely so the rumors of a feud with Gabourey Sidibe didn't spread any further than they needed to, Emma Roberts didn't speak too much publicly about the reports — but she did do her bit to make it clear they most certainly hadn't had a falling out. Roberts retweeted Sidibe's photo and caption, adding a red heart emoji.
It seems like the two have remained close too, as both follow each other on Instagram as of June 2022. They've also been spotted together since the drama reports, including posing for a photo alongside Roberts' now ex, Evan Peters, at a premiere screening of "American Horror Story: Freak Show" in October 2014 (which you can check out above), and, of course, appearing on further episodes of "AHS" together, including "American Horror Story: Freak Show." Not only that, but they (sort of) reunited in July 2020 when they joined their co-stars for a very special Zoom meeting to surprise a fan named Codi as part of a Make-A-Wish America experience. So sweet!