The Truth About Patrick Flueger And Marina Squerciati's Relationship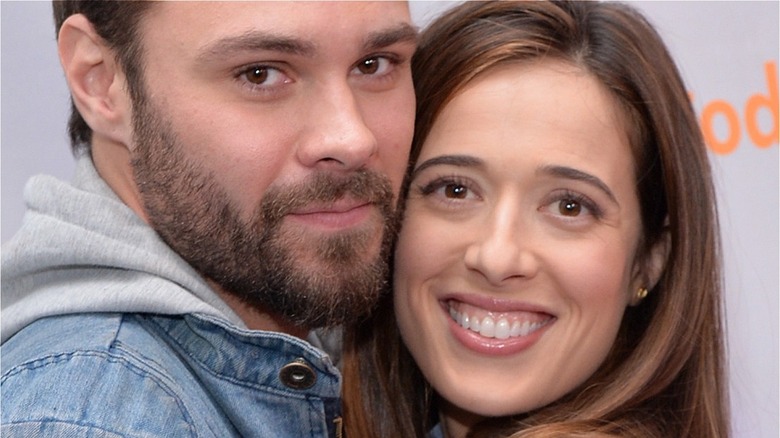 Daniel Boczarski/Getty Images
"Chicago P.D." fans have been shipping Kim Burgess, played by Marina Squerciati, and Adam Ruzek, played by Patrick Flueger, since the very first season of the series. Their on-and-off-again relationship has run the gamut of emotions as viewers saw Burzek going through multiple breakups, an engagement, and even a pregnancy. Now that they are raising adopted daughter Makayla, played by Ramona Edith Williams, it seems as if their relationship has taken on a new dynamic even though they are still not together, per NBC. 
In the final episode of "Chicago P.D." Season 9, Ruzek bought Burgess and Makayla his childhood home. Ruzek spoke to Entertainment Weekly and explained why his character made such a grandiose gesture. "You saw him leave off with the resolve of, 'This is what I want to do, this makes me feel like I'm contributing. Even if you cut me out entirely, at least I know I gave her this thing that was such a positive aspect of my life,'" Flueger revealed. Although Ruzek lost the bid for Makayla to have his last name, he still wants to provide for her in a tangible way. He continued, "I think he meant what he said: He's not trying to move in, he's legitimately trying to provide and put something out there that he thinks would be really good for Makayla as she grows up." While Burzek navigates their co-parenting relationship, Squericati and Flueger have also revealed how they get along when they aren't filming the series.
Patrick Flueger and Marina Squerciati celebrate friendship on social media
Both Patrick Flueger and Marina Squerciati are in relationships with other people. Flueger is dating model Reem Amara and, on occasion, he even gushes about her on social media. At the beginning of June, he raved on Instagram, "You know those laughs that make you laugh even when you don't know what's funny?" alongside a photo of his sweetheart. Meanwhile, Squerciati wed attorney Eli Kay-Oliphant in 2016 and they have a daughter together, per Hello! Even though Flueger and Squerciati's rollercoaster on-screen romance is fraught with difficulties, it seems as if their real-life relationships are smooth-sailing.
This includes their offscreen friendship with each other. Squerciati often posts snaps of her and Flueger having fun. One of the Instagram posts shows Flueger holding Squerciati's foot to a propane heater. The two appeared to be enjoying the heat on a snowy day outside, and Flueger decided to help his colleague out. She wrote, "If your friends don't hold your cold foot up to heater, they aren't your friends." She also posed with the actor on his birthday. They squatted side-by-side next to a cake adorned with frosting and lit candles. Squerciati penned, "Happy birthday, Paddy cakes." She included the hashtags #patrina and #friendship. In a third Instagram share, Squerciati posted a selfie of herself and Flueger in a car, with the latter seemingly singing his heart out. "This guy makes me laugh," she said.
Marina Squerciati and Patrick Flueger are work buddies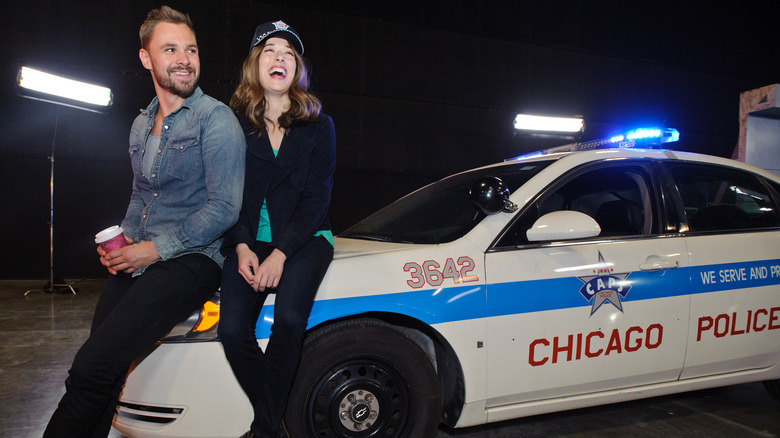 Timothy Hiatt/Getty Images
"Chicago P.D." stars Marina Squerciati and Patrick Flueger are friendship goals. The two have not only hosted an Instagram Live session together, but they also seem to genuinely enjoy each other's company. The actors appeared on "The Brett Allan Show!" prior to the release of Season 9 of the series. Squerciati shared that working with Flueger makes her job a lot easier. She said, "Whenever I work with Patty, it's just, I don't know, it's the best thing ever." Of course, Flueger was grinning from ear to ear when he heard the compliment from his co-star.
Squerciati also told Us Weekly that she also enjoys their work dynamic. She said that she enjoyed the scenes where her character, Kim Burgess, and Flueger's character, Adam Ruzek, that take place "outside of the apartment building where we hug and have champagne and pizza. And like, Patty makes a joke," She continued, "I love living there with Patty. I like hanging out with Patty, so it's fun to do it on TV." It seems as if she loves when their characters imitate their real-life friendship and they can just relax in each other's company. "Yeah," Flueger added, "Just being goofballs together!" Both actors were part of the original cast when "Chicago P.D." premiered in January 2014, per TV Line. Squerciati and Flueger have had plenty of time to develop their friendship, and it shows.