How Guy Fieri Really Got His Start On Food Network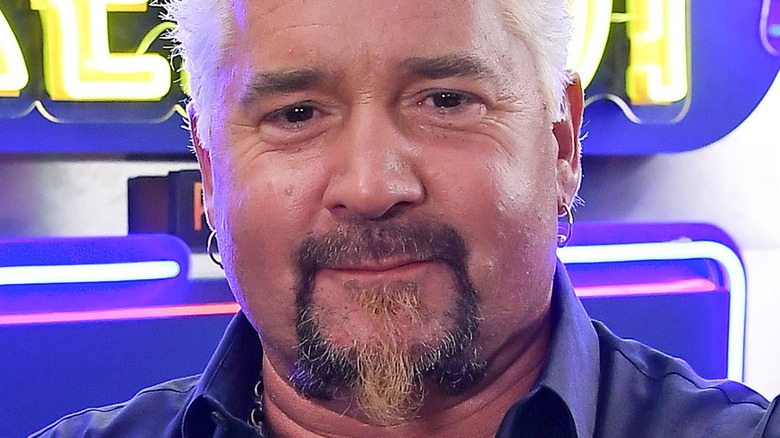 Steve Jennings/Getty Images
Guy Fieri got his start in the food industry at a very young age. When he was 10 years old, Fieri visited New York City with his family, and one portion of the city left an indelible mark on the youngster. He was blown away by the soft pretzels that were available in carts on the street, and could not stop raving about the delicious treats. "My dad says, 'If you're such a fan of these pretzels, why don't you own a pretzel business when we get back home?'" Fieri recalled in an interview with Variety in 2020. Even though the vendor his family frequented during their trip would not divulge where he got his pretzels, young Fieri was determined and opened up his own cart when he returned home.
By the time the future "Diners, Drive-ins and Dives" host was 15, he saved up enough money through his pretzel cart to finance a trip to France. After a year of culinary studies abroad, Fieri knew it was his life's calling. "The click went off, and I said, 'That's it, I'm a food person," he recalled on "The Moment" podcast in 2017 (via Eater). That led to Fieri opening several restaurants.
In the early 2000s, Fieri became a spokesperson for Flowmaster, a muffler and auto parts company. He appeared in several commercials for the brand, but those early television appearances were not how Fieri eventually transitioned into a mainstay on the Food Network.
Guy Fieri won his spot on the Food Network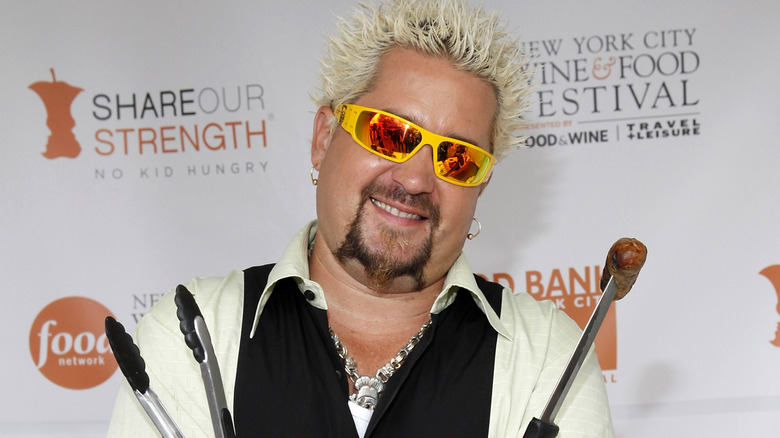 Mark Von Holden/Getty Images
Although Guy Fieri was a successful restaurateur with television experience, he initially had no interest in appearing on the Food Network. Friends had to convince Fieri to send in a tape for the "Food Network Star" reality show in 2006, which searched for the network's next host. "And so I delay it enough so that the expiration of entering it happens," he recalled about his audition tape on "The Moment" podcast (via Foodbeast). Fieri even tried to sabotage his own audition by being over-the-top. "I was trying to make it so that nobody would actually take it," he said.
When reminiscing on "Today" in 2021, Fieri joked that he still believed his friends only wanted to see him get on TV to fail. The "Guy's Grocery Games" host had no expectations. "Never anticipated at all ever, ever, ever, ever that I was gonna win this thing, he told the talk show. Fieri went on to win Season 2 of "Food Network Star," which catapulted his career.
Once he was given a shot by the Food Network, Fieri decided he owed it to both himself and his family to work exceptionally hard. "When I did win I thought, 'Wow, if I'm gonna get this opportunity I shouldn't squander it,'" he told "Today." Fieri was able to parlay that reality show win into immense success. "I say, 'I dream big. I couldn't have ever dreamed this big,'" he said. Later, he was able to return the favor to other would-be restaurateurs.
Why Guy Fieri never forgets how he got his start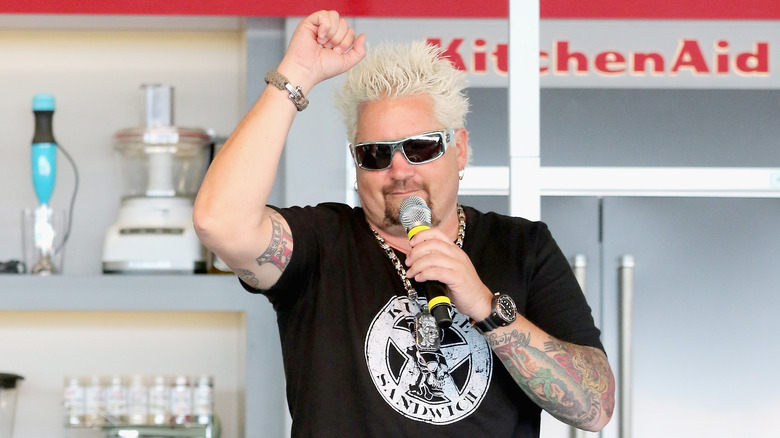 Alexander Tamargo/Getty Images
One of the keys to Guy Fieri's success has been acting natural on camera. the famed television host credited Food Network producer Mark Dissin for letting him loose during filming. "I'm not a TV person. I was never groomed for this – I think what people get is that I am the same guy; I am just being Guy," Fieri told Variety in 2019 while getting a star on the Hollywood Walk of Fame. The people in the industry who helped Fieri inspired him to do the same. 
Although he became a major star on the network, Fieri never forgot how appearing on "Food Network Star" as a contestant kickstarted his career. "I think about where it's taken me and the opportunities it's given me, and I'm very humbled," he said in a 2016 interview with the Food Network while appearing as a judge on that very show 10 years after his win. In 2021, Fieri offered a life-changing opportunity to aspiring restauranteurs when he launched his show "Guy's Chance of a Lifetime." The series acted a "a real-deal job interview" for hopeful chefs, with the winner being awarded a restaurant of their own, per The Hollywood Reporter.
Fieri has shown a willingness to offer opportunities to others, as he certainly could afford to share the wealth. The "Guy's Big Bite" host signed a new three-year contract with the Food Network in 2021 worth a reported $80 million, per Forbes.