How Valerie Bertinelli Really Feels About Giada De Laurentiis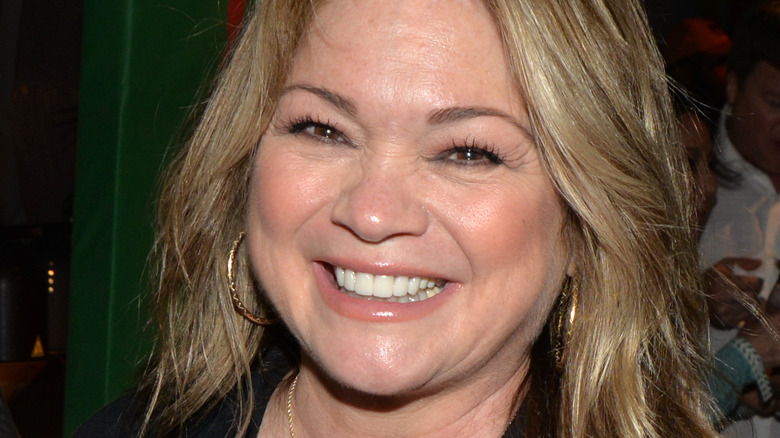 Manny Hernandez/Getty Images
It's no secret that starring in a Food Network special takes a lot of talent. Not only do you require kitchen skills, you have to master the art of being on camera. Valerie Bertinelli was well-prepared for this role, and arguably brought more to the table than most when she began her stint on the hunger-inducing network.
Bertinelli began acting at a young age and, when she was still in her teens, she took home two Golden Globes for her performance in the soap opera "One Day at a Time." Her onscreen talent paired with her cooking chops made her an excellent candidate for Food Network's roster of world-class chefs. She debuted on the network in 2015 with her show, "Valerie's Home Cooking," telling Food Network, "I've been a fan for way too many years. And to actually be on the network now and [be a] part of the family is just a dream come true."
Bertinelli has gone on to thrive, with Deadline breaking in December 2021 that the star would be renewing her contract and starring in new network content. Her popularity among fans is exemplified by the fact that her 2022 memoir, "Enough Already," quickly became a New York Times bestseller. It was in this very book, however, that Bertinelli revealed she had some hesitations about joining the Food Network team, and working with one famous chef in particular.
Bertinelli was nervous to work with Giada De Laurentiis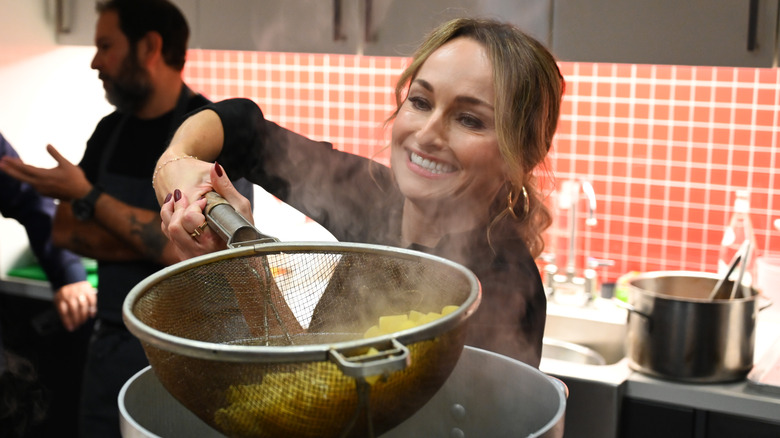 Slaven Vlasic/Getty Images
Valerie Bertinelli didn't hold back in "Enough Already," and for good reason. In an interview with Rachael Ray, Bertinelli said, "I truly believe we are only as sick as our secrets. And I don't want to be sick anymore." In addition to opening up about her recent divorce from Tom Vitale, she also talked about the challenges and intimidation that came with transitioning from acting to cooking.
In the memoir (via Showbiz CheatSheet), she recalls the time that Giada De Laurentiis reached out to her, inviting her to be a part of a Zoom special called "Three Italian Chicks Helping a Home Cook," which also would feature Alex Guarnaschelli. She wrote that it was as though "the cool kids [had] invited [her] to hang out with them." Later, however, the nerves hit, and Bertinelli worried she would be less qualified and "exposed as a fraud." The former soap star was particularly nervous about working with De Laurentiis, of whom she was "more of a fan than a friend." Bertinelli wrote, "She is awesome and her talent and knowledge intimidates me ... And yes, on top of all that intelligence and talent, she is also that naturally beautiful."
Bertinelli's fears proved to be unfounded, however, when De Laurentiis posted the finished product to her YouTube channel, and the product was met with fanfare. Many commenters beneath the video encouraged the women to make more episodes.
Bertinelli wasn't the only one with fears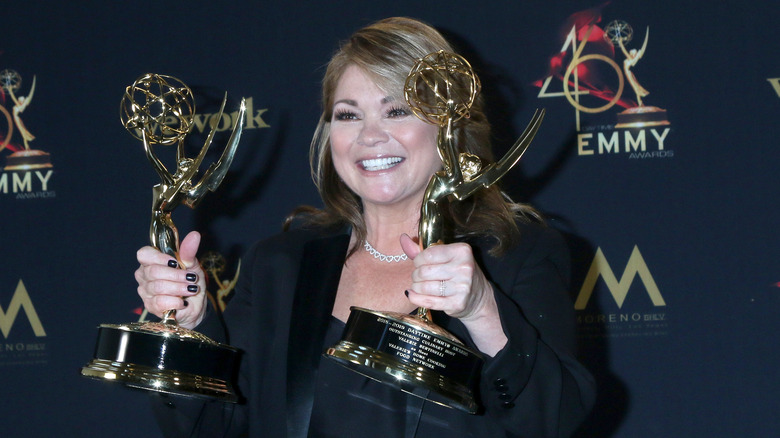 Kathy Hutchins/Shutterstock
If Valerie Bertinelli had any remaining doubts about her ability to work alongside Giada De Laurentiis, the 2019 Emmy Awards silenced those fears. Food Network celebrated its nine nominated chefs and shows, which included Bertinelli nominated alongside De Laurentiis for two different categories. Bertinelli took home both Emmys.
The pair have continued their friendship and #ThreeItalianChicks mini-series. In an Instagram video featuring De Luarentiis and Alex Guarnaschelli, Bertinelli wrote, "We're Back!! The 'Three Italian Chick's' ... are back for some online home cookin' kitchen coaching!"
Perhaps she and her new friends bonded over the fact that initial nerves seem to be very common among Food Network chefs. In an interview with People, De Laurentiis shared that she was also very intimidated leading up to her debut. She said, "I think I just wasn't open enough; I wasn't secure enough. I think I lost like five pounds in three days filming the pilot." Now, not eating enough is hardly a concern when enjoying De Laurentiis and Bertinelli's dynamic Food Network appearances.