The Pitch Perfect Movie You Forgot Robin Roberts Was In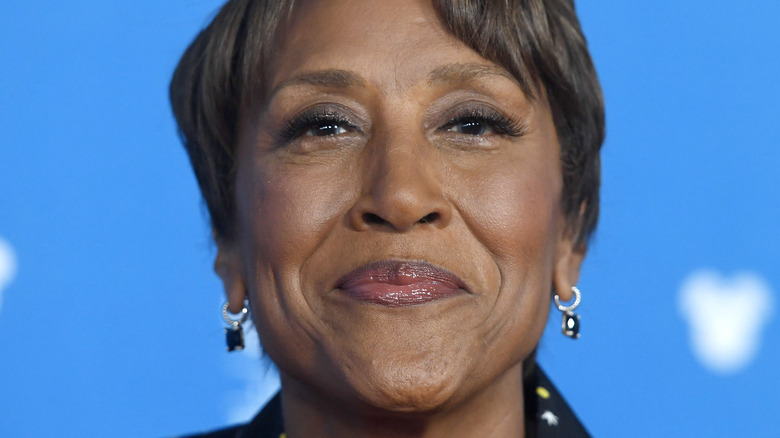 Frazer Harrison/Getty Images
The "Pitch Perfect" franchise is full of established stars and breakout performances alike; the series was yet another hit on Elizabeth Banks' resume, and they even made A-listers out of Anna Kendrick and Rebel Wilson. However, there's another famous face you might not remember. Despite having no acting experience, Robin Roberts made a cameo in "Pitch Perfect 2."
The "Good Morning America" anchor is one of many celebrity cameos in the film, joining Snoop Dogg, Jimmy Kimmel, the Green Bay Packers, and "The Voice" panel among others, but what sets her appearance apart is that she didn't simply play herself. Even though Roberts only had a few seconds of screentime, she played an important role in the film and gave the "Pitch Perfect" series one of its most pivotal moments. In a 2015 interview with Entertainment Tonight, Ben Platt and Skylar Astin gushed over her cameo, with Astin going so far as calling Roberts "a pioneer." But who did she play, and where and when did she pop up?
Robin Roberts played a Legacy Bella in Pitch Perfect 2
In the grand finale of "Pitch Perfect 2," the Barden Bellas a cappella group fly to Copenhagen for the World Finals, where they're joined on stage by past Bellas. One of these Legacy Bellas is none other than Robin Roberts, who is seen singing during their final number, "Flashlight." She tweeted after the film's release in 2015, "Thanks for kind remarks about my cameo in #PitchPerfect2. Big shout out to the cast! Appreciate @ElizabethBanks asking me to be a #Bella."
While Elizabeth Banks' part in the "Pitch Perfect" films is relatively minor, playing Gail the competition judge rather than one of the Bellas, she directed the second installment and produced all three films in the franchise. She also hand-picked the film's other cameos, although some actually reached out themselves. David Bakhtiari of the Green Bay Packers tweeted Alexis Knapp (who plays Stacie) after enjoying the first film, and got multiple members of the team on board for the sequel, performing an a cappella cover of Destiny's Child's "Bootylicious."
Roberts' inclusion in the film might seem out of left field, but perhaps Banks was aware of some little-known details about the "GMA" co-host.
Robin Roberts has a surprising musical past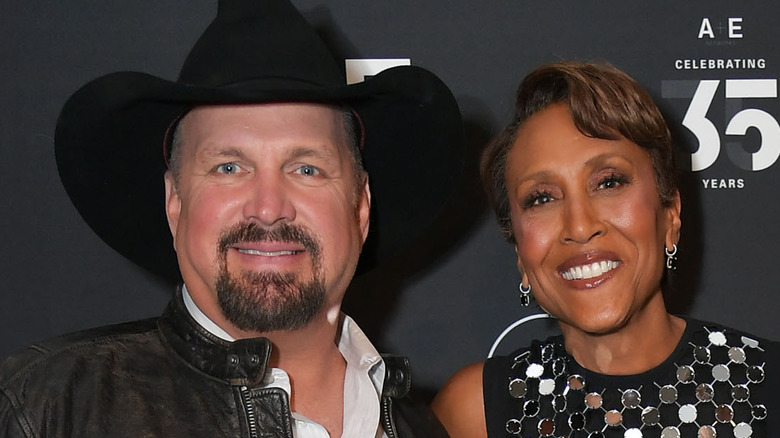 Michael Loccisano/Getty Images
Robin Roberts is best known as the anchor of "Good Morning America," but she also had a background in music even before her "Pitch Perfect" cameo. In the early '80s, she was a DJ for a country music station in Louisiana, which she revealed on Instagram after the death of Kenny Rogers. She later appeared as a guest on "The Ellen DeGeneres Show" with country legend guest host Garth Brooks, playing the game "Country Song or Country Wrong" and doing a great job. Roberts has repeatedly covered country music stories on ABC News, even interviewing the late Naomi Judd in a tell-all interview where she opened up about her struggles with mental health.
In addition to reporting on it, Roberts has also been involved with the creative side of music. In the 2000s, she co-wrote the song "A Beautiful Day" with singer-songwriter India.Arie. A few years later, they even sang it together on "GMA." 
While Roberts only had a few seconds of screentime in "Pitch Perfect 2" and her voice wasn't distinguishable from the chorus, it turns out that it isn't her first brush with music after all. If there's ever a reboot or prequel about the Bellas' early days, bringing back Robin Roberts' character would be a great place to start.