Does Kim Kardashian Have Veneers?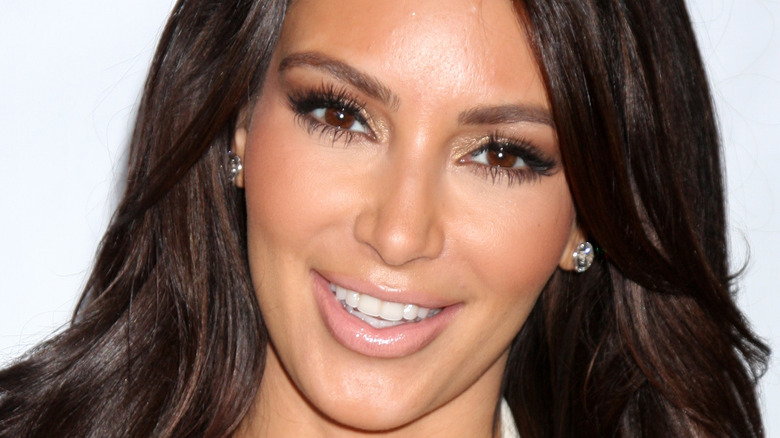 Kathy Hutchins/Shutterstock
Kim Kardashian and her squad of famous sisters are constantly making headlines for their larger-than-life looks. While it's often hard to accept that the beauty mogul's appearance could be natural, Kardashian has famously denied having plastic surgery. In an interview, the star attributed her famous backside to her Armenian heritage, and recounted the time she underwent an X-ray to prove that her butt lacked any implants. In 2014, she wrote on Twitter, "I'm seeing all these nonsense tabloids claiming I have butt implants-injections. Get a life!" She also used a tweet to clear up nose-job rumors.
No matter what you believe about where Kardashian's looks come from, she stuns at every red carpet appearance and A-list event she attends. Though not quite as famous as her rump, her smile is an undeniable part of her beauty, leaving some to question if it's real.
At a 2019 beauty event, per Insider, Kardashian gave some advice to a fan looking for wrinkle-free skin: "Don't smile." After People passed along her message in a now-deleted article, Kardashian clarified on Twitter that it was a joke. Indeed, her Instagram followers are often treated to pictures of her pearly-whites. But could they be veneers?
A TikTok professional says Kardashian does not have veneers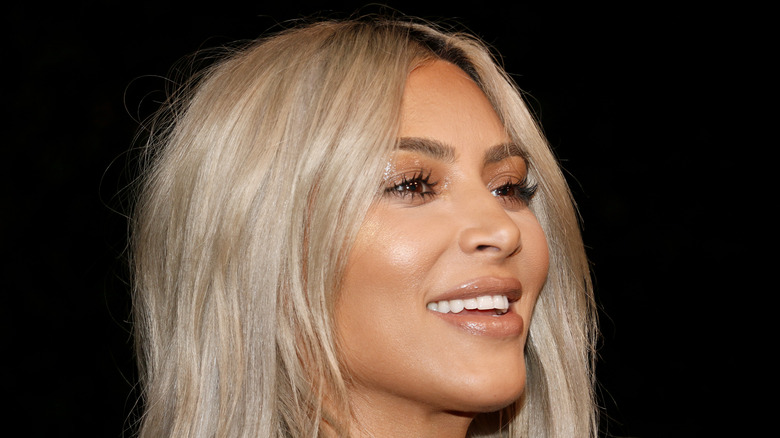 Tinseltown/Shutterstock
It's not unreasonable to have suspicions about Kim Kardashian's glowing smile. Her celebrity dentist is actually known for his veneer work, as revealed by an E! News interview. Dr. Kevin Sands shared, "For Golden Globes and Oscars, I work from like six in the morning to 12 at night. Everyone wants their teeth whiter." When there's not an impending red carpet, however, the dentist revealed that "90% of [his] business is veneers."
The fact that Sands' Instagram has 668,000 followers lends insight into the public's fascination with celebrity smiles. Their curiosity has also put the TikTok account @veneercheck on the map, managed by a Harvard DMD who goes by "Dr. Sara." Her videos take a deep dive into old celebrity photos and transformations, while the dentist employs her expertise to determine whether or not the featured stars likely have veneers. It wasn't long before Kardashian made an appearance.
Dr. Sara first noted a few technical "flaws" in Kardashian's smile, including a labial flare and a slightly curved front tooth. As the video progresses, she notes that these characteristics are consistent throughout years of Kardashian's photos. The dentist also pointed out that Kardashian openly uses many different lightening products, adding, "You can't lighten the color of a veneer once it's been cemented on." Ultimately, Dr. Sara concluded that the star does not have veneers.
Kardashian revealed a sad reason for not showing off her smile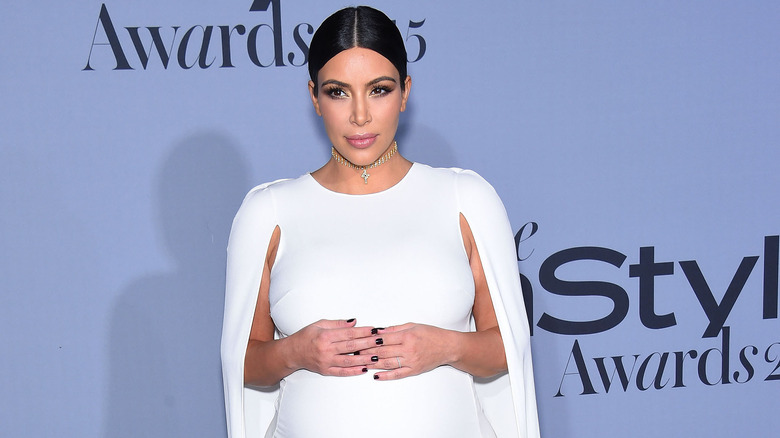 DFree/Shutterstock
While the mogul's mouth may be veneer-free for now, Kim Kardashian does seem to be open to the idea in the future. In an Instagram story (via TMZ), Kardashian asked Dr. Kevin Sands, "Do I have veneers?" The dentist confirmed that she did not, although the star was quick to cheekily add, "Yet." 
For now, Kardashian appears to be sticking with simple teeth-whitening, often advertising HiSmile on her Instagram. But while the product has clearly made Kardashian's pearly-white smile something to be envied, she still often seems hesitant to show it off. Those who keep up with her social media may notice her apparent preference for a stone-faced or pouty pose, which dominate much of her Instagram feed. We've already gotten clarification that this isn't to keep her wrinkle-free, so why not show off her smile?
In an interview with C Magazine, per Cosmopolitan, the star shared that the body-shaming she faced throughout her first pregnancy really impacted her confidence. "Before, I was always smiling, and so into being out and about," she said. Following the comments, Kardashian said that everything changed. "I just didn't feel like being that girl who was going to be smiling for every photo. It changed my mood; it changed who I was; it changed my personality a lot." Here's to hoping she gets her well-deserved confidence back!