RHOBH Star Diana Jenkins Catches Heat For Racially Offensive Comment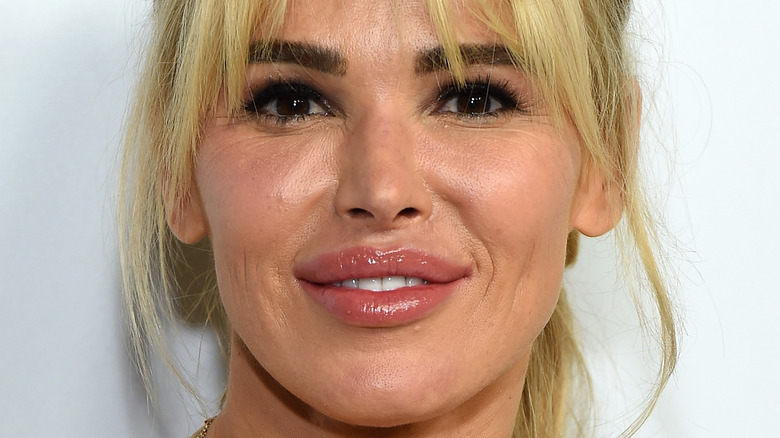 Michael Kovac/Getty Images
"The Real Housewives of Beverly Hills" star Diana Jenkins has shown she is not afraid of confrontations, whether online or in-person. Long before she joined the hit Bravo series, Jenkins published a coffee table book in 2009 titled "Room 23" that featured intimate photos of several celebrities, including Lisa Rinna. Years later, rumors circulated that the sultry snaps in the book was a brochure of sorts for "celebrity prostitution," per Women's Health.
In May, Jenkins took to Instagram to defend herself against those nasty rumors. The Bosnian-born author posted a screenshot of a tweet that featured an old photo of Donald Trump and Jeffrey Epstein speaking to a blonde that several identified as Jenkins. "When these man were doing whatever they were doing I was broke a** refugee in London with no passport no name no country no family no one to help me," Jenkins wrote while pointing out that the woman in the photo was a Victoria's Secret model. "F*** you for putting me in the same bag with this monster," the reality star added.
During an episode of "RHOBH" that aired June 15, Sutton Stracke and Crystal Minkoff were in a spat and Jenkins tried to intervene on Minkoff's behalf. "Here she goes with the clumsy words again," Jenkins said to Stracke (via People). That brought the ire of Strackem which left Jenkins in tears. Days later, the "RHOBH" newcomer found herself in hot water for using her own "clumsy words" while replying to another online post.
Diana Jenkins attempts to explain her comment
Diana Jenkins took exception to an Instagram post from a Bravo fan account ran by blogger Kristen Dionne. The post in question was a screenshot comparing how different Jenkins looked back in the day versus present day. "The Real Housewives of Beverly Hills" star noticed the post and defended herself with since-deleted comments. "That picture was actually taken at UCLA law school talking about war crimes in my country," she wrote (via Queens of Bravo). "But shame on you !!!! You and your bulls**t shopping," Jenkins added.
This started an exchange between Jenkins and the fan account, which called for the Bravolebrity's firing. An hour later, Jenkins fired back. "It can't feel good being a Black content creator," she wrote. Dionne pointed out that Jenkins had not been so harsh with "the white creators that have posted the same picture." Multiple fans took issue with Jenkins seemingly bringing race into the debate. "Just goes to show- money can't buy you class!" one fan replied. Not long after, Jenkins left a reply stating that Crystal Minkoff had called her over the comment. Jenkins claimed the comment was a miscommunication due to English not being her first language. "I assumed 'Black content creator' was a title referring to a page that would be focused on snarky content," she wrote (via Queen of Bravo). 
Several fans on Twitter did not buy Jenkins' explanation of misunderstanding the term. One pointed out the irony of Jenkins recently attacking a "RHOBH" castmate for being "clumsy with words," and added the hashtag #FireDiana.