The Real Reason Alexander Skarsgård Never Got Married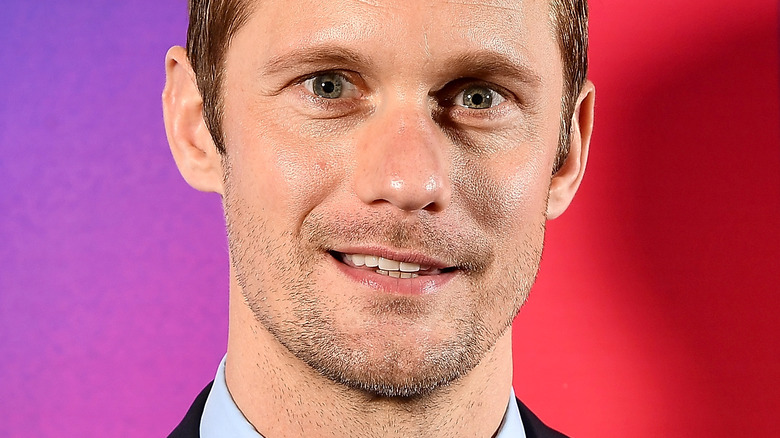 Jeff Spicer/Getty Images
Alexander Skarsgård has no trouble finding meaningful work to fill his days. After rising to prominence portraying vampire Eric Northman in "True Blood" between 2008 and 2014, the Swedish actor went on to star in a number in roles ranging from the artsy, like Lars Von Trier's "Melancholia," to the action-packed, like "Battleship" and "The Legend of Tarzan." In 2017, Skarsgård went back to the small screen only to bring home an Emmy, a Golden Globe and a SAG Award for his portrayal of an abusive husband on HBO's "Big Little Lies," according to IMDb.
With such a busy work life, Skarsgård seems to have little time for relationships. At least that's the impression he sends. The actor's relationship history seems to be comprised essentially of unconfirmed dating rumors, Vogue Australia noted. The exception is British model and fashion designed Alexa Chung, whom Skarsgård reportedly dated for two years. While there is enough photographic evidence that Skarsgård and Chung were a couple, they kept the relationship as hidden as possible.
The two sparked dating rumors in early 2015 after being spotted together several times, Page Six reported. By mid-2016, speculation that the two were planning to tie the knot swirled around, but Skarsgård quickly squashed it. "Wow, I hope I'm invited," he quipped when a caller asked him about it on "Watch What Happens Live with Andy Cohen." Years may have since passed, but marriage continues to rank low among Skarsgård's priorities.
Alexander Skarsgård enjoys his minimalist lifestyle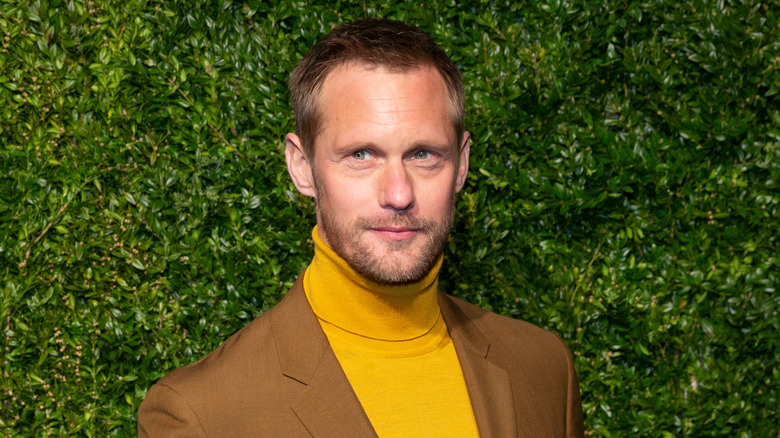 lev radin/Shutterstock
Alexander Skarsgård is in no rush to settle down. The actor is a lot more preoccupied with having a lifestyle that's compatible with his hectic work schedule. And that lifestyle consists of keeping his material possessions down to the bare minimum. "I have my one suitcase and whatever doesn't fit in that, I can't bring," he told The Guardian in February 2018. He barely even had a home around that time. With so little time between the projects he was working on, he decided to sell his New York apartment and toss his possessions in a storage unit. It turns out he enjoyed living out of a suitcase.
And that way of living is incompatible with family life. "I'm not married and I don't have kids, and I'm really enjoying it at the moment," he said. That's not to say Skarsgård is anti-marriage, but he isn't going to force a relationship. "I'm not going to settle and say, 'Oh, you're all right — let's make a family.' I'm more romantic than that," he told The Times (via Metro) in November 2018.
Skarsgård made that decision after seeing marriages dissolve around him. "I have friends who've done that and they're not happy, and then they go through horrible divorces." But Skarsgård sees romance in future, and has particular interest in one nationality over any other. "From a very early age, I've always thought I'll end up with a Brit," he disclosed.
Alexander Skarsgård comes from a mighty large family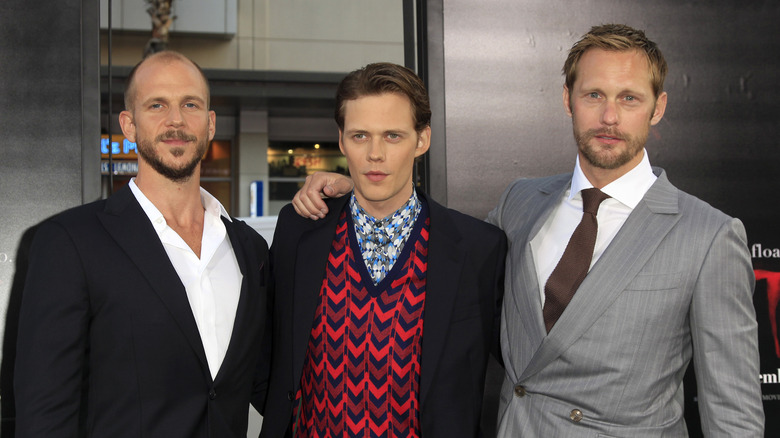 Kathy Hutchins/Shutterstock
Our eyes certainly wouldn't hurt from having Alexander Skarsgård spread his genes far and wide. But if he ends up living out his life as a bachelor, the Skarsgård genetic pool would be okay. Alexander's famous father, Stellan Skarsgård, made sure of that — and his own father before him. Stellan, one of Sweden's most prominent actors known for his work with fellow countryman Lars Von Trier, is the firstborn among five, he told The Guardian.
Stellan himself went on to have eight children, with Alexander being the oldest. But Stellan and Alexander aren't the only famous Skargårds out there. Two of Alexander's brothers also followed in their father's footsteps: Gustaf, of "Westworld" fame; and Bill, best known as Pennywise from "It." Both Gustaf and Bill are already fathers — and Alexander might still join them.
That's right. Despite being in his mid-40s and showing no interest in settling down yet, Alexander wants to have children of his own — and not just one or two. "I want to beat my dad. He had eight, so I better get cracking," he told Chelsea Handler in 2017. His dad's unique journey into parenthood encourages him. After marrying his second wife in 2009, Stellan welcomed babies No. 7 and No. 8, according to The Irish Times. "My dad had kids in the '70s, in the '80s, in the '90s, in the 2000s and in the 2010s," Alexander told Handler.