The Truth About Alexander Skarsgård's Famous Family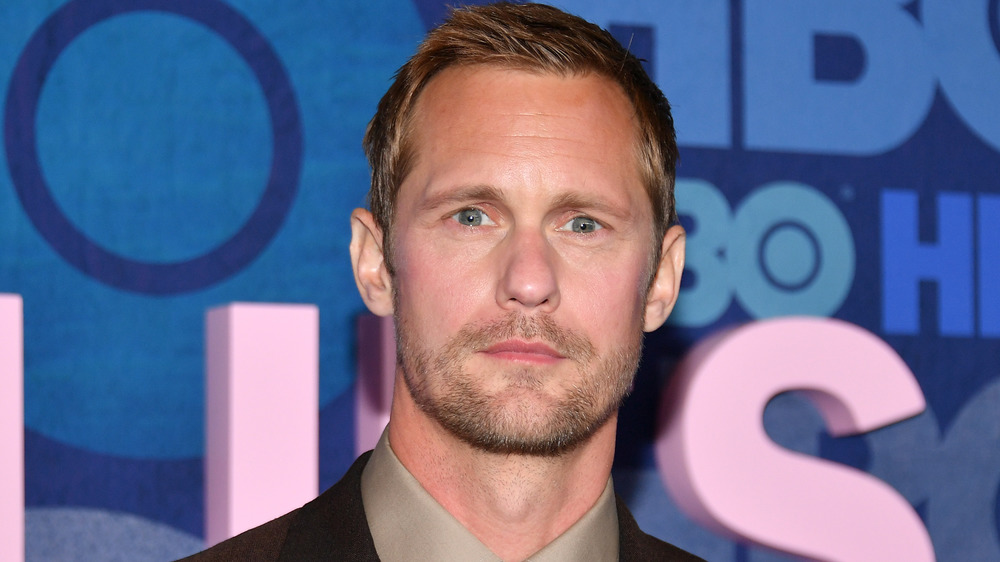 Dia Dipasupil/Getty Images
There's no doubt that Alexander Skarsgård is a captivating celebrity. Appearing in films like 2014's The Giver and 2016's The Legend of Tarzan, as well as shows like True Blood and Big Little Lies, he's earned both critical acclaim and countless admirers thanks to his work. He's also entertained fans with the chemistry he shares with his co-stars, like Elliot Page and Margot Robbie. However, were you aware of the fact that he comes from a famous family?
"While we've been focusing our collective pop culture gaze on famous Hollywood families like the Smiths, the Kardashians, and the Cyruses, we've missed out on the most fascinating acting clan perhaps ever," Refinery 29 points out while declaring that "[n]o Hollywood clan can compete with the Skarsgårds." Indeed, the "Skarsgård Dynasty is formidable, relentlessly delivering stellar performers," Hero magazine explains while also noting that "this is no easy formula; each Skarsgård is a beautifully mutated chip off the block, faceted with a primal instinct for unique delivery."
While you might be desperately trying to figure out who happens to be in this family, Refinery 29 explains that the "Skarsgårds are Big in Sweden, and are on their way to becoming Very Big in America." And that's not an exaggeration at all when you take a look at the roles that they've landed. So, who are the other Skarsgårds? And what kind of relationship do they have with Alexander? Read on to find out!
You'll surely recognize Alexander Skarsgård's famous father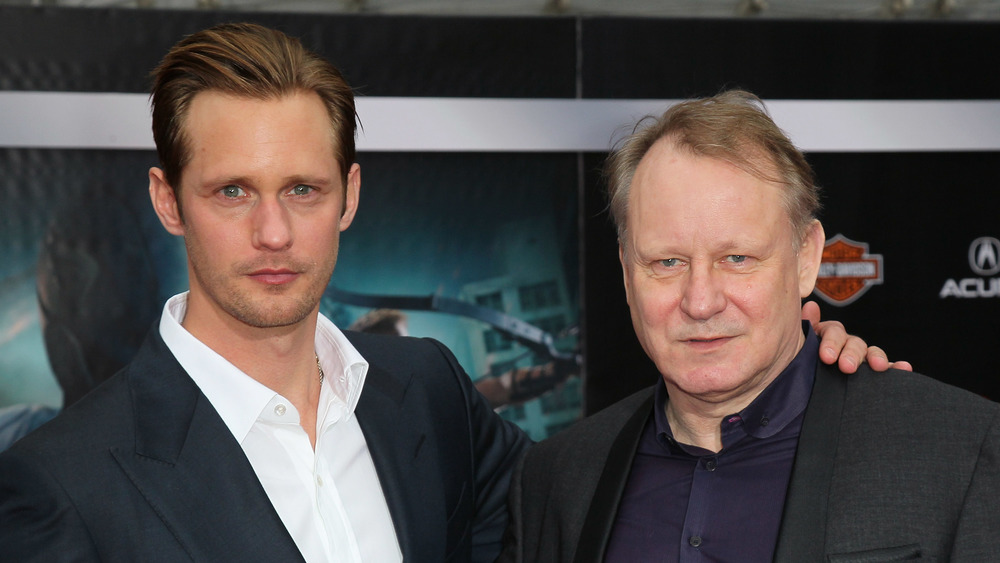 David Livingston/Getty Images
While you might be an Alexander Skarsgård super-fan, there's a very good chance that you've also adored a handful of performances by his famous father, Stellan Skarsgård. While he may not have the most notable name in the business, Stellan's career goes all the way back to the '60s. Throughout the years, he's managed to score a long list of impressive roles, including the part of Lambeau in 1997's Good Will Hunting, Bootstrap Bill in 2006's Pirates of the Caribbean: Dead Man's Chest, simply Bill in 2008's Mamma Mia! and Martin Vanger in 2011's The Girl with the Dragon Tattoo, just to name a few.
Stellan has obviously enjoyed a successful career in show business, which is why it may not be surprising to find out that his son, Alexander, was inspired by his father's path. The Guardian notes that when Alexander was 20, he was trying to decide between becoming an actor or an architect. He apparently "decided to give acting a shot."
"I was like most people that age, trying to figure out what to do," he said. "And it was kind of: 'F**k it, Dad's an actor, he's super-happy doing it, maybe I should give it a go.'" That decision definitely paid off and might be one of the reasons Alexander wasn't the only one to go into the family business.
Alexander Skarsgård's siblings are also in show business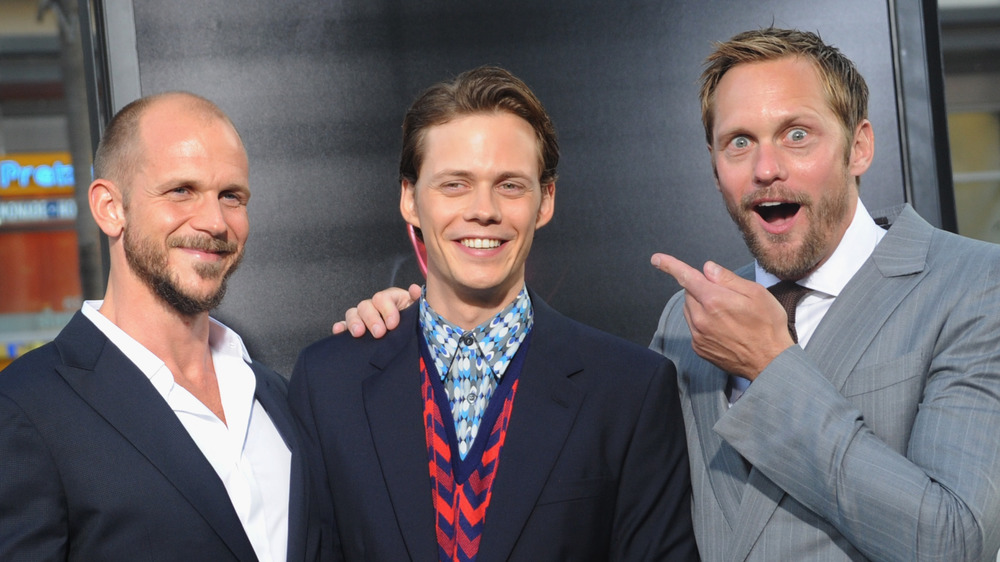 Albert L. Ortega/Getty Images
When it comes to the Skarsgård family, Alexander Skarsgård is "the most recognizable nowadays," according to Entertainment Weekly. However, there are "a lot more Skarsgårds where [he] came from." Alexander's father, actor Stellan Skarsgård, was married to My Skarsgård from 1975 until 2007 and together they have six children: Alexander, Gustaf Skarsgård, Sam Skarsgård, Bill Skarsgård, Eija Skarsgård, and Valter Skarsgård. Stellan has another two children, Ossian and Kolbjörn, with Megan Everett-Skarsgard, who he married in 2009. In total, IMDb notes that Stellan "[f]athered a total of 8 children over a period of five decades (1970s, 1980s, 1990s, 2000s, and 2010s)." 
You might also know some of those children beyond Alexander. You may have seen Gustaf on Westworld and Vikings (yep, he's Floki), while Bill played Pennywise in 2019's It and also appeared on shows like Hemlock Grove and Castle Rock.
Alexander recalled working with Bill on his brother's very first film at 9 years old while chatting with his younger sibling for Interview. "... [Y]ou wrapped early one day, ... and I had another scene. When I got back, you were just standing outside in the parking lot, waiting for me," he recalled. Saying that it broke his heart, he explained, "[y]ou were just standing in the parking lot waiting for your big brother to come home, because you didn't know anyone and you didn't know what to do. ... It was the first time I ever felt needed." Aaaawww!