Lawyer Decodes Strategy Behind Blockbuster Lawsuit Against Elon Musk - Exclusive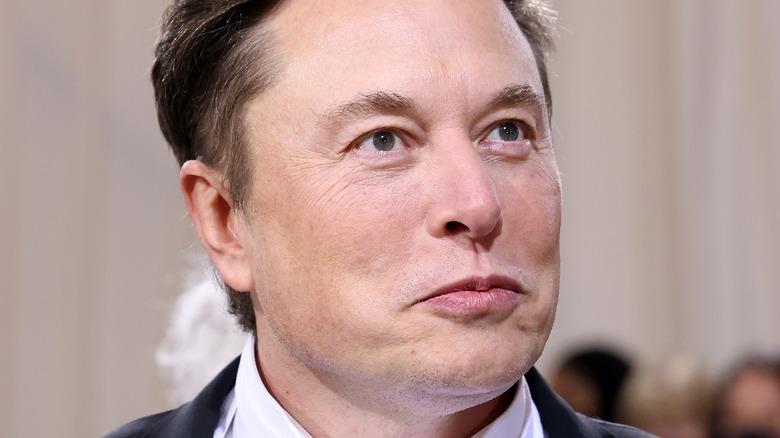 Taylor Hill/Getty Images
Elon Musk is a man who loves his memes, so much so that the SpaceX CEO has stolen them from the satirical website Hard Drive. Per The Recount, he even filmed a video of himself discussing his plan to keep pilfering content from the outlet and claiming it as his own. His captive audience of consultants were three Tesla employees.
But posting memes created by other people and failing to give them proper credit is not Musk's worst online transgression. He's also been accused of manipulating the cryptocurrency market by tweeting about a meme currency, behavior that can potentially affect the livelihoods of his faithful followers. Musk has revealed that he owns Ethereum, Bitcoin, and Dogecoin, one of the internet's favorite meme currencies. It's usually depicted with the likeness of the Shiba Inu that became the face of the popular doge meme. "Lots of people I talked to on the production lines at Tesla or building rockets at SpaceX own Doge," Musk tweeted in October 2021. "They aren't financial experts or Silicon Valley technologists. That's why I decided to support Doge — it felt like the people's crypto."
Musk's tweets about Dogecoin just might be used as evidence against him in court. According to Bloomberg, an American man named Keith Johnson is suing Musk and his companies for hundreds of billions of dollars on behalf of the investors who have suffered large financial losses trading the meme currency. In an explanation given exclusively to Nicki Swift, a legal expert discussed the blockbuster lawsuit's chance of success.
Elon Musk's billions are likely safe, according to an attorney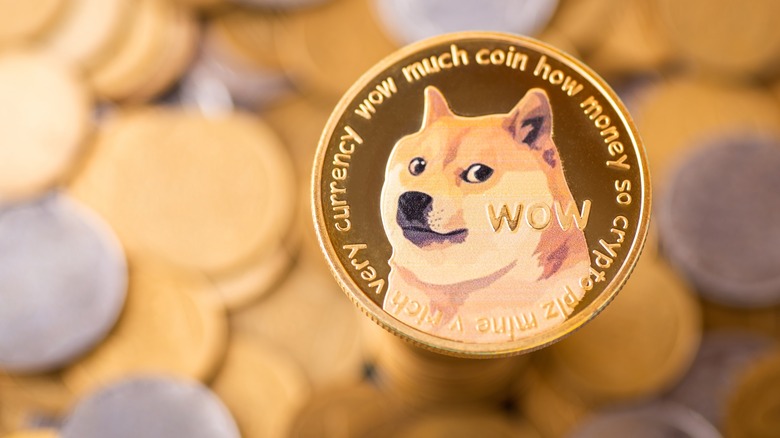 Vitalii Stock/Shutterstock
Keith Johnson is accusing Elon Musk and his two companies, Tesla and SpaceX, of participating in a scam to defraud Dogecoin traders. "Defendants falsely and deceptively claim that Dogecoin is a legitimate investment when it has no value at all," reads Johnson's legal complaint, per Bloomberg. Simply by tweeting about Doge, Musk has influenced the cryptocurrency's price and made it seem more attractive to his tens of millions of followers. "One word: Doge," he wrote in December 2020. According to Forbes, this simple message caused the meme currency's price to tick up significantly.
But while Musk might be able to manipulate the cryptocurrency market, Christa Ramey, co-founder of Los Angeles-based civil litigation firm Ramey Law P.C., believes that Johnson's attempt to win a class-action suit against the very online entrepreneur will most likely not succeed. "On its face, this lawsuit is nonsense. Elon Musk is not related to the company, it's not like he was driving stocks up or down in a company he owned or that he was trading on some kind of insider knowledge," she exclusively told Nicki Swift.
Johnson described Musk's touting of the meme currency as a "Dogecoin Crypto Pyramid Scheme," which isn't quite accurate. According to the AARP, the typical pyramid scheme requires those who buy into it to actively recruit others, asking them to pay a fee upfront to participate in what appears to be a lucrative opportunity selling goods or services. There's no such recruitment involved with cryptocurrency trading.
That massive damages amount was designed to grab attention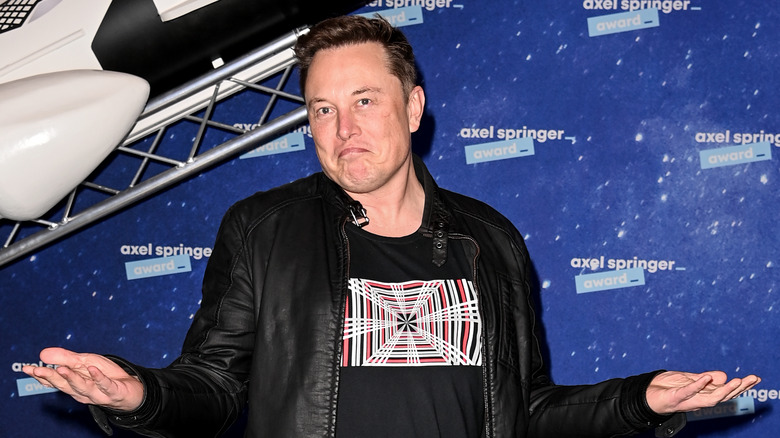 Pool/Getty Images
According to Celebrity Net Worth, Elon Musk's net worth stands at $198 billion as of publication, an amount that's actually lower than what Keith Johnson is seeking. Per Bloomberg, he wants Musk and his companies to cough up $86 billion in damages, along with an additional $172 billion in treble damages, bringing the grand total to $258 billion. Christa Ramey posits that Johnson and his legal team likely realize that being awarded such an enormous amount of money isn't going to happen, but they had a reason for being unrealistic.
"For one thing, it's designed to get media attention. And when you're forced to state a dollar amount, it's best to file with the maximum amount that could possibly be recovered," Ramey said. "The dollar amount is eye-popping but it's really about preserving the plaintiff's rights and not leaving any money on the table if the plaintiff wins, which in this case would be a shock." But Ramey pointed out that Johnson and his attorneys likely believe that their case has merit; filing a frivolous lawsuit against someone as rich and powerful as Musk would be a costly endeavor. "We don't know all the evidence so this case may be one to follow," she added.
At the very least, the meme currency lawsuit will give Musk something to distract him from his meme battle with Hard Drive, which published a satirical article titled, "Elon Musk Admits He Wants to Travel to Mars Because No One Hates Him There Yet."