Zendaya Was In A Commercial With Another Disney Star Before She Was Famous
Dimitrios Kambouris/Getty Images
Zendaya has dominated headlines in recent years for her award-winning performances in shows like "Euphoria" and her efforts to break into the directing scene. The 25-year-old first emerged into mainstream consciousness through her starring role as Rocky Blue in "Shake It Up," but her popularity quickly expanded beyond Disney Channel and its young fans.
Like many of her Disney counterparts, Zendaya's career soon involved many different avenues, with the channel helping to spark her singing career. In 2012, per Pop Crush, Zendaya shared the news that she had signed with Hollywood Records, Disney's recording label. Although she opened up to Variety that she never saw herself becoming a pop star, her stage presence and talent were undeniable, and have been put on display through music-based films like "The Greatest Showman."
While undeniably multi-talented in terms of acting, singing, and dancing, Zendaya opened up on a panel that it was fashion that truly stole her heart. Via Capital FM, the star is quoted as saying, "[Fashion] helped me create an avenue and a lane of my own, that was outside of Disney Channel." Ironically, Zendaya's love of clothing would place her in the orbit of another singing Disney star, long before she joined the network herself.
Zendaya was in a Sears commercial with Selena Gomez
In 2009, Zendaya had just become a teenager and was still four years away from making her Disney Channel debut. At the time, there was a different shining star on the network who was heading up television shows, singing pop hits, and leading Disney Channel Original Movies: Selena Gomez. 
As recapped in her Vogue interview, Gomez began her acting career in "Barney & Friends," before being picked up by Disney to star as Alex Russo in "Wizards of Waverly Place." The network soon began moving Gomez through the actor-to-pop-star pipeline they had established with Miley Cyrus. She joked to People, "I signed my life away to Disney at a very young age." 
Her popularity as a singer and an actor among Disney's young audience inspired Sears to partner with her for a back-to-school campaign. In a press release, the then-17-year-old Gomez shared, "How I am feeling on any given day really influences the type of music I listen to and how I dress and that's one of the reasons I am working with Sears, because they have such a wide variety of different fashions, you can always find the styles that fit your own personal look." The company put out an advertisement which featured Gomez dancing in Sears' styles ... but eagle-eyed fans can also spot a young Zendaya dancing in the background. 
Zendaya and Selena Gomez continue to thrive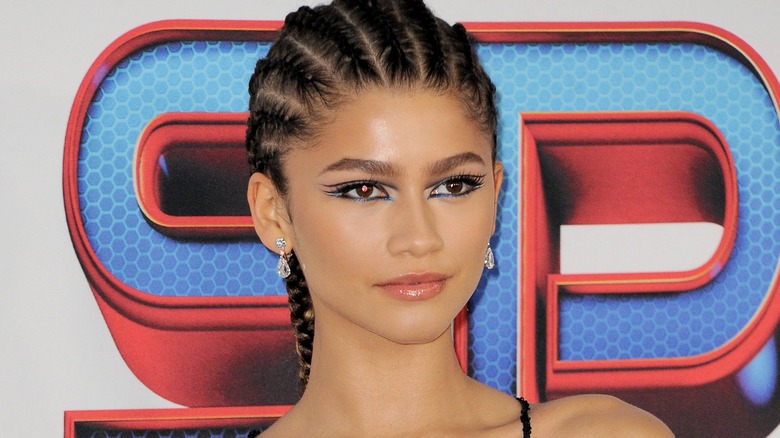 Tinseltown/Shutterstock
Zendaya and Selena Gomez don't just share a love of fashion and a Sears' acting credit — they shared a friendship. Following the commercial and Zendaya's addition to the network, the women remained supportive of one another's endeavors. In 2012, as Gomez was releasing music and being declared Hollywood's newest "it girl" by Elle, Zendaya tweeted, "I love @SelenaGomez and all that she is doing right now...a great role model for me!! congrats girl!! #muchlove."
That same year, 2012, also marked the end of "Wizards of Waverly Place," the last TV show Gomez would lead for nearly a decade. Her 2021 Vogue interview outlined her endeavors post-Disney, which included her Rare Beauty makeup line and release of many hit songs. However, she also shared her excitement about her recent starring role in Hulu's "Only Murders in the Building." "I still live with this haunting feeling that people still view me as this Disney girl," she shared. Her new role has helped to carve a path away from that image, a path that Zendaya also had to find.
In an interview with Vogue Australia, the "Euphoria" star shared, "I had a very clear vision of what I wanted to do. I had a very good sense of self and I think I also took a lot of lessons just from being in the industry for so long." All we can say is thank you, Sears, for helping to bring these talents together and to the world.