How Lindsay Lohan's On-Set Behavior Got Her Cut From Ugly Betty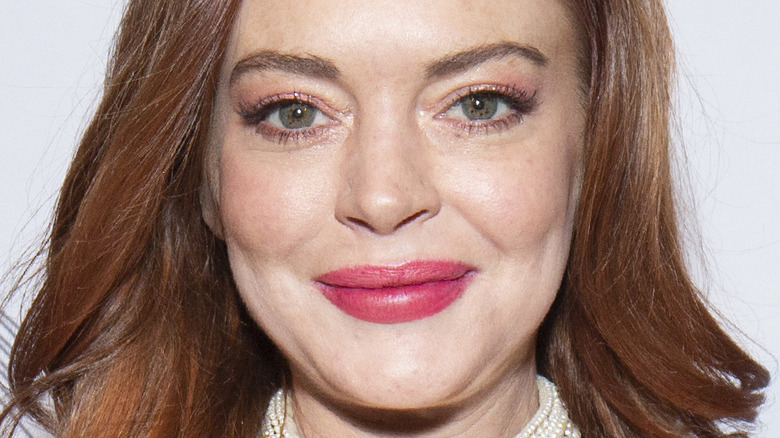 Santiago Felipe/Getty Images
Lindsay Lohan rose to fame as a child actor in the '90s, but her promising career was later sullied by her alleged bad-girl behavior. The world was first introduced to Lohan as Ali Fowler in the soap opera, "Another World," at age 10. However, it was Lohan's first staring movie role, as identical twins Hallie and Annie in the 1998 film "Parent Trap," that solidified her place as one of Hollywood's brightest stars.
As fans know, Lohan landed the lead role in the 2004 cult-classic, "Mean Girls," alongside actors Tina Fey and Rachel McAdams. The actor later revealed that her troubles with the law began shortly after the film was released. "I got arrested for my first DUI when I was 20 and they found me with drugs," Lohan told Piers Morgan in 2013 (via Daily Mail). "And from then on the press were on me all the time."
Lohan would unfortunately go on to find herself in further turmoil and was arrested multiple times between 2007 and 2013. However, she eventually attempted a career comeback with a guest-starring role in "Ugly Betty" that was reportedly axed due to Lohan's behavior.
Lindsay Lohan apparently caused chaos on Ugly Betty set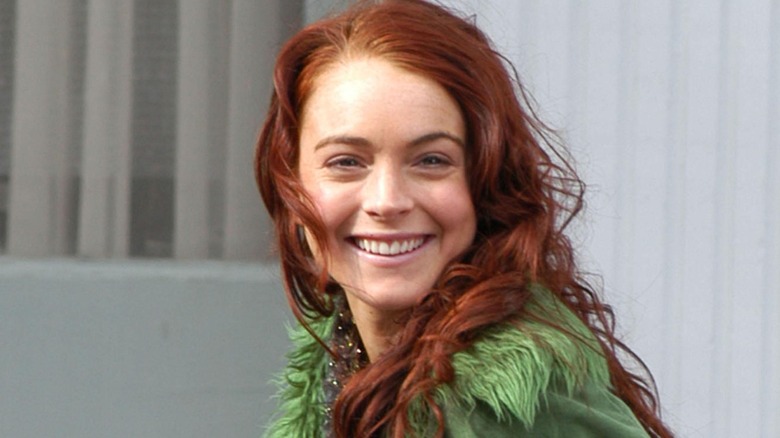 Everett Collection/Shutterstock
Following an eventful 2007, it was announced that Lindsay Lohan would be guest starring on the comedy series "Ugly Betty." A rep for ABC confirmed to People that the agreement was for the actor to appear in a total of six episodes. Shortly after the appointment, reports began to surface that Lohan's behavior on set had become problematic.
"It was a mess. Lindsay would show up every day with an entourage of people," a source revealed to Page Six in 2008. "She smoked 24/7, and after she left, they had to repaint her dressing room it was such a mess." However, Lohan's camp told a very different story. An insider told the publication that America Ferrera "was mean to Lindsay."
And while the entire situation seemed very messy, reps for both actors played coy when asked for comment. Ferrera's team said that she was "grateful to have had" Lohan on her show. Meanwhile Lohan's team emphasized that she was "scheduled for six episodes," but would only appear in four.
Lindsay Lohan appears to be doing just fine
Following a series of public scandals, Lindsey Lohan decided to take a break from acting to focus on other ventures. She opened a series of international beach clubs and chronicled the journey on the since-canceled reality show, "Lindsay Lohan's Beach Club." And while Lohan has spent a lot of her time abroad in recent years, she told CNN in 2019 that she was gearing up for an American comeback.
"I want to really focus on me and everything that I have to do in my life," she said. "And come back to America and start filming again, which I'm doing something soon in this new year. And just, you know, taking back the life that I've worked so hard for and sharing it with my family and you guys."
Lohan made good on her promise, as it was announced in May 2021, that she would make her acting comeback in a Netflix holiday movie. And while Lohan is currently living in Dubai, she still gets a taste of the spotlight. She launched a podcast, "The Lohdown with Lindsay Lohan" in April, and even starred in a Super Bowl commercial.