The Truth About Barbara Eden's Ex-Husbands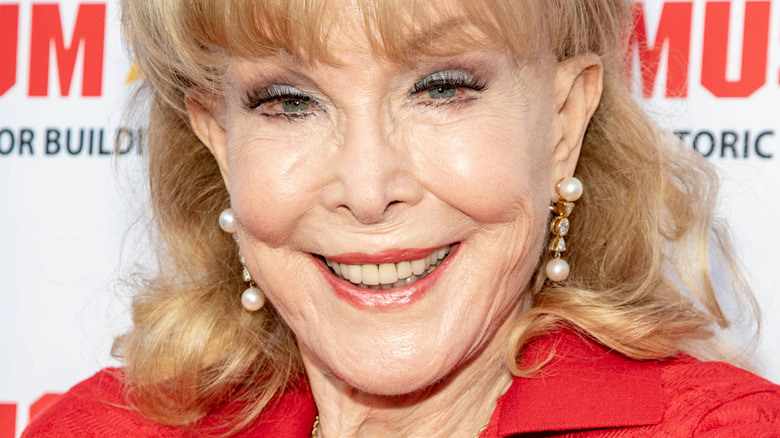 Eugene Powers/Shutterstock
Barbara Eden found stablity in her 50s. Eden met Jon Eicholtz in the 1980s, at a time when the "I Dream of Jeannie" star was looking for many things, but a relationship wasn't one of them. "In my 50s I never expected to find love," she told The Sydney Morning Herald in 2011. And the encounter didn't produce the sort of Hollywood-inspired butterflies. What she found in Eicholtiz, a realtor and architect, was much more enduring. "[We] share the same ideas about life ... There is tremendous loyalty. I have his back and he has mine," she said.
In 1991, Eden and Eicholtz tied the knot, beginning the first chapter in a marriage that continues to shine brightly more than three decades later. For Eden, the secret to a happy life with her husband lies in enjoying each other's company. "You don't necessarily have to like the same things," the nonagenarian told Closer Weekly in August 2021, explaining she isn't a fan of sports. "He loves to watch the Angels ... I love him. And I like him. So I'll watch with him."
That's not to say they don't have passions in common. "My husband and I like to travel. We recently took a trip to Africa — we've been all over, to places like China," she told Closer Weekly in 2019. But Eden's love life wasn't always been this stable. Before Eicholtz, the Hollywood legend was married twice — and both ended amid tragic circumstances. 
Barbara Eden's first husband was actor Michael Ansara
In 1957, when Barbara Eden was earning recognition for her role on "The Johnny Carson Show" and snagging TV roles, her publicist Booker McClay embarked on a mission to make her end her relationship with her non-industry boyfriend, she detailed in her 2011 memoir, "Jeannie Out of the Bottle." So McClay set up a blind date between Eden and Michael Ansara, one of the stars of "Broken Arrow." Eden and Ansara were supposed to have dinner and then head to a star-studded birthday bash. "Things didn't go according to Booker's plan," she wrote. "From the moment Michael and I sat down we didn't stop talking ... we never did make it to the Halloween party."
A year later, Eden and Ansara married — and they were crazy about each other. "Michael Ansara truly was the love of my life," she wrote. In 1965, after years of trying, Eden and Ansara welcomed a son, Matthew, making their relationship stronger than ever. But as Eden's career's continued to reach new heights with "I Dream of Jeannie," her husband's was faltering. "He suffered for not being a blue-eyes, blond-haired all-American boy," she said of Ansara, who was Lebanese.
Amid their difficulties, Eden and Ansara's marriage couldn't withstand tragedy. In 1971, Eden gave birth to a stillborn baby just weeks before her due date. "My deep depression destroyed our relationship and after 15 years together we divorced," she said in The Sydney Morning Herald. 
Barbara Eden married Charles Fegert in 1977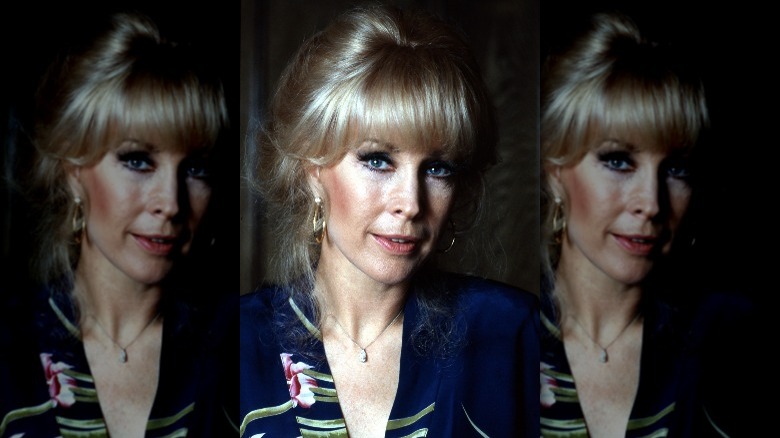 Donaldson Collection/Getty Images
Just a few years after divorcing Michael Ansara in 1974, Barbara Eden met her second husband, Charles "Chuck" Fegert, advertising chief at the Chicago Sun-Times, according to Chicago Business. They met in the late '70s and wasted no time in tying the knot. That same year, she moved to the Windy City to live in a condo on the 47th floor. "When I met Chuck Fegert in 1977 I was lonely. He was handsome, intelligent and initially loads of fun," she told The Sydney Morning Herald.
But those years were hard because she had lost the custody battle over her son Matthew to Ansara. So her move across the country meant leaving her 12-year-old behind in California with his father. "I cried a lot," she told the Chicago Tribune in 1989. And the marriage's honeymoon phase was short-lived. Soon after saying his vows, Fegert began exhibiting worrisome behavior. "Once we married he began to run with a crowd that drank and used cocaine," she told the SMH.
Now married to a TV star, Fegert seemed even more eager to explore this facet of his life. "Back in Chicago, Chuck still wanted to promote his playboy image, despite the fact that he now had a wife," she detailed in "Jeannie Out of the Bottle." In hindsight, Eden believes he was insecure. But he crossed an unpardonable line. "He then became abusive, so I left." Their divorce was finalized in 1983, Chicago Business noted.