Here's What Dove Cameron Looks Like Without Makeup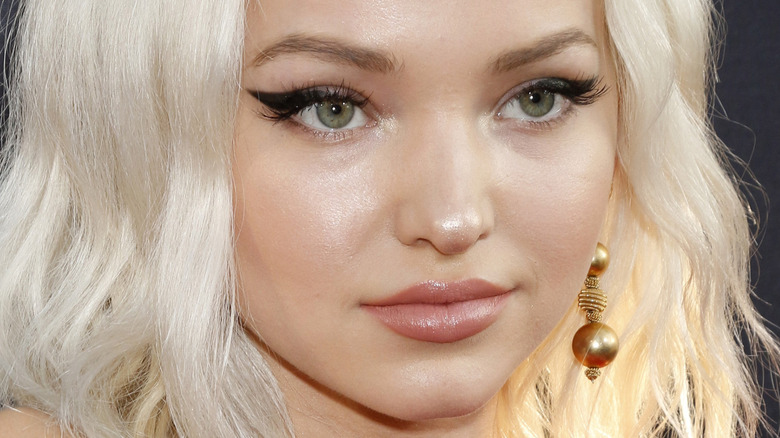 Kathy Hutchins/Shutterstock
Dove Cameron is gorgeous. There's no denying that. The former Disney Channel star turned singer is beyond stunning on the inside and out, so it's no surprise then that she's not adverse to a makeup free selfie or two. In fact, the former "Liv and Maddie" actor often shows off her glowing complexion without a stitch of makeup across social media, and has shared one of her biggest secrets to looking so stunning without spending hours in the makeup chair... great skincare! "I am pretty rigorous with my skincare routine. Every environment that I'm in, my skin changes a lot ... [so I come] prepared for the skin apocalypse," she told Vogue in 2020, admitting she doesn't travel light because she brings plenty of skincare products with her wherever she goes. 
Cameron even goes as far as to rub a cold rose quartz crystal over her skin to help blood flow. "This brings all the blood to the surface. Put [the crystal] in the fridge in the morning — it's great for depuffing," she told Vogue France in 2021. Hey, it's clearly working!
But while we're mostly used to seeing this star on screen with a few layers of TV makeup on her flawless skin, the "Agents of S.H.I.E.L.D." star turned singer is beyond stunning on the inside and out — and she's not afraid to let us know. But what does she really look like without the cosmetics?
Dove Cameron could be a professional makeup artist
It turns out Dove Cameron is a bit of a makeup junkie, to the point she's even done her own looks for some of her biggest projects! "I can go anywhere from slight fresh glam to full beat. In 'Descendants,' I feel like I did all my own makeup all the time for the second and third films just because I was so particular at that point," she admitted to Vogue of her skills in the makeup department. So it's unsurprising then that she has a few tips and tricks when it comes to cosmetics. "I feel like I unlocked a secret for my eyes," she admitted while sharing her beauty routine, revealing that she uses Kush Mascara by Milk in order to give her what she described as "big, thick, wild lashes" that have become her signature. Stunning.
The star is a big fan of a glowy skin look, revealing to Vogue France in 2021 that she applies tinted moisturizer to her already moisturized skin, calling it "the holy grail for all dewy looks." The star also revealed that she doesn't ever like to totally cover her skin with thick foundations and powders, telling the outlet, "If you can still see your skin, you're winning. This is a scar [on my face] from my dog when I was five. It adds character." What a great tip!
Dove Cameron goes makeup-free on social media
But just because Dove Cameron is clearly a makeup fan, that doesn't mean she doesn't like to show off her gorgeous bare face from time to time. It turns out the "Boyfriend" singer is actually quite the fan of the all-natural selfie, and has posted a few shots of herself sans cosmetics to social media over the years. Back in December 2013, she gave us quite the opposite of bad luck on Friday the 13th when she shared a gorgeous au naturale photo on Twitter complete with cross eyes. "It's a no makeup, no filter, pre-coffee, space-bun selfie kind of morning," she captioned it.
But that's far from the only time we've seen Cameron's bare, glowing skin. In February 2022, she posted a series of photos and videos to Instagram of herself posing in the mirror with her brunette locks tied back into a ponytail as she gave us a duck face snap and a wink. In another set of snaps, shared to Instagram in August 2020, she gave us a better look at what she really looks like when she's doing that all-important skincare routine. Proving she's a fan of a mirror selfie, that upload shows the star rocking a shiny clear facemask with her hair pushed back while she kept things casual in a white tank top.
One thing we know for sure? Makeup or not, Dove Cameron is a natural beauty.