Aaron Rodgers' Strained Relationship With His Family Seems To Be At A Standstill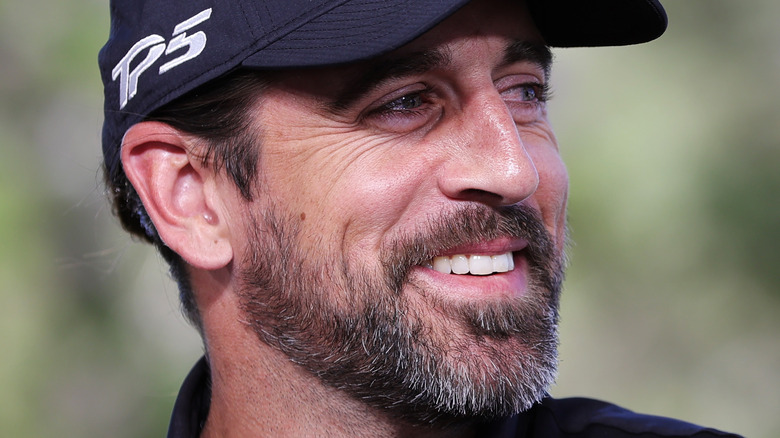 Carmen Mandato/Getty Images
Aaron Rodgers' drama with his family is pretty well-documented. The Rodgers family drama has hit the headlines multiple times over the years and really captured people's attention in 2016 when Jordan Rodgers, the younger brother to football star Aaron, spoke out about his family dynamic while vying for JoJo Fletcher's heart on "The Bachelorette" as she met his family. "It would have been nice to share JoJo with not only my parents and my brother Luke, but my brother Aaron as well. I miss my brother a lot — especially in moments like this because my family means so much," he said on the ABC show (via Entertainment Tonight). Of course, Jordan went on to marry JoJo, giving us one of the popular dating show's most successful love stories.
Sources told Entertainment Tonight in July 2016 that Green Bay Packers Quarterback Aaron had been estranged from his family for a while before Jordan brought their issues into the spotlight, with a source claiming, "The entire situation is painful for the family." That came after Jordan told Fletcher on "The Bachelorette," "Me and Aaron don't really have that much of a relationship. It's just kind of the way he's chosen to do life, and I chose to stay close with my family and my parents and my brother."
And, despite People reporting in January that Jordan and Aaron were supposedly talking a little again, it seems like things haven't gotten a lot better in the years that have followed.
Aaron Rodgers was left out of his nephew's birth announcement
It seems like things still aren't great between Aaron Rodgers and his family. Aaron's brother, Luke Rodgers, appeared to suggest things were at a standstill with the NFL star when he announced the birth of his son, Jack Jordan Rodgers, on Instagram on June 20. "Jack we choose your name because it means God is gracious. Your middle name is for [Jordan Rodgers] and we can only pray you grow up to be as generous, kind, loyal, (and tan) and an amazing man of character as your uncle Jordan," Luke wrote in the caption. It's not clear if Aaron congratulated his brother and sister-in-law privately, though he doesn't appear to have commented on the Instagram post. Jordan did though, writing, "Love him already and love you and Aimee so much! So happy for y'all and so freaking stoked to be an Uncle." 
Luke's wife, Aimee Rodgers, also gushed about Jordan. She revealed on Instagram her husband had Jack's name picked out three years ago and they chose Jordan "after one of the best men we know @jrodgers11 — Jack is going to adore you Uncle Jordan." Someone who was not mentioned in either emotional post? Jordan and Luke's other brother, Aaron.
Speaking on "The Bachelorette" in 2016, Luke admitted they don't speak about their strained relationship with Aaron. "It pains both of us like not to have that relationship. We miss our brother," he said (via NBC Chicago).