Inside Elvis Presley's Relationship With Barbara Eden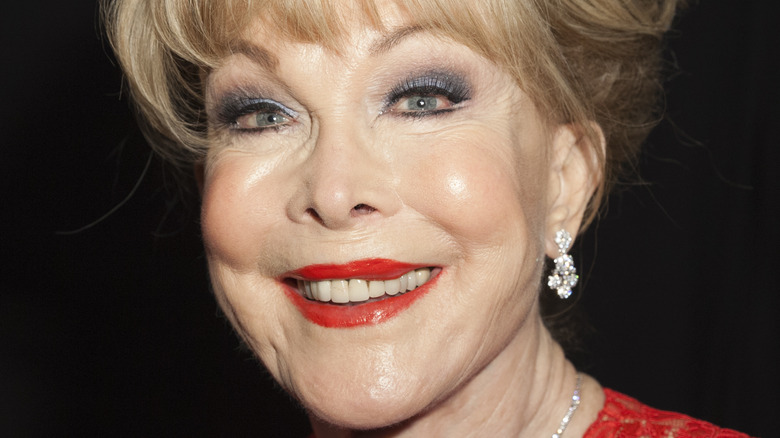 Lev Radin/Shutterstock
It was economic hardship that introduced Barbara Eden to the world of entertainment. A product of the Great Depression, Eden's mother, Alice Mary, used her soft voice and creativity to entertain her daughters with singing when money was short, Syfy noted. "However poor my parents were, they still hadn't forgotten how to love, how to laugh and how to dream," Eden detailed in her 2011 memoir "Jeannie Out of the Bottle." When Eden showed aptitude for singing, her mother encouraged her the best she could. Soon enough, young Eden was singing in the church choir and taking classes at the Conservatory of Music in San Francisco, according to the Herald Extra.
From singing came theater performances, which led to her being discovered by Hollywood director Mark Robson and signing a contract with 20th Century Fox, the Arizona Daily Star reported. It would only take a few years before Eden was rubbing shoulders with some of history's most extraordinary entertainers, including none other than Elvis Presley. And we're not talking about some casual meet-and-greet.
Eden was cast to co-star with Presley in the 1960 Western "Flaming Star," a few years before she became a household name as the "I Dream of Jeannie" lead. Eden's husband then, Michael Ansara, had just found himself out of work with the unexpected cancelation of "Broken Arrow," so the part came as a saving grace, she wrote in her book. Though Eden was used to famous faces by then, meeting one of greatest was still nerve-racking.
Elvis Presley was a fan of Barbara Eden's husband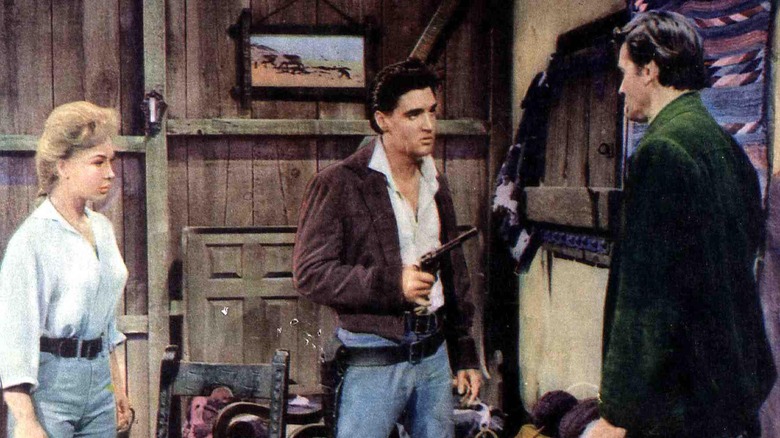 United Archives/Getty Images
Barbara Eden met Elvis Presley in early August 1960, when pre-production for "Flaming Star" kicked off, she wrote in "Jeannie Out of the Bottle." The actor was, of course, familiar with the King of Rock 'n' Roll and his performances on "The Ed Sullivan Show," which her mother never missed. "[I] was struck by his intense star quality and sex appeal," she wrote. Her impressions of Presley were of no help when she met him in the flesh. "By now, I'd met countless stars, but the prospect of meeting the great Elvis Presley and working alongside him was still daunting," Eden detailed.
But Eden had a card up her sleeve she didn't even know about. As it turns out, Presley was a fan of "Broken Arrow," particularly of Michael Ansara's Cochise. "That broke the ice between us," Eden wrote. Eden was surprised Presley had any spare time to catch Western series on TV, but he explained the show helped soothe him. "He told me that he couldn't leave his hotel room at night for fear of being mobbed, so he stayed locked inside and watched TV for most of the night," she recalled.
That conversation opened the door for many subsequent heart-to-hearts, giving Eden a unique glimpse into what went on in the mind of one of America's greatest icons of all times. "That answer afforded me a poignant insight into Elvis' world, one that surprised me," she reflected.
Barbara Eden and Elvis Presley bonded over dieting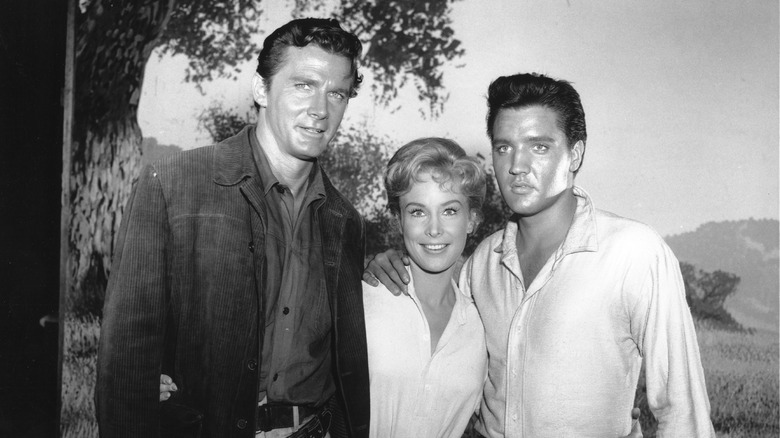 Michael Ochs Archives/Getty Images
Barbara Eden soon discovered she had another thing in common with Elvis Presley: a preoccupation with their weight. "Despite my meager diet, my battle against putting on weight was ongoing, and I told Elvis as much," she wrote in "Jeannie Out of the Bottle." To her surprise, Presley disclosed his own fears. "I said, 'Well, you don't have a problem. You're very lean'. And he said, 'No, no, my mama was heavy, and I take after her. It shows in my face, so I have to be really careful,'" Eden told Elvis Australia in 2008. 
Indeed, Presley struggled with weight gain before his 1977 death at 42, NPR noted. By then, the king was compulsively eating junk food, giving into his most extravagant cravings. In 1976, Presley flew to Denver just to indulge in a nearly $50 sandwich he'd once eaten there. If that sounds like an expensive sammie, the Fool's Gold Loaf would cost close to $200 in today's economy.
Before he reached that stage, Presley went through extreme measures to keep his love for food at bay. At one point, he began taking sedatives to avoid eating, according to History of Yesterday. "Food is the only thing I get enjoyment from," he said. Eden's interactions with Presley left a mark on her. "I got the impression it was like a jail. The only time he was free and happy was when he was on the stage," she told Elvis Australia.
If you are struggling with an eating disorder, or know someone who is, help is available. Visit the National Eating Disorders Association website or contact NEDA's Live Helpline at 1-800-931-2237. You can also receive 24/7 Crisis Support via text (send NEDA to 741-741).