Inside The Connection Between Morgan Wallen And Kenny Chesney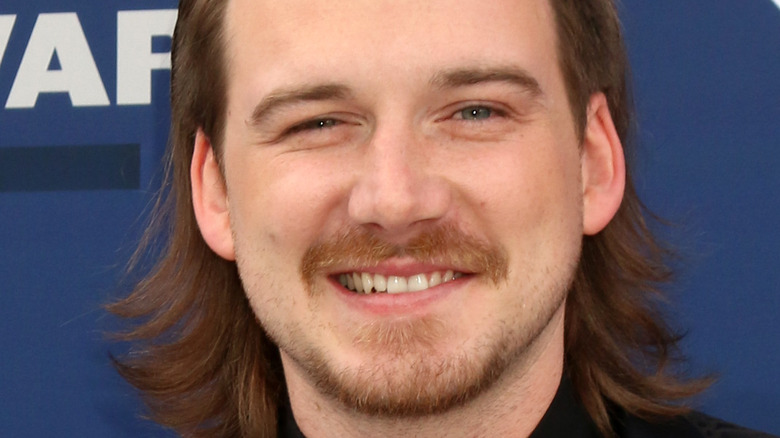 Kathy Hutchins/Shutterstock
It may sound like the same "small town boy makes it big" story that people have been hearing throughout the years, but breakout country singer Morgan Wallen has proved himself to be different from his predecessors. With his unique, raspy-sounding voice, Wallen has climbed the charts and stolen the hearts of many country music fans. For him, the career path was natural. "Once I started writing songs, it just sounded country," he told The New Yorker in 2020. "And I was, like, well, I guess I'll sing country music, because this is the life I know."
An avid sports fan, Wallen had dreams of being a professional athlete. He was always a fan of music, playing the violin and the piano at an early age, but sports quickly took over when he was in high school. Injuring himself before he could play college baseball, Wallen used music as an outlet for his frustration and sadness. "I was devastated because I'd put so much time and effort into baseball," he told Nashville Lifestyles. "I started writing songs and playing guitar. It was a way to help me get my feelings out and just to keep my mind occupied and to say the things that I wanted to say." Of course, it probably didn't hurt that his high school also boasted another country music superstar as an alumnus: Kenny Chesney.
Two legends, one high school
The "Whiskey Glasses" singer has a very cool connection to another country music singer, one who has already made it pretty big in the industry. Morgan Wallen and country legend Kenny Chesney went to the same high school: Gibbs High School in Corryton, Tennessee.
The coincidence certainly had a big impact on Wallen's confidence when he was beginning his career. "I would like to say 'thank you,'" Wallen said in a 2019 interview with 100.9 The Cat when he was asked what he would tell Chesney if he ever got the chance to talk to him. "When I was first starting out, and I'm still relatively fresh and new, it just seems like, 'Well this guy from my high school did it, so maybe there's a chance.'"
Wallen also said that he would like to perform a concert alongside Chesney as well as go to a Tennessee football game with him. And about a year later, the two did cross paths thanks to another connection — football player Peyton Manning. Manning first joined Chesney onstage at a concert in 2003, and they clearly got along. In 2020, Country Now reported that he invited Chesney and Wallen along with Cole Swindell, Luke Combs, and Jake Owen to hang out.
Morgan Wallen and Kenny Chesney moved from sports to singing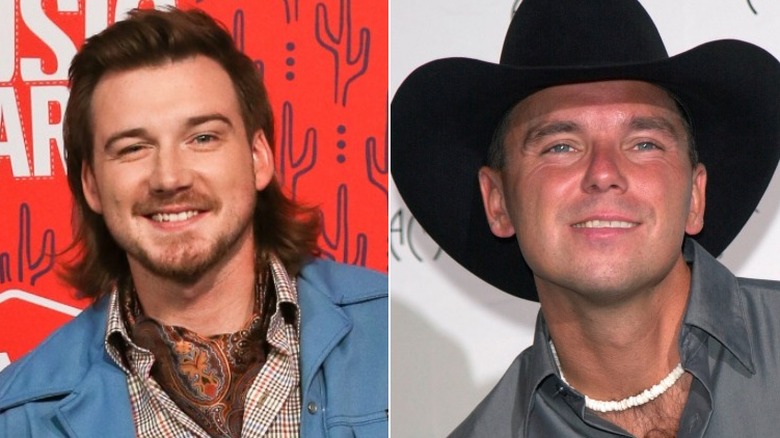 Debby Wong & Featureflash Photo Agency/Shutterstock
Kenny Chesney and Morgan Wallen also had similar career paths when it comes to their profession. Chesney did go to college, and it was a gifted guitar rather than an injury that led him to where he is now. But he played football and baseball in high school and considered doing it professionally, just like "The Voice" contestant did, according to The Boot.
As country singers, the two musicians obviously have similar sounds in their music. When Wallen's "Sand In My Boots" was released, fans thought it was oddly similar to Chesney's "Anything But Mine." The songs have a similar storyline and similar melodies in the chorus. Beyond that, they also both have a song about the same subject matter. Wallen and Chesney have given a shout-out to their shared hometown — Wallen in his song "More Than My Hometown," and Chesney in his song "Half Of My Hometown" which he sings with Kelsea Ballerini. With so much in common, we hope these two country stars can share the stage at some point — or maybe even collaborate on a song.