Why Honey Boo Boo Is Stirring Up Engagement Rumors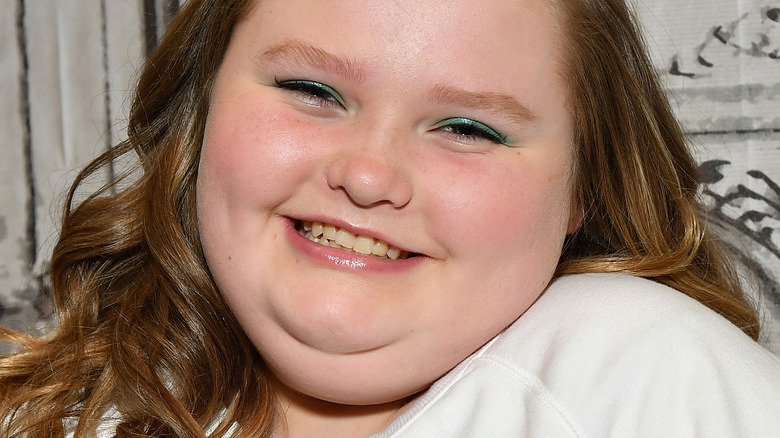 Slaven Vlasic/Getty Images
Alana "Honey Boo Boo" Thompson is living her best life with boyfriend Dralin Carswell. According to Page Six, the couple started dating back in March 2021 and at the time, they caused quite a stir after it was revealed Carswell was 20 years old while Honey Boo Boo was only 16. While fans found it hard to grasp the fact that the "Toddlers and Tiaras" star was all grown up and in a relationship, her mother Mama June Shannon came to her daughter's defense in regards to her dating an older guy. 
"[Dralin] is older but, at the end of the day, Alana's not that 6/7-year-old child y'all fell in love with 11 years ago," Mama June told E! News. "People need to realize that she's going to be 17 in August and that [Lauren "Pumpkin" Shannon] and Josh were the same age as they were."
While the pair have been dating for over a year now, fans started to speculate the couple had taken their relationship to the next level after Honey Boo Boo was spotting with something shiny on her finger. 
Honey Boo Boo is not actually engaged
Alana "Honey Boo Boo" Thompson was spotted in an exclusive photo obtained by the The U.S. Sun where cameras caught the "Here Comes Honey Boo Boo" star helping her sister Lauryn "Pumpkin" Shannon with her newborn twins. While the wholesome photo normally wouldn't make headlines, this particular shot had everyone wondering if Honey Boo Boo was actually engaged. The reality star was seen sporting a ring on her wedding finger which caused fans to speculate whether her boyfriend Dralin Carswell had popped the question or not. 
However, a representative for Honey Boo Boo quickly shut down the rumors confirming to Page Six that it's "just a ring" and that she is in no way engaged. While there is no sign of wedding bells happening any time soon, Carswell and Honey Boo Boo continue to flourish in their relationship. And, to top it off, he is well-liked within the family. 
"He is respectful," Mama June Shannon told E! News' Daily Pop. "He treats her good. He kind of helps out, you know, with the family whenever needed to be. I don't have a problem with him." Meanwhile, Pumpkin and her husband also gave their stamp of approval. "Me and my husband love Dralin," she told The U.S. Sun in a separate interview. "He's very respectful and treats Alana with the utmost respect. He is around us and our kids a bunch also and we love him for Alana."