Does Honey Boo Boo Have A Boyfriend?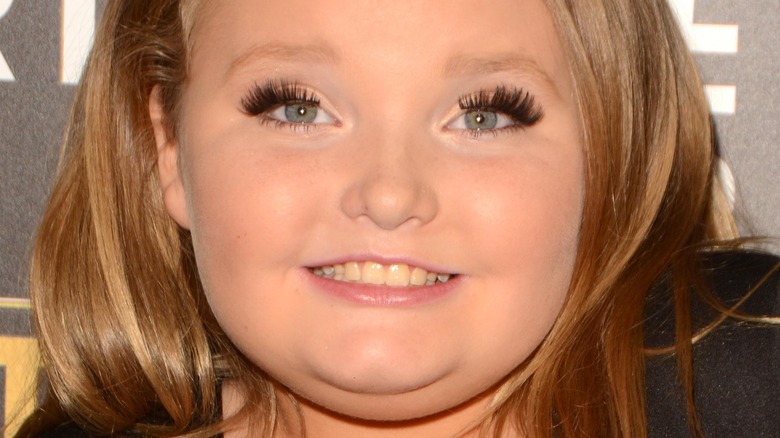 Kathy Hutchins/Shutterstock
We've seen Honey Boo Boo grow up before our very eyes. The infamous young pageant queen, who's real name is Alana Thompson, first shot to fame alongside her mom, Mama June Shannon, on TLC's peek into the world of children's pageants, "Toddlers & Tiaras," where viewers watched as we saw her transform into a glitzy mini Barbie.
Alana's over the top personality and her quirky family life quickly stole focus and landed the reality star her very own spin-off. "Here Comes Honey Boo Boo" had the world fascinated once again when it debuted on TLC in 2012, documenting all the ups and downs of the pageant family's life behind closed doors as they gave fans a peek at their small town country life in McIntyre, Georgia.
So popular was the family that Mama June then went on to land her own spin-off series in 2017, "Mama June: From Not to Hot," which showed the mom of four as she attempted to transform her life. But the family quickly became more well known for their foibles than their achievements.
Fans saw Mama June split with Alana's dad, Mike "Sugar Bear" Thompson, and she and her boyfriend at the time, Geno Doa, found themselves in trouble with the law. Mama June then lost custody of Alana, who went to live with her sister, Lauryn Shannon in 2019.
But it sounds like Honey Boo Boo is now all grown up and starting a love life of her own.
Honey Boo Boo has reportedly been dating a man four years older than her
Alana Thompson, aka Honey Boo Boo, is apparently all grown up and dating. According to a late August report from The Sun, the 16-year-old reality star is dating a 20-year-old college student named Dralin Carswell, with the site reporting that the two have apparently been together since March.
According to an insider, the two "are attached at the hip and hang out together all the time" and he's already met her famous sisters, though it's not clear if he's met Alana's mom, Mama June Shannon. "He was quiet at first, but he's like one of the family now. He's just as fun and crazy as the rest of them," the source added. The age of consent in Georgia, where the couple both live, is 16 years old.
The site reported that things appear fairly serious between the two as well, as it's believed Alana set her relationship status on her private Facebook account to "In A Relationship" back in March, while Dralin did the same. She's also reported to have shared at least one photo of them together on her private page, with her boyfriend reportedly commenting on the snap, "bae," though he doesn't appear to have popped up on her public Instagram account just yet.
Honey Boo Boo called her boyfriend her only real friend
Alana "Honey Boo Boo" Thompson confirmed she was in a relationship a few days before The Sun uncovered his identity. The 16-year-old reality star opened up about her relationship status during an interview with Teen Vogue, where she revealed that she considers her man, now reported to be Dralin Carswell, to be one of her only real friends.
"To be honest, I do not have many friends. At all. Because I feel like folks are so much like, 'Oh, my God, I'm friends with Honey Boo Boo,'" Alana told the outlet during an in-depth interview and photo shoot, though she didn't mention her partner by name. "I don't trust nobody really, so I don't have friends," she added.
But, adorably, it sounds like Carswell is very supportive of his girlfriend's ventures as she continues her life in the spotlight. Teen Vogue reported that her boyfriend joined Alana on set for her photo shoot and escorted her home.
As for what's next for the infamous child star, she revealed during the interview that her next steps are graduating high school and college, after which she wants to become a nurse. Alana also told the outlet that her goals are pretty down to earth despite her fame, as she plans to move out when she turns 18 years old and buy a car.
It seems like Honey Boo Boo has it all planned out, despite a turbulent childhood.