Model Yumi Nu Comes From This Famous Family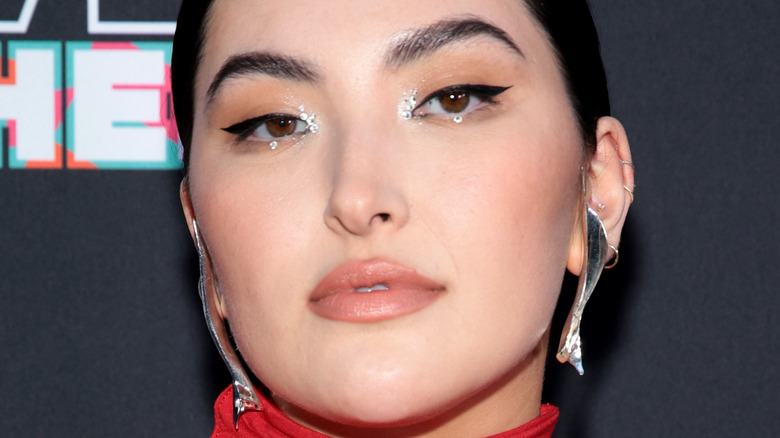 Dimitrios Kambouris/Getty Images
Yumi Nu is one of the hottest names in contemporary modeling. In May, Nu made history by becoming the first body-positive model of Asian descent to land the Sports Illustrated Swimsuit cover, People reported. "I have not been able to sleep, breathe or think straight since I found out. I never dreamt of this because I didn't know that I could," the American model of Dutch and Japanese heritage celebrated on Instagram.
Even before the major milestone, Nu was already on a mission to makes changes to the Asian side of the industry. In September 2021, Nu also became the first plus-size Asian-American to be featured on the cover of Vogue. And in February, she graced the cover of Vogue Japan, marking a personal victory for her. "For as long as I could remember, I've been telling my agents and any agency I met with that I wanted to be the first plus size model on the cover of Japanese Vogue," she revealed on Instagram. Her reason was crystal clear. "Asian culture has been slower to champion body diversity or inclusion and for me one of my biggest missions as a model was to start to change that."
In addition to her pioneering modeling work, Nu is also an accomplished singer-songwriter, who finds time to excel in both. Nu has a host of talents and the courage to explore them professionally. Nu's success is certainly her own doing, but she may have inherited her family's innovative genes as well.  
Yumi Nu's grandfather founded a popular restaurant chain
Yumi Nu is the daughter of Kana Grace Nootenboom, who is the daughter of the late Hiroaki "Rocky" Aoki. You may not recognize the name, but you most likely have eaten at one his restaurants. In 1964, Aoki flung the doors open to the first Benihana in New York, the Japanese-inspired restaurant that popularized the style of cooking known as teppanyaki, The New York Times noted.
Aoki also introduced a sort of showmanship unknown in the U.S. culinary scene then, instructing chefs to showcase their knife- and fire-throwing skills before amused customers sitting around a steel grill. Benihana's histrionic style was a reflection of the family's patriarch. Nu was only around 11 when Aoki died of pneumonia at the age of 69. As such, most of her memories of Aoki have acquired a magical feeling to them. "He was such a huge personality, and just a larger-than-life entertainer," Nu said on the "Tamron Hall Show" on June 9.
Nu lived with her family in New Jersey and crossing the bridge to see grandpa necessarily meant visiting him at the restaurant. Piling up onions and setting them on fire was, in Nu's head, a perfectly valid way to cook them. "I honestly didn't know that it wasn't normal," she said. Aoki was a visionary, and Benihana's 70-plus locations worldwide prove it. And Nu has a bit of that trait in her as well. At least her other famous family member thinks so. 
Yumi Nu is the niece of Steve Aoki and Devon Aoki
The Aoki talented genes didn't skip a generation. Two of Rocky Aoki's children went into the entertainment industry. Yumi Nu is the niece of the DJ Steve Aoki, who has also made a mark in the industry as a record producer and executive. Nu's aunt is Devon Aoki, the supermodel who became the protégé of Kate Moss in the 1990s, Vogue noted, and inherited the Versace crown from Naomi Campbell at just 16, i-D reported. Devon is also known for her acting work, having starred in "Sin City," "2 Fast 2 Furious," among other action flicks.
Nu and her younger sister, model Natalie Nootenboom, have followed in the footsteps of both their aunt and uncle. In fact, it was thanks to Steve's record label, Dim Mak, that Nu established her singing career. "He was a huge influence on us for music and also embracing our Asian roots," Nu told Teen Vogue in May. And she credits both as personal inspirations. "Steve and Devon were both breaking barriers on their own."
Steve sees the same in Nu and Nootenboom. "What these girls do is push themselves far beyond the limitations that are in front of them and conquer their previous selves," he said. And Nu believes it all traces back to the patriarch. "Our grandfather Americanized Japanese cuisine and broke his own barrier. We're surrounded by these people who are always pushing the edge of what could be possible."