Anna Wintour's First Selfie Ever Sees Her Team Up With A Huge Star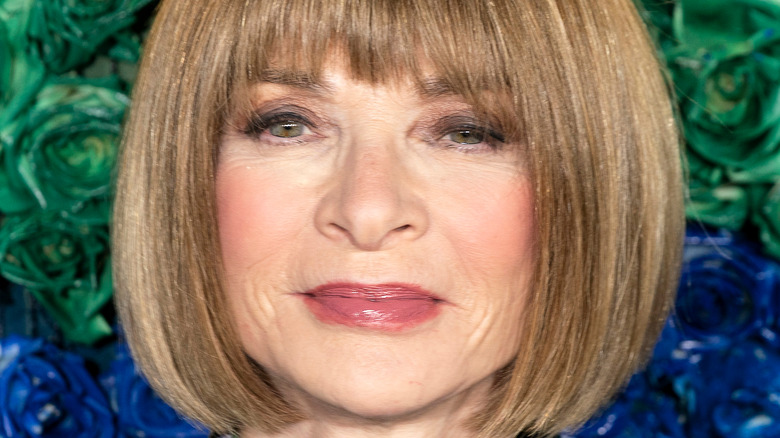 Ovidiu Hrubaru/Shutterstock
As the editor-in-chief of Vogue, it's an absolute must that Anna Wintour keeps up with the biggest trends, but she once turned her nose up at a massive social media craze: snapping selfies.
Instagram is a treasure trove of style inspiration for fashion fans, and the selfie has made it possible for anyone with a smart phone and a full-length mirror to show off their favorite outfits. But when Wintour did a Vogue "73 Questions" interview in 2015, she refused her interviewer's request to pose for a selfie. "I've never taken a selfie and I don't plan to start now," she said. Wintour doesn't even have a public personal Instagram account, and when a fan asked her if she was going to create one in another Vogue video, she replied, "No, I am not going to get my own Instagram handle, but I suggest that you religiously study our Vogue Instagram account."
Wintour elaborated on her issues with social media and selfies while participating in a Q&A at the Northern Youth Fashion Show at the University of York in 2016. "I'm struck these days by how often people come up to me and ask to take a photograph, instead of shaking hands, meeting one's eyes and having an actual conversation," she said, per Independent.ie. "Social media is great but don't let it be a substitute for living." However, Wintour finally broke her selfie embargo for a celeb who is notorious for her prolific social media presence.
Kim Kardashian scored the first Anna Wintour selfie
Kim Kardashian is such a big fan selfie fan, that she took a page from Anna Wintour's career guide by giving her most stylish snapshots a glossy makeover for her 2015 book, "Selfish." So, it's only fitting that the "Keeping Up With the Kardashians" alum got the magazine mogul to pose for her first-ever selfie, per BuzzFeed.
The historic moment took place when Kardashian joined Wintour at the offices of Condé Nast in NYC. Kardashian was there to chat about her new skincare brand, SKKN, and she showed off what the Vogue Instagram account described as her "Future Alien Barbie" look by puckering her pout for her selfie with Wintour. Kardashian even got the notoriously frosty fashion luminary to join her in throwing up a peace sign. When Kardashian shared not one, but two selfies on her own Instagram page, she captioned them, "BOBBSEY TWINS."
It was once thought that Wintour couldn't stand Kardashian. In 2021, RadarOnline reported that the Vogue VIP had banned the selfie queen from the Met Gala. "Anna hates Kim," an insider dished. But Kardashian became a fixture at the event beginning in 2013, and Wintour further acknowledged the SKIMS founder's status as a cultural phenomenon when Kardashian and West were featured on the cover of Vogue in 2014. "You may have read that Kanye begged me to put his fiancée on Vogue's cover," Wintour wrote in an editor's letter, per Us Weekly. "He did nothing of the sort."