The True Meaning Behind The Kid LAROI's Stage Name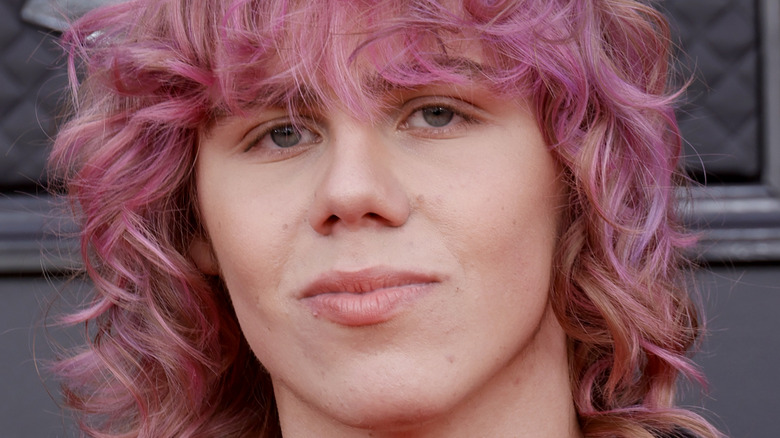 Frazer Harrison/Getty Images
Aussie star The Kid LAROI is one of the fastest-rising musical acts in the world. Just look at his track record: In 2021 alone, he released collaborations with Justin Bieber and Miley Cyrus, inked a deal with Sony Publishing, and won Breakthrough Songwriter of the Year at the APRA Awards in Sydney, Australia. In March of that year, Forbes reported The Kid LAROI became one of the most-streamed musicians of all time, when his "F**K LOVE (SAVAGE)" mixtape was streamed on Spotify over 1.28 billion times.
This is a huge accomplishment for any 18-year-old, but it's even more impressive when you consider that The Kid LAROI grew up in Sydney and still managed to conquer the American market. "It's extremely rare," Billboard Australia correspondent Lars Brandle said, speaking to Red Bull in an interview. "It's a rare feat for an Australian act to go so high on the main U.S. albums chart, let alone for a teenager from Sydney. You won't find a male solo Aussie rapper who has enjoyed such a huge start in the U.S."
In addition to his meteoric success, the rapper has emerged as something of a Gen-Z icon. Per Genius, The Kid LAROI rose to fame on TikTok by name-dropping the platform's sensation Addison Rae, and he speaks openly about previously taboo topics like mental health. Naturally, all the attention swirling around the star has made fans eager to hear every detail about him — like, how did he choose that unique stage name?
The Kid LAROI honors his family's heritage through his moniker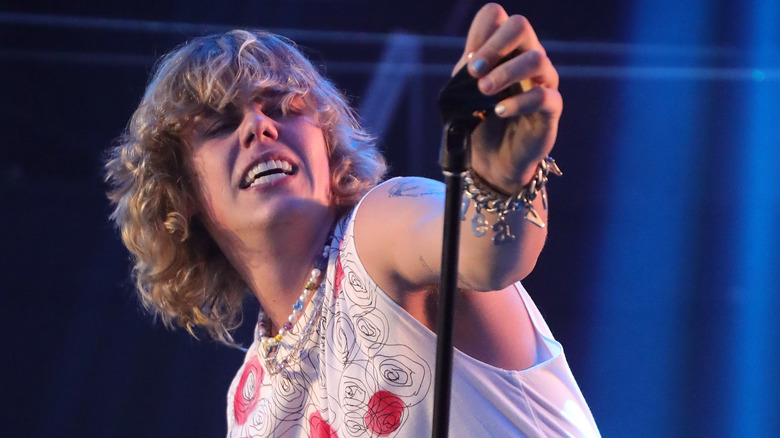 Leon Bennett/Getty Images
When he was 14, The Kid LAROI (real name Charlton Kenneth Jeffrey Howard) recounted his family history in a 2017 interview with Flame Media, revealing that he looked to his family tree to pick his stage name. "I'm part Aboriginal. I'm from the Kamilaroi tribe," he explained, adding that his hometown of Redfern, Australia was known for being an Aboriginal community. "My great-great-grandfather was part of the stolen generation," The Kid LAROI added.
His ancestor was sent to live with a white family, and was told that he was "Spanish" to hide his real heritage and rationalize his skin tone. However, his ancestor eventually realized the truth. As a result, the Kid LAROI's great-grandmother encouraged the rapper to "keep the [Aboriginal] culture going, whether that's through my music or sport, or whatever I want to do." The moniker "LAROI" is taken from "Kamilaroi," and thus pays tribute to The Kid LAROI's ancestry.
Since breaking onto the scene in 2017, The Kid LAROI has taken pride in his Indigenous Australian heritage. In 2021, he told Billboard of his future plans to make music that nods to his background. "I feel like as I keep going, people will start to see me more for me," he said. "I think that's already happening. Hopefully with this album, people will really start to separate me as my own person." Per The Guardian, The Kid LAROI also nabbed top honors at the National Indigenous Music Awards in 2021.
The Kid LAROI wants to help others like him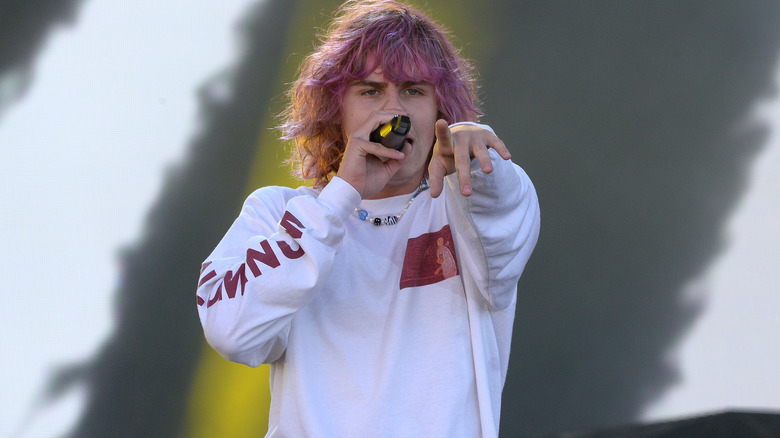 Daniel Boczarski/Getty Images
As his stardom has grown, The Kid LAROI remains committed to honoring his Indigenous roots. "[Knowing] your background and where your family comes from is very important," he told Billboard in 2021. "It's super important to carry that and be proud about your heritage." The rapper's fame has also given him a platform to spotlight fellow creators in his native Australia. "One of my biggest goals in this whole music s**t from the beginning has always been to show the rest of the world what Australia has to offer, and how much raw and unseen talent that we have," he tweeted in February 2021. "It's not an overnight process, but I can feel it slowly happening."
And perhaps his goal is already coming to fruition — because The Kid LAROI has spoken about how he's seen the rap scene Down Under change since he was first coming up in the industry. "I was talking to somebody about this the other day because I was like, 'When I was living in Australia, there was only a small group of people that was making music and rapping,'" he shared with Vice. "Now I get sent a new kid every day in Australia who's making music and it's crazy. I love it."
As Mic pointed out, hip-hop and rap have traditionally been channels to help marginalized and/or disenfranchised populations overcome poverty. In this way, The Kid LAROI can thank his Indigenous upbringing.