Selling Sunset: Who Is Emma Hernan's Love Interest Micah McDonald?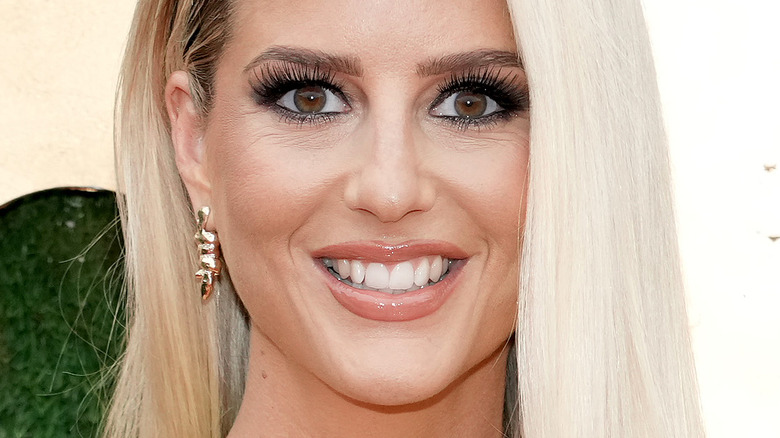 Jeff Kravitz/Getty Images
Chrishell Stause and Jason Oppenheim's relationship wasn't the flame that burned bright in Season 5 of Netflix's reality television show "Selling Sunset" — Stause's co-star and co-worker Emma Hernan also found a potential love interest. In Episode 3, Hernan was introduced to Micah McDonald when she went to visit a property that was still under construction.
Throughout the season, we see Hernan's relationship with McDonald get a little more flirty than most agent-client relationships. Hernan even says in the show that she usually keeps things strictly professional, but McDonald keeps "checking off boxes," implying that she's attracted to the man. "Me and Micah definitely have something special," Hernan told Entertainment Tonight. While we only saw the two flirt on the show, Hernan added that she and McDonald still keep in touch with each other and they have become closer since the filming of Season 5. So just who is this mysterious man? 
Micah McDonald has his hands in many pies
Micah McDonald seems to prefer to keep his private life off the internet — perhaps because he is so busy. The "Selling Sunset" star is in charge of everything — from building to marketing — during a property's development stages. In Season 5 of the series, McDonald is the developer for a property Emma Hernan is hoping to sell once it is fully built. The 10,000-square-foot Los Angeles mansion, per Decider, was almost completely built when Hernan toured it and later brought co-worker Chrishell Stause to see it. On Instagram, McDonald revealed that he had spent five years getting the property ready.
McDonald works in Los Angeles and Texas which means the property developer (and Hernan's eye candy) frequently travels back and forth. As we learn in the show, McDonald does have a desire to bring Hernan to Texas and show her around. The property developer also owns a Mezcal bar. The Sagrado Mezcaleria bar can be seen in episode 5 of the show's fifth season, as McDonald invited Hernan to have a cocktail and try Hernan's empanadas. The bar is still in business and McDonald added the empanadas to the menu, apparently in honor of Hernan.
Could Emma Hernan be Micah McDonald's one?
"Selling Sunset" fans wondered if the Emma Hernan and Micah McDonald ship has sailed since the filming of Season 5, as the finale left the relationship unconfirmed. In the show's reunion episode, Hernan mentioned she's living the single life and openly dating, even revealing that she still keeps in touch with the ex-fiance that fellow Oppenheim group agent Christine Quinn was also involved with. "Right now I'm single and dating," Hernan told Today. "I'm open to a relationship... Micah and I still talk and we have a great relationship."
While the two both work in Los Angeles, Hernan also manages her food company in Boston and McDonald works in Texas, and that complicates things. "I've done the long-distance thing for so long that it would be nice to have a relationship where they're in the same, at least, state," Hernan told ET in April. Still, she teased that more could come from their pairing. "We've become closer. ... Maybe Season 6, there will be a label, a ring. Who knows?"  
It was recently revealed that the two met up to list the property that has been in development since the beginning of filming for Season 5. The property's asking price is nearly $19 million. "Micah and I have a really special connection and bond," Hernan told E! News. "You kind of got to see that actually onscreen as ... it was developing, but you know, who knows? I always say like you never know what's gonna happen."