What Really Happened Between Matt Lauer And Lara Spencer?
Chance Yeh/Getty Images
Television journalist Matt Lauer had a scandalous exit from his post on the "Today" show. Prior to joining the popular NBC program in 1994, Lauer had a storied career — which included stints at news stations in Boston, Philadelphia, and Richmond (per The Atlanta Journal-Constitution). After several fill-in gigs at "Weekend Today" and "NBC News at Sunrise," Lauer was tapped to join the "Today" show as a full-time anchor.
However, Lauer's television career ended after he was accused of sexual misconduct by several women, according to USA Today. After the incident, Lauer released a statement saying he was "truly sorry" for his actions. "There are no words to express my sorrow and regret for the pain I have caused others by words and actions," Lauer wrote. "To the people I have hurt, I am truly sorry."
The scandal also shook up his personal relationship, as Lauer's then-wife, Annette Roque, filed for divorce in the wake of the scandal. And while Lauer's marriage seemed to have completely dissolved following the debacle, it wasn't the first time the journalist found himself at the center of an extramarital scandal. In fact, he previously found himself in one fellow news personality Lara Spencer.
Matt Lauer is accused of cheating with Lara Spencer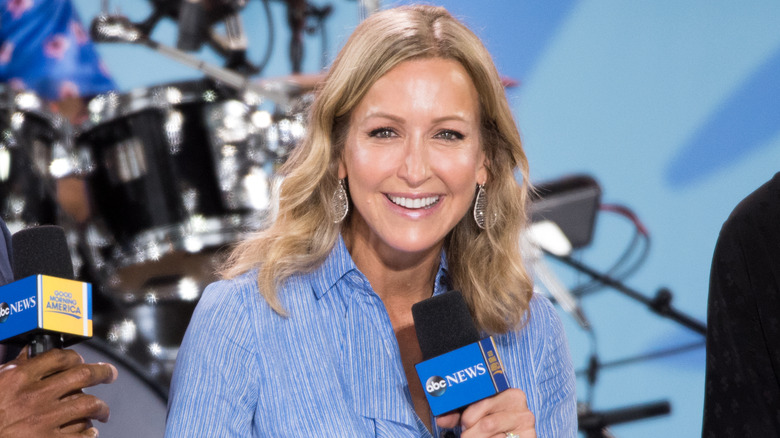 Noam Galai/Getty Images
In addition to being accused of sexual misconduct, Matt Lauer was rumored to have contributed to Lara Spencer's divorce from David Haffenreffer. According to the National Enquirer, Lauer was once confronted by his then-wife, Annette Roque, for "flirting up a storm" with Spencer.
"Matt and Lara became overly fast pals. Their closeness raised eyebrows!" a source told the publication in 2015. "It's been a living hell for Matt now that Annette is on to him and Lara ... Now that Lara is ending her marriage, Annette has a lot to worry about. She's on high alert." The insider went on to claim that Roque insisted Lauer cease all contact with the "Good Morning America" host.
Following her split from Haffenreffer, Spencer married tech entrepreneur Rick McVey. The pair — who tied the knot in 2018 — appears to boast a loving relationship, judging by their adorable photos on Instagram. While some fans may still wonder about the depth of Spencer and Lauer's relationship, neither has ever publicly addressed the flirting rumors. It appears that both have since moved on.
Where is Matt Lauer now?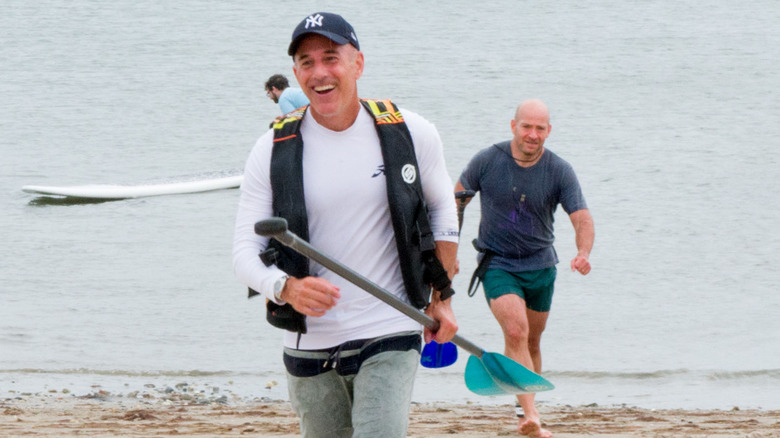 Steven A Henry/Getty Images
After he was fired from the "Today" show, Matt Lauer shied away from the public eye. He agreed to pay his ex-wife, Annette Roque, $20 million in their divorce settlement, and has since placed their Hamptons home up for sale. While Lauer was once one of the most recognizable faces on morning television, he is now living a much quieter life. A source revealed to People in November 2021 that the disgraced journalist "stays to himself" following the scandal.
"People would check up on him for a while, but that's stopped to a degree," an insider revealed. "He just stays to himself, he doesn't really reach out to people very much anymore or engage them and so he's been losing touch with a lot of people." The source went on to suggest that the former journalist was fired from NBC without compensation, but is presumably living off of income earned from his real estate investments. 
Lauer has since been romantically linked to PR exec Shamin Abas since 2019. A source told ET in 2020 that the two are "a great match." Meanwhile, Lara Spencer continues to co-anchor "Good Morning America," in addition to hosting HGTV's "Flea Market Flip."