The Tragic Death Of Baltimore Ravens Linebacker Jaylon Ferguson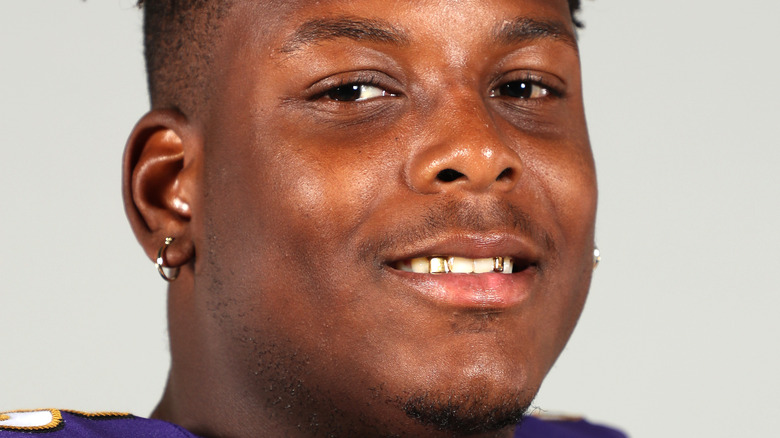 Rob Carr/Getty Images
Baltimore Ravens linebacker Jaylon Ferguson has died at 26. According to TMZ, the Baltimore Police Department found Ferguson "unresponsive" inside a local residence on the evening of June 21. Per The Baltimore Sun, Northern District officers were responding to a "questionable death" in Baltimore's Harwood neighborhood. When they arrived, medics were called. Unfortunately, Ferguson never gained consciousness and was pronounced dead on the scene. While the cause of death currently remains unknown, the authorities do not suspect foul play and there weren't any physical signs or areas of the body that displayed trauma. TMZ also noted that "investigators are not ruling out the possibility of an overdose."
Following the heartbreaking news, the Ravens released a statement on social media. "We are profoundly saddened by the tragic passing of Jaylon Ferguson," the statement read, "He was a kind, respectful young man with a big smile and infectious personality. We express our heartfelt condolences to Jaylon's family and friends as we mourn a life lost much too soon."
Ferguson is survived by his fiancee, Doni Smith, as well as their three young children. Smith posted multiple Instagram Stories in the late NFL star's honor, writing in part, "Never in a million years, I thought I'll be saying RIP to you. My soul aches soooo bad baby ... please watch over us!" She also shared a picture of Ferguson with their kids, writing, "I got our babies ... I'll forever have you with me through them!!!!" She promised that his "legacy will continue."
Jaylon Ferguson made a name for himself on the field
Scott Taetsch/Getty Images
Jaylon Ferguson was an incredibly talented football star, both in college and during his time in the NFL. He was a third-round draft pick for the Baltimore Ravens in 2019, according to CBS Sports. Before the NFL, he was a starter and dynamic player in college at Louisiana Tech. In 2018, he was named the C-USA Defensive Player of the Year. He also earned first-team All-C-USA honors twice.
During his time at Louisiana Tech, he set the record for career sacks (45) for the Football Bowl Subdivision. He was given the nickname "Sack Daddy" as a result. Prior to the 2019 draft, some drama followed him from college. In his freshman year, he was reportedly arrested for fighting at a McDonald's, which led him to be disinvited to the NFL Combine, according to TMZ. People on social media began fighting that Ferguson deserved a chance and the NFL eventually caved, causing them to invite him to the Combine after retracting their invite. He told the outlet that the drama and attention would probably help him get picked higher in the draft. After all, it really got his name out there. 
Ferguson was set to continue playing for the Ravens during the upcoming NFL season, which would have been his fourth with the team. The late linebacker appeared to be healthy, despite a recent injury that occurred the week before his death. According to sports reporter Jonas Shaffer, he suffered a sprained ankle during the Ravens' three-day minicamp. However, he was still set to attend training camp, which will begin in late July. During his time with the team, he lived up to his nickname with 67 tackles. 
Jaylon Ferguson's teammates mourn this tragic loss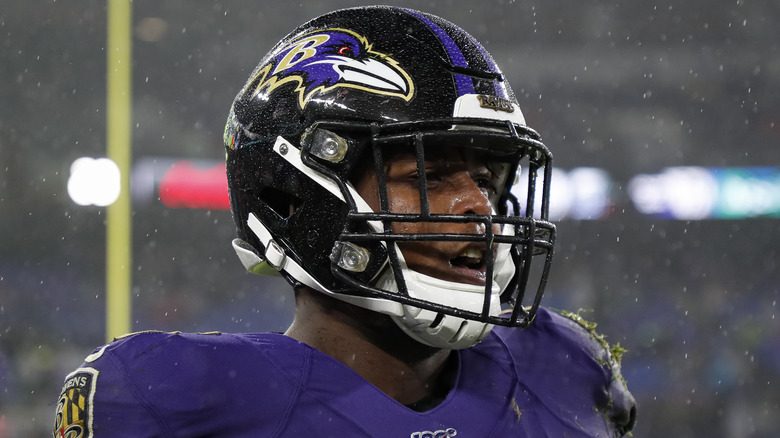 Scott Taetsch/Getty Images
As mentioned, Jaylon Ferguson was ready to continue his NFL career and return for another season with the Baltimore Ravens. Now, his former teammates are speaking out about the loss on social media.
Patrick Queen, a linebacker for the Ravens, tweeted, "The last person I talked to leaving the facility. Spent almost everyday in the sauna together tryna see who gone last longer. Said it was our turn this year man. Ima miss you bro." Josh Bynes, who is also an inside linebacker, tweeted, "Always had REAL convo's!! Joked together, laughed together, prayed together, fought on the field together!! Just a genuine spirit. Love this man! Will miss you bro." Several other former teammates, including Pat Ricard, have expressed their shock and sadness about the loss on social media too. An editorial director for the Ravens, Ryan Mink, shared his condolences on Twitter as well, writing, "Absolutely tragic. I always enjoyed being around Jaylon. He had big goals and a great personality. RIP, Jaylon."
Ferguson's death marks the fifth loss of an NFL player since December 2021. Earlier this month, Marion Barber passed away from unknown causes. NFL fans suspect CTE is the cause of Barber's death. However, his family reportedly decided to not donate his brain to CTE research, according to the Fort-Worth Star Telegram. It's unclear what exactly happened to Ferguson, but our condolences are with his loved ones during this difficult time.