The Craziest Moments On The Masked Singer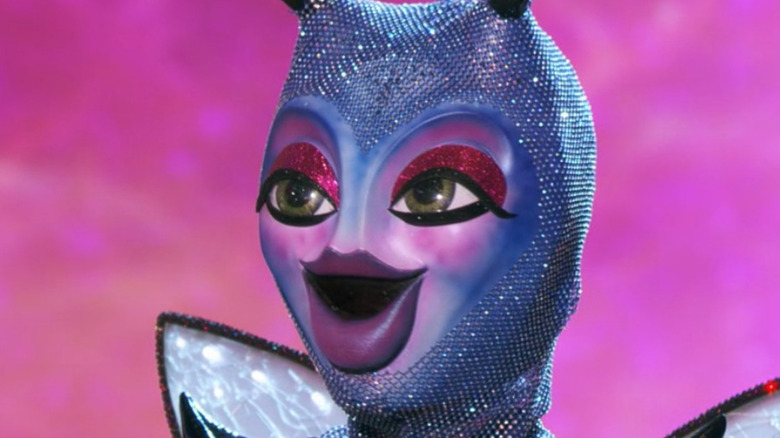 Fox
When "The Masked Singer" premiered on Fox in January 2019, the bizarre new twist to a reality singing show — where celebs don elaborate costumes and drop clues as to their identities — had many viewers and critics confused but curious. Entertainment Weekly ran with the headline, "What the holy hell is this?" Given the new concept, with costumes ranging from stunning to silly, it made sense that some viewers didn't take the show seriously. 
And yet, America proved they love a good mystery mixed with great talent. The show, which features Nick Cannon as host, hit big in the ratings. According to Deadline, "The Masked Singer" premiered to 9.36 million viewers and broke multiple records; by 2022, it was still flying high with the third-highest rating in unscripted TV. The show has featured serious legends in its seven seasons: LeAnn Rimes, Gladys Knight, Lil Wayne, Rob Gronkowski, Bob Saget, and Tony Hawk, to name a few. They stepped into their chosen costumes, complete with full head coverings, and sang their hearts out.
This is a program where secrecy is of the utmost importance; we're dealing with high-profile celebs performing for larger-than-life judges Jenny McCarthy, Ken Jeong, Robin Thicke, and Nicole Scherzinger. There's bound to be some surprising antics and memorable moments. Keep reading as we share some of the craziest moments in "The Masked Singer."
Ken Jeong walks off when Rudy Giuliani is revealed
In Season 7, Episode 7 of "The Mask Singer," the competition was down to five contestants, including Jack in the Box, who sang a not-so-flawless rendition of "Bad to the Bone." Not surprisingly, Jack in the Box was eliminated. Ken Jeong's guess was Elon Musk, while Robin Thicke thought it was Robert Duvall. When "Jack's" head finally came off, beneath the mask was former mayor of New York and attorney to Donald Trump Rudy Giuliani, shocking the audience and entire panel. 
Jeong's shock wore off as host Nick Cannon interviewed a smiling Giuliani. The politician spoke about his granddaughter being his motivation, Nicole Scherzinger "awwd," and Ken Jeong stoically stood with his arms folded across his chest. When Giuliani started his unmasked version of his final song, Jeong declared, "I'm done," and then was seen exiting the stage. Though the cameras didn't catch it, Robin Thicke reportedly joined Jeong.
According to ET, Jeong and the series hadn't given public comments on the incident, though a source told People that Thicke was apparently only walking off to check on his friend Ken. Of course, Twitter had plenty to say. One poster said, "I will never watch it again!" Another said, "I stand with Ken Jeong for walking off the set of The Masked Singer when Rudy Giuliani appeared."
Firefly choking on stage
The elaborate costumes on "The Masked Singer" are just as enticing as the singing, if not more so. Sometimes they are big, furry, and cuddly; sometimes they might be silly or hilarious; and other times, they're magically beautiful, as in the case of Season 7's Firefly. With grace and gorgeous vocals, Firefly wooed the judges with her performances throughout the season. But on the season opener, when Firefly began to sing "Ain't Nobody" by Chaka Khan and Rufus, her bottom all aglow, something went terribly wrong. She appeared to be choking. 
The judges rose to their feet, clearly concerned, urging for someone to help the contestant. Panelist Ken Jeong, who is also a licensed physician, rushed onto the stage. The stage crew made it there first and ushered Firefly backstage while the show continued.
Later in the episode, host Nick Cannon announced, "This Firefly is one heck of a fighter." The singer returned to the stage to perform to the cheers of the crowd and the judges, who were on their feet in support. Robin Thicke gave Firefly props for coming back and giving what he felt was, quote, "the best performance of the night." The contestant didn't discuss what had happened and simply told the panel, "I've been performing all my life, and it feels amazing every time I step on stage." Ultimately, Firefly prevailed and won the whole thing, and the reveal showed the "masked" singer was R&B singer-songwriter, actor, and model Teyana Taylor.
Nicole Scherzinger and Thingamajig flirt
Six-foot-four with a furry green face, glasses, and snaggly teeth, Thingamajig came in 5th place in Season 2 of "The Masked Singer." Not too shabby for the lovable character, and the man behind the mask, NBA player Victor Oladipo. But what might have been an even bigger score for Thingamajig was winning panelist Nicole Scherzinger's heart. From Thingamajig's first performance, there was an obvious spark between the two. And when he sang a heartfelt "Rainbow" by Kacey Musgraves, Scherzinger wiped away the tears, saying, "I'm looking at Thingamajig, but he sounds like an angel." She then gave him the heart sign and later said, "After that performance, I'd marry you."
What likely sealed the deal was in Episode 9, when Thingamajig sang "I Haven't Met You Yet" by Michael Bublé. Scherzinger's photo was displayed behind him with the words "It's a match" underneath. She blew him a kiss and the two exchanged some flirty banter. At his elimination, Scherzinger guessed her "future husband" was NBA player Markelle Fultz. After the reveal, Jenny McCarthy asked if he'd go on a date with Scherzinger, and Oladipo replied, "Of course. We can go anywhere, anytime, anyplace."
While Ken Jeong — who guessed Victor Oladipo correctly — posted a hilarious Instagram video in which he crashes the couple's official meeting, it's not clear whether the two went on an actual date.
Mickey Rourke unveils himself
Mickey Rourke is an actor and former boxer who often found himself playing the role of a villain or rebel. His off-screen persona was viewed similarly at times, and as the actor told Fox News, he was blacklisted for over a decade due to his behavior. So, it didn't come as that big of a surprise to some viewers when Rourke, who's known for films "9 ½ Weeks," "Man on Fire," and "The Expendables," unveiled himself during Season 4 of "The Masked Singer." 
Dressed as a cute furry Gremlin, Rourke seemed barely able to get the words out to "Stand by Me" by Ben E King. He made it through the song, and during the applause, Jenny McCarthy asked, "Is he like a hundred years old?" When it came to her guess, she threw out Rourke's name. But it appeared the panel was taking too long, because the Gremlin made a "hurry up" hand gesture and then was pulling at his collar, saying, "I wanna take this off right now."
Chaos ensued while everyone pleaded with him to stop, and Cannon called out for the Men in Black. Rourke grinned as he flung his animal head into the crowd. Though the reason wasn't clear to viewers, Cannon said it was because Rourke was hot. One of the show's costume designers revealed to Metro, "We got him into the costume, but I was still having to make adjustments before he went on stage so he could feel more comfortable." She admitted that they couldn't find the mask Rourke discarded.
Contestant falls and loses his head
The Season 7 premiere of "The Masked Singer" pitted disguised contestants against each other in categories: The Good, The Bad, and The Cuddly. One mystery celeb on team cuddly was McTerrier, an adorable Scottish white terrier who was dressed in a kilt and surprised the panel by starting with a drum solo before belting out "Working for the Weekend" by Loverboy. McTerrier seemed to be reveling in the subsequent applause and McCarthy's shouts of "Go Dog! Go Dog!" so much that he wasn't paying attention to where he was going as he inched toward the end of the stage. 
When his foot slipped over the edge, he over-corrected the other way, and McTerrier's head fell off. Thinking quickly, the contestant covered his face, turned his back and cried, "What do I do?" while the audience reacted with a mix of shock and confusion. The judges averted their eyes. Once McTerrier got his head back into place, he reported that he was okay, but added, "I was just worried because, you know, I'm commando under here," referring to his kilt.
Despite the judges' love for the contestant, the Terrier was eliminated that same night and revealed to be pastry chef and TV personality, Duff Goldman. Of his almost premature unmasking, Goldman jokingly told Cannon he was worried about getting sued, and that he really didn't want to jeopardize the competition.
Monster singing Stay with Me brings judges to tears
In Season 1 of "The Masked Singer," viewers weren't quite sure what to expect, and it's likely that many thought it was a show not to be taken seriously. But as silly and outrageous as certain disguises were, these contestants were giving moving performances, one of the most memorable being Monster singing "Stay with Me" by Sam Smith during the semi-finals. All the judges, including guest panelist Kenan Thompson, appeared mesmerized by the one-eyed monster's emotional vocals. Scherzinger said during the song, "Oh my God, he's amazing."
When Monster finished, Thompson appeared to be comforting an emotional Jeong, and while that might have been for show, Scherzinger was wiping away real tears. Amongst the cheers of the crowd, Nick Cannon said, "Ladies and gentlemen, I think we have just witnessed greatness from the Monster." Among the comments from the judges, Robin Thicke said, "If you close your eyes, that's a Grammy-worthy performance." Maybe these words gave Monster that final push, as he ended up winning the whole thing. Monster was revealed to be T-Pain, a singer-rapper and music producer, whose real name is Faheem Rasheed Najm.
In 2021, the panelists voted on their top 5 "Masked Singer" moments, and T-Pain's performance was one of them. "Seeing this monster making the hairs stand up on the back of my neck, that still resonates as when I fell in love with the show myself," Robin Thicke mused.
Penn & Teller's Teller actually sings
One of the unique aspects of "The Masked Singer" is that while the clues are supposed to help the panelists and viewers figure out who is behind the mask, there's also some misdirection at play. Some contestants find inventive ways to hide "tell" that would give them away too soon. Such was the case with Hydra, the three-headed dragon who appeared on Season 7 of the Emmy-winning show. 
As Penn Jillette told TV Insider, he and his partner, Raymond Teller, are very well known as a duo; Penn & Teller have been performing together for more than four decades, and they are the longest-running headliners to perform in Las Vegas. Plus, Penn told the publication his voice is too recognizable. So the three-headed costume would have people thinking of trios instead of duos. What was more remarkable was that Teller, who doesn't speak during their Penn & Teller act, sang two parts, while Penn sang one, giving the impression that there were, indeed, three singers. However, at one point in the competition, Robin Thicke was unconvinced it was three people. And other panelists like Jenny McCarthy were throwing out duo guesses, including puppets Bert and Ernie.
While none of the regular panelists guessed Penn & Teller at the unmasking, guest judge, actor, and TV host Nicole Byer did. And if you're wondering if Teller spoke any words after the mask came off, he did — but with his face covered by a fan.
Ken Jeong doesn't recognize his best friend
It's always great to see a big reveal on "The Masked Singer" be a complete surprise to everyone. But it's even better — and probably a little embarrassing for the panelist — when the contestant is someone near and dear to their heart. Someone you'd think they'd recognize either by singing voice, personality, or clues. Too bad for panelist Ken Jeong that he missed all of it and was blown away when the Poodle's identity was revealed in Season 1. The first thing Jeong said when she began to sing was, "Whose voice is that?" and then proceeded to sing along to Pat Benatar's "Heartbreaker."
When the sassy canine in high heels was eliminated and the panel had to guess before she pulled off her pink-tinged head, they seemed to be stumped, and no one guessed that it was stand-up comedian Margaret Cho. A stunned Jeong climbed up on the desk and said, "She's my sister on 'Dr. Ken.' I should know that. I had all the clues and I knew nothing. I'm so dumb!" The moment turned touching when he said, "You are the reason I am a comedian. I love you so much, you have no idea."
In 2021, Jeong told Kelly Clarkson the flub was one of his most embarrassing moments, especially since Cho couldn't believe he didn't know it was her. "The look on my face was pure embarrassment. Because I know I would not be able to live that down for the rest of my life, and I haven't."
Jenny McCarthy doesn't recognize her own husband
In Season 5 of "The Masked Singer," a fun feature was added to the program, a masked clue-giving rooster called Cluedle-Doo, who was also there "to disrupt the game completely," according to host Nick Cannon (via TVLine). Cluedle appeared in a lair, hinting at the chaos he was going to cause, but other times he provided insight to the viewers that the panel might have missed. Soon, he was crashing the contestants' time on stage, like when he came out and stole the Seashell's food clue.
During the semi-finals, the elaborately dressed rooster crooned "Return of the Mack" by Mark Morrison. The panelists were clearly impressed, including guest judge, singer Darius Rucker. Two judges guessed Jamie Foxx. Jenny McCarthy said, "His tone reminded me of Akon."
The moment of the reveal, when McCarthy saw it was actor and former New Kids on the Block member Donnie Wahlberg — her husband — she was so flabbergasted she stumbled backward and landed on her bottom. And when she regained her composure, she said, "I'm supposed to have golden ears, and I didn't recognize my husband's voice." The couple shared a sweet moment when Wahlberg went behind the desk and gave his wife a hug, the two smooching a bit too long for the other judges' comfort. So, how did Wahlberg pull it off? "He tricked me. He would actually FaceTime me from 'Masked Singer' set," McCarthy told ET. Except, her husband pretended he was on the set of his show "Blue Bloods."
Ken Jeong is tearful at the Serpent's reveal
The mystery contestants on "The Masked Singer" are not always famous actors, singers, or athletes. In Season 4, a celebrity of a different kind was hiding behind the Serpent mask. His first song, a soulful rendition of "I'm Gonna Be (500 Miles)" by The Proclaimers, moved and impressed the judges. The next round, Nicole Scherzinger said he had a "God-given talent," and during the Group B Finals, Scherzinger confidently guessed it was singing surgeon from the Mayo clinic, Dr. Elvis Francois, who went viral on Instagram singing John Lennon's "Imagine" during the pandemic. The clues that cinched it for her were that the two had sung together before, and she had seen a jar of "mayo" in one of the clue clips.
At the reveal, the judges showed their appreciation for the doctor, and he in turn said his patients got a lot of joy from watching the show. Ken Jeong, who is a doctor along with his wife, fought back tears as he said, "Your version of 'Imagine' got us through the pandemic, man." He gushed about the living room concert Dr. Elvis participated in, saying he thought the doctor was the best part of that night.
Francois spoke to Entertainment Weekly about his emotional reveal and Jeong's praise. "Knowing that his words that he said to me were really directed to all of our health care workers across the country was special, and I think that's where the true honor goes," Francois said.
Nick Cannon is a wild card contestant
In Season 5 of "The Masked Singer," the audience was surprised when Nick Cannon didn't initially host the show. In his place was actor and TV host Niecy Nash, who sent him well wishes and hoped for his return (via Gold Derby). In February 2021, Variety reported that Cannon had tested positive for COVID-19 and would be in quarantine.
Nash as host wasn't the only new thing this season, as the show added "Wild Card" contestants to the competition. In week 5, the Wild Card was Bulldog, wearing a gold tracksuit with black accents. Bulldog had all the right moves when he sang "Candy Girl" by New Edition, but the panelists seemed to have no clue who it was. Ken Jeong guessed Chris Tucker, while Jenny McCarthy initially thought Eddie Murphy but then threw out Chris Rock's name. Then, in a shocking twist, Nash announced she would pick the contestant to get unmasked and announced Bulldog, who dramatically fell to his knees.
Cannon sported a huge grin when he unveiled himself, and the judges appeared shocked and delighted. As McCarthy shouted, "Welcome back, Nick," Cannon called, "Guys, I love you!" He also took a moment to give props to Nash for doing an awesome job stepping in, even kneeling before her and calling her "queen." Cannon said he gained more respect for the contestants after his experience, adding, "I never thought I would be nervous. Like, my heart was beating fast."
Fans notice big continuity error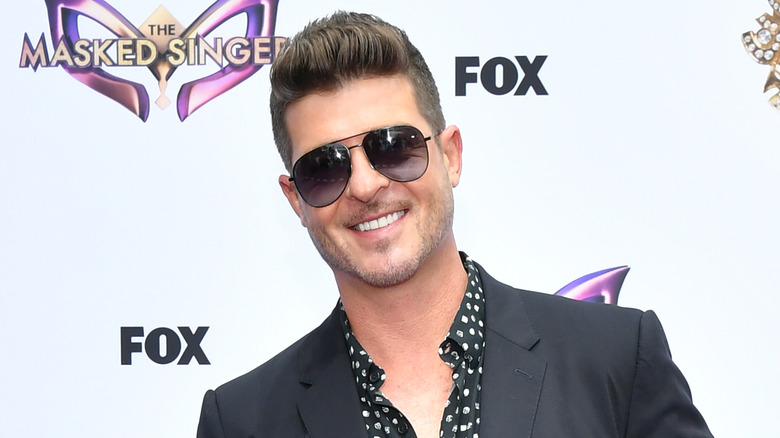 Amy Sussman/Getty Images
Most fans of "The Masked Singer" understand that there is a lot that goes into the production of episodes, including editing. But reality show fans also won't hesitate to call out continuity issues, like clothing not staying the same across episodes, or hairstyles changing rapidly. 
In Season 3, Episode 3, someone was definitely asleep at the switch. First, the judges were making their guesses for White Tiger. Nicole Scherzinger said she thought he was actor Joe Manganiello, and when the camera panned over to Robin Thicke, who said, "That's not bad," he'd clearly had a wardrobe change. For that split second, Thicke wore a black jacket with a floral shirt and pocket square instead of the all black — including his tie — he'd been wearing the whole show. As reported by Express, fans noticed and took to Reddit to complain.
Things went from bad to worse at the end of the show during Monster's reveal. "King of Queens" star Leah Remini was a guest panelist seated between Thicke and McCarthy. She'd just given her guess of Mary Wilson when the camera went to Thicke for his guess. Now, Thicke was clearly sitting next to McCarthy and Remini seemed to have just disappeared. Fans tweeted about the mishap, including, "Does...does that make her the masked singer?"