Who Is Harvey Weinstein's Wife?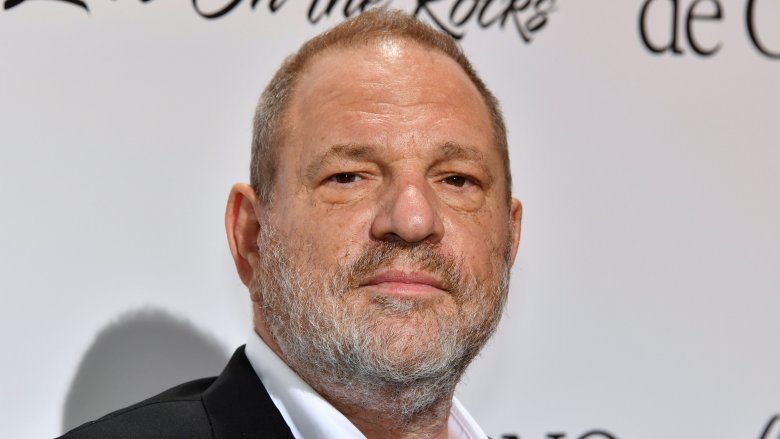 Getty Images
Harvey Weinstein's run as an award-winning movie producer and Miramax titan came to a screeching halt after The New York Times published a shocking exposé on Oct. 5, 2017, detailing numerous reports of alleged sexual harassment over the last two decades. More damaging reports followed, including a horrific piece in The New Yorker and another from The New York Times, in which A-listers ranging from Gwyneth Paltrow to Angelina Jolie accused Weinstein of sexual assault. Within days, his professional ties with The Weinstein Company were severed.
Weinstein's personal life is falling apart, too. As the allegation mounted, his wife of 10 years, fashion designer Georgina Chapman, announced that she was leaving him. Let's take a closer look at the woman behind the controversial Oscar-winner.
She's Harvey's second wife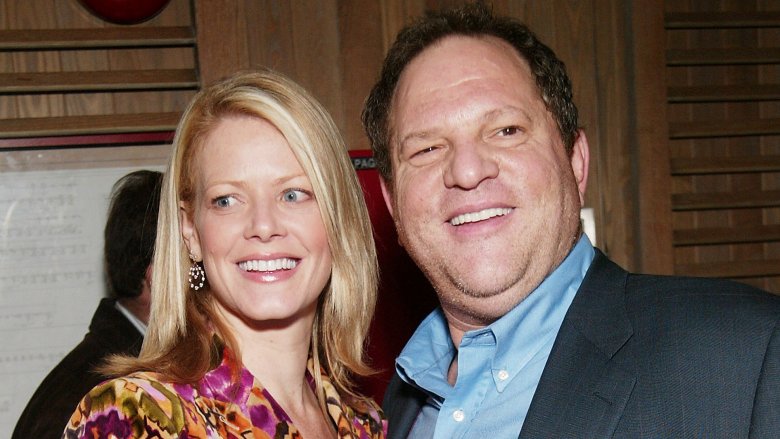 Getty Images
Before Chapman, there was Eve Chilton. According to the Daily Mail, Chilton was hired as Weinstein's assistant in 1986; within a year, they were married.
"It seemed like not even a day [passed] before he was all over her," former Miramax employee Mark Lispky recalled in the 2004 book Down and Dirty Pictures by Peter Biskind (per the Daily Mail). "For possibly a couple weeks or so there were a dozen roses on her desk when we walked in to work, to the point where we had to confront him and say: 'You can't do this, it's an office not your personal, sexual playground.'"
They had three daughters together before their split in 2004. According to the Daily Mail, Chilton hailed from a prominent New England family, and after the divorce, she eventually married a man named Sal Martirano and settled in the suburbs of New York.
She's British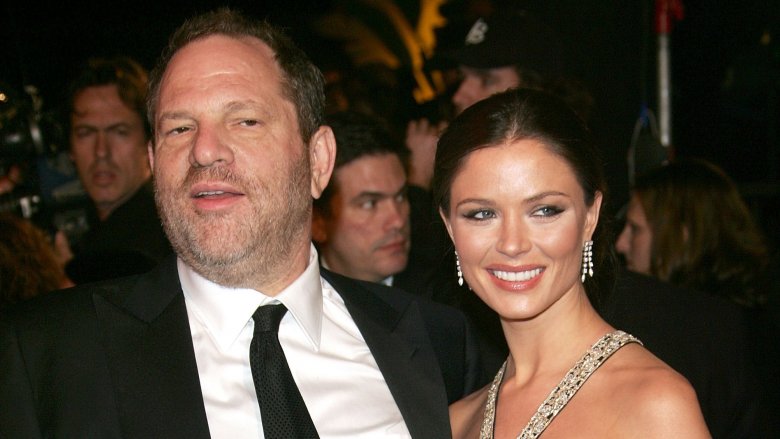 Getty Images
Chapman was born April 14, 1976, in London. According to Haute Living, Chapman's father, Bruce, founded the organic coffee company Percol in 1987, which went on to make millions; her mother, Caroline Wonfor, worked as a journalist.
Of course, being a member of the British elite almost always comes with some form of connection to the Royal family. In Chapman's case, it's through her studies at Marlborough College, where Duchess of Cambridge Kate Middleton is an alum, reported Haute Living.
She cofounded a major fashion label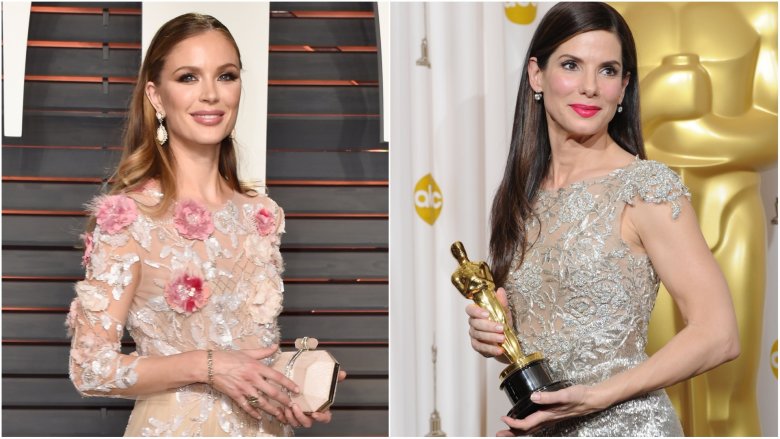 Getty Images
Even without the Weinstein connection, fashion-lovers likely know Chapman through the high-end label Marchesa, which she co-founded in 2004 with her friend, model Keren Craig.
The label, which has since expanded to include bridal wear, originally focused on eveningwear, which Chapman said was a risk at the time. "Sure, there was Valentino and Versace, but there weren't a lot of young brands out there [doing eveningwear]" she told Harper's Bazaar in 2011. "People thought we were crazy. They said no one does evening anymore, which only encouraged us to do it more."
Chapman said the label also relied on the increased attention in celebrity fashion to boost its presence. "We used red-carpet dressing as a marketing tool," she told Haute Living. "We thought if we could get red carpet, people would notice."
The brand quickly caught the eye of high-end stores such as Bergdorf Goodman and Neiman Marcus. Celebrities became fans, too. Sandra Bullock wore Marchesa when she won the best actress Oscar in 2010, while Blake Lively donned a Marchesa gown for her 2012 nuptials to Ryan Reynolds. 
She didn't know who Harvey Weinstein was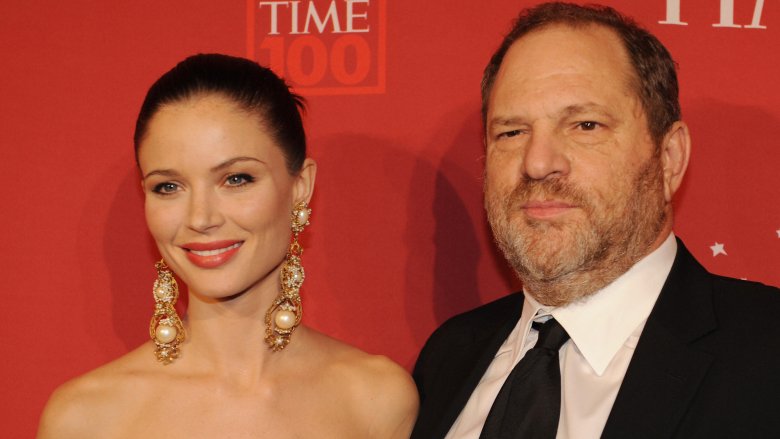 Getty Images
For better or worse, 2004 proved to be a life-changing year for Chapman. She launched Marchesa and also reportedly met Weinstein at a party in New York City. Chapman recalled their introduction with Vogue, "I had no idea who he was," she said. "He's not a person you can sort of ignore or brush off. He's incredibly charming and so charismatic, it sort of draws you in."
Chapman and Weinstein made their public debut at the 2005 Golden Globe Awards the following January, reported the New York Daily News.
She originally wanted to be an artist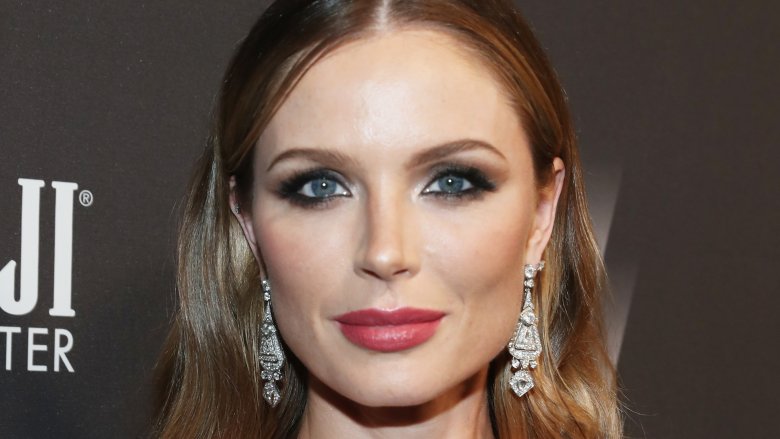 Getty Images
Despite being one of the brains behind Marchesa, Chapman didn't always have her sights set on the runway. When she enrolled at the Chelsea College of Art & Design, she originally studied fine art.
What made her switch her focus to fashion? "I got a bit sick of seeing someone splash red paint all over something and say it was about their mother giving birth to them, and I'm thinking it's the most boring thing I've ever seen," she quipped to Harper's Bazaar in 2011.
Money earned from modeling reportedly allowed Chapman to travel for a few years, then she began honing her craft at the Wimbledon College of Art, studying costume design. Although she told Harper's Bazaar that she "never had any real intention of being a costume designer," she did admit to Haute Living that she is "constantly being influenced" by famous film costume designers such as Catherine Martin and Sandy Powell. 
She dabbled in acting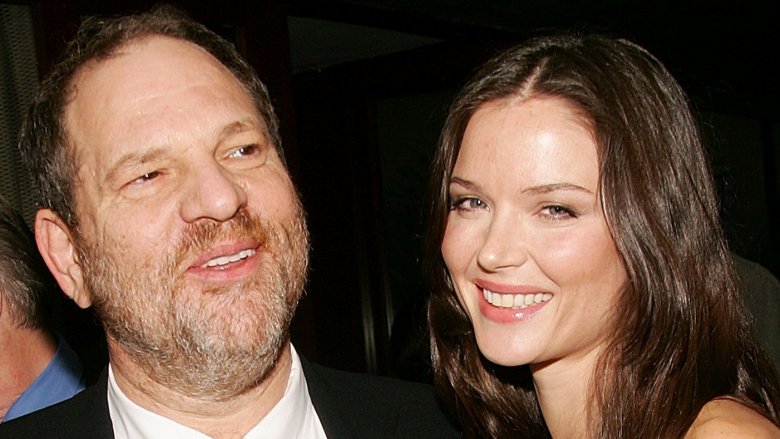 Getty Images
Chapman tried her hand at becoming an actress in the '00s. According to IMDb, her efforts included small roles in films ranging from Match Point (2005), to Derailed (2005) and Factory Girl (2006), some of which just so happened to have been produced by The Weinstein Company.
Her acting career was short-lived. Her last film credit to date is the 2007 Jessica Alba thriller Awake. When you consider all the success Chapman's experienced with Marchesa, we suspect she's pleased with her career trajectory.
Family is very important to her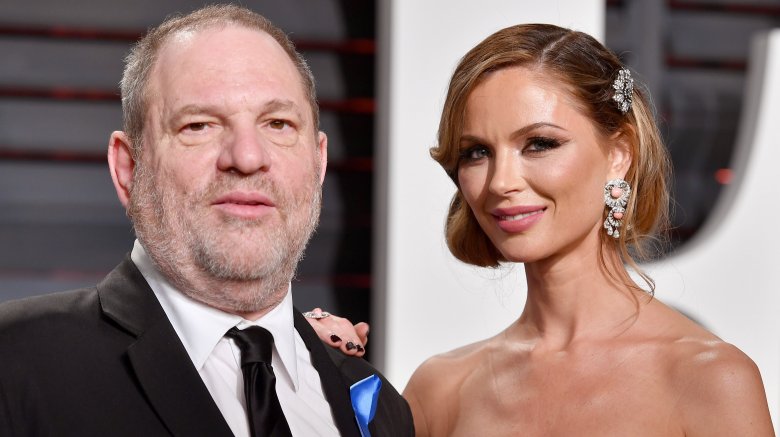 Getty Images
During her 10-year marriage to Weinstein, Chapman gave birth to two children: daughter India (born 2010); and son Dashiell (born 2013). In 2012, she told People magazine (via E! News) that family is her "number-one priority."
"I make sure I carve out time to be with my daughter... India comes into the office with me most days—she has her little area with a desk and she draws," said Chapman, who was pregnant with Dashiell at the time of the interview. "I leave later in the mornings now and spend the mornings with her, so I do see her. She spends a lot of time with me at work. I don't know how that's going to work once she's at school—I'm going to miss her, it's going to be hard."
Speaking to Vogue in 2013, Chapman also stressed how wonderful it was to maintain a close relationship with her three step-daughters. "I just love family," she said. "And for India, it's a wonderful thing. She just idolizes her sisters already."
Her brother is her CEO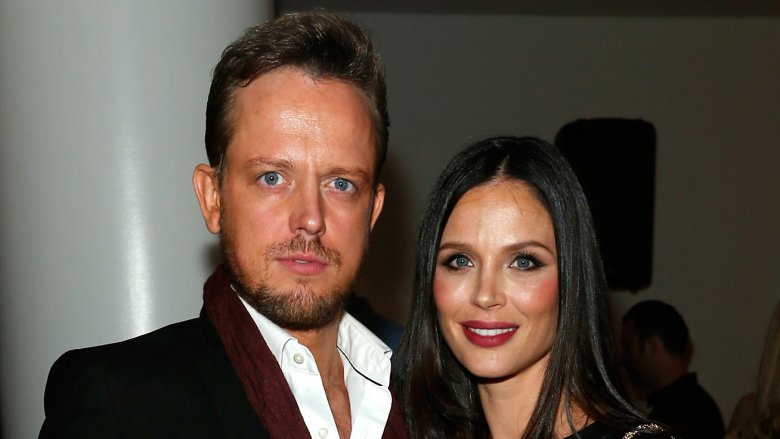 Getty Images
If one needed proof that family is important to Chapman, try this one on for size: according to Harper's Bazaar, her younger brother, Edward, is currently the CEO of Marchesa. "Keri and I are the creative end, and we needed someone we trusted completely to head up the business," she said. "So who better than a blood relative?"
Was Marchesa's success influenced by Weinstein?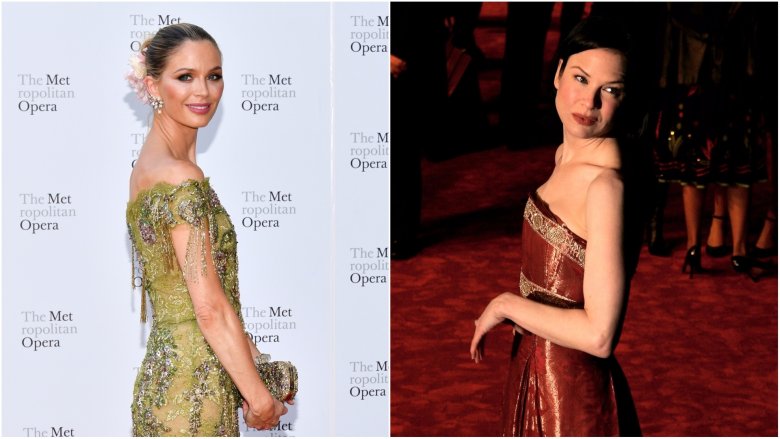 Getty Images
According to Vogue, Marchesa's meteoric rise prompted skepticism by some who wondered if Weinstein had used his connections to get Chapman's label on the red carpet. After all, the brand's red-carpet debut occurred in 2004, when Oscar-winner Renee Zellweger donned a Marchesa dress to the London premiere of Bridget Jones: The Edge of Reason, which was produced by Miramax. A publicist told The Hollywood Reporter that actresses Sienna Miller, who starred in the Weinstein-produced Factory Girl (2006), and Felicity Huffman, who appeared in The Weinstein Company's Transamerica (2005), both felt pressured to wear Marchesa or face the wrath of Weinstein.
Both Chapman and Weinstein denied the allegations. "It's no different from being in school and someone says something," Chapman told Vogue in 2013. "Your whole life is filled with things like that."
"The people who say things like that are just jealous," Weinstein told The New York Times in February 2007. "It takes away from the talent that Marchesa has exemplified." Still, Weinstein did acknowledge his influence, however small. "Maybe I helped, but just very, very little, with Renée Zellweger," he told Vogue. The New York Times also reported in 2007 that Weinstein had made "timely contributions" to Marchesa, but the company would not disclose the amounts.
Weinstein's sex scandal broke her heart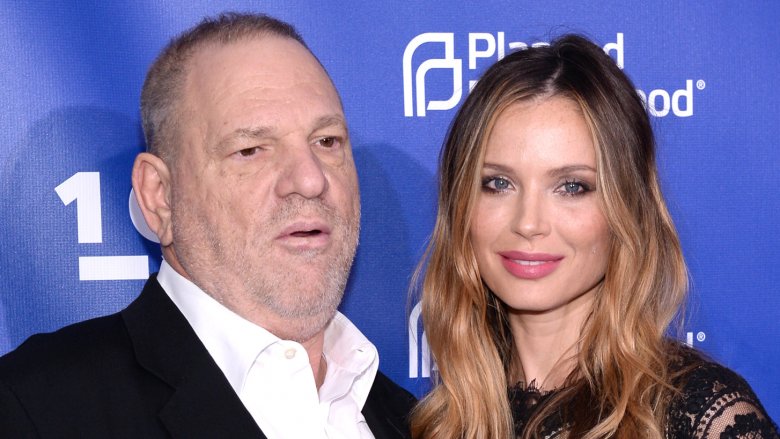 Getty Images
Although Weinstien initially claimed that Chapman would stand by him through his ongoing sexual harassment scandal, she confirmed to People magazine on Oct. 10, 2017 that she would, in fact, be leaving her husband.
"My heart breaks for all the women who have suffered tremendous pain because of these unforgivable actions," Chapman said in a statement. "I have chosen to leave my husband. Caring for my young children is my first priority and I ask the media for privacy at this time."
Weinstein said that he supported her decision to leave him. "I am in counseling and perhaps, when I am better, we can rebuild. Over the last week, there has been a lot of pain for my family that I take responsibility for," he told People.
The disgraced studio mogul, who has since departed for rehab, said, "I sat down with my wife Georgina, who I love more than anything, and we discussed what was best for our family. We discussed the possibility of a separation and I encouraged her to do what was in her heart. I understand, I love her and I love our children and hopefully, when I am better, I will be in their lives again."
She's worried about the scandal's effect on her brand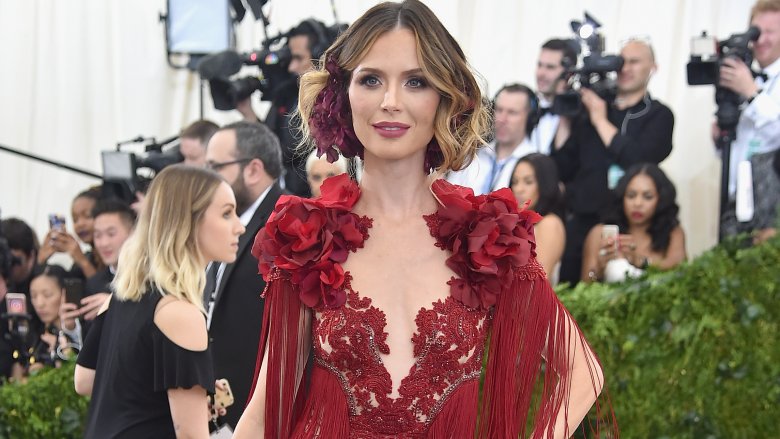 Getty Images
Prior to Chapman's separation announcement, People reported that the sought-after fashion designer had grown increasingly concerned about how her husband's actions might affect her career. 
"Right now, she seems very focused on Marchesa," a source said. "Marchesa is her baby too. It's a family business. She has several friends working for Marchesa and also her brother. She needs to keep business going. She will do what she can to keep her personal life away from Marchesa."
Another insider, said to be a "television and fashion insider," claimed Weinstein's deep connections could spell trouble for Chapman and her business. "Harvey is the one with all the friends," the source said. "It's going to be a tough time for her and Marchesa."