The Truth About Katie Holmes And Chris Klein's Relationship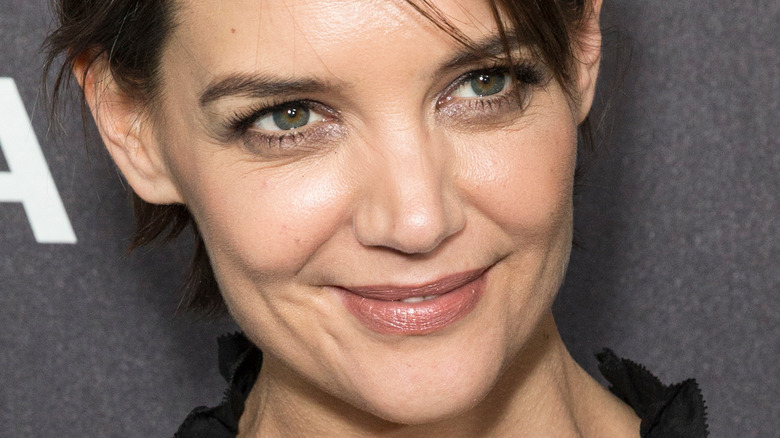 lev radin/Shutterstock
Katie Holmes and Chris Klein shot to fame around the same time when they were about the same age. Holmes became a household name as Joey Potter in the teen drama "Dawson's Creek," which premiered on The WB in January 1998 when she was 19. Similarly, Klein achieved fame at age 20 in 1999, when all the cool teenagers were doubling over in laughter together watching the VHS of the first "American Pie." Holmes and Klein inevitably crossed paths around then, igniting a romantic relationship between the two, according to Daily Mail. But they were young and busy with their budding careers, so it didn't last. 
By 2005, Holmes had been linked to Tom Cruise, whom she married in a castle in Italy in November 2016, The Blade reported. By then, Holmes and Cruise already had Suri, who was born that April, according to the Los Angeles Times. Their romance was the talk of the town. And their messy divorce attracted just as much, if not more, attention — particularly because Holmes seemed concerned about the Church of Scientology's involvement in her and Suri's lives, the New York Post reported.
Klein, for his part, was leading a much quieter life around that time. It wasn't until 2011 that he met Laina Rose Thyfault, who became his wife in 2015, People reported. The couple, who has a son and daughter together, is still going strong. Despite their lives going wildly separate paths, Holmes and Klein remember their shared time fondly.
Katie Holmes and Chris Klein were engaged for two years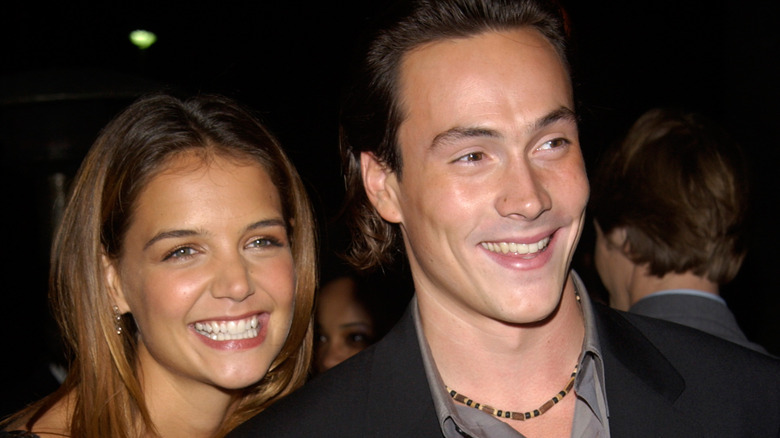 Featureflash Photo Agency/Shutterstock
Katie Holmes and Chris Klein were just around 21 when they started dating in 2000, according to Daily Mail. Despite their youth, the two were serious about each other. So much so that they decided they wanted to become husband and wife. After about three years together, Klein proposed to Holmes, news they made public in December 2003, The Blade reported. While Holmes' relationship with Tom Cruise was lived intensely in the spotlight, she previously showed a preference for keeping her private life to herself.
In fact, Holmes refused to share any details about her living arrangements or engagement to Klein with the media. Were they already living under the same roof? "That's our business. But thank you for wondering," she replied to People in 2003. Throughout their relationship, Holmes was still working on "Dawson's Creek," which was shot in Wilmington, North Carolina, according to People. That meant she and Klein, who was based in California, spent considerable time apart. "We certainly don't see each other as much as we'd like, but we try to use the time that we have to the best of our advantage," she told the magazine in 2002.
Holmes moved back to Los Angeles in 2003 after the last season of "Dawson's Creek" ended, according to People. But by 2005, they had broken off their engagement and gone their separate ways. While their relationship didn't work out, Holmes and Klein remained on good terms.
Katie Holmes and Chris Klein continued to be friends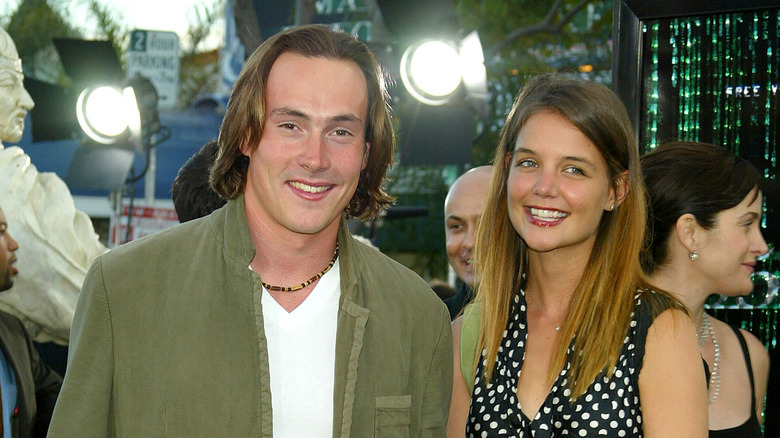 DFree/Shutterstock
Katie Holmes and Chris Klein may have decided getting married was not the right move, but that doesn't mean there was animosity between them. After breaking up, Klein had nothing but praise for his ex-fiancee. "Katie and I were on a journey together ... we were like the prom king and queen," he told People in 2012. The couple also had plenty in common, which strengthened their respect for each other. "We had a similar upbringing and we were going through the same experience [in Hollywood]." In a lot of ways, they grew up together. "We were kids, man," he told Daily Beast in 2012. "We met before we could legally drink."
But Klein also believed the same phenomenon that brought them close drove them apart. "As the teenage craze came to an end, we found that our relationship was changing as well," he told People. And the memories he has from their relationship are mainly positive. "We were all working, successful, and having fun. It was late '90s, young Hollywood, and we were having a good time ... not unlike all those vampires today," he said in his sit-down with Daily Beast.
Holmes and Klein are said to have remained friends. He even reportedly supported her during her divorce from Tom Cruise. "They've stayed on good terms since they broke up and he's one of Katie's few really solid friends," a source told Heat magazine (via Irish Independent).