How Tall Is Sabrina Carpenter?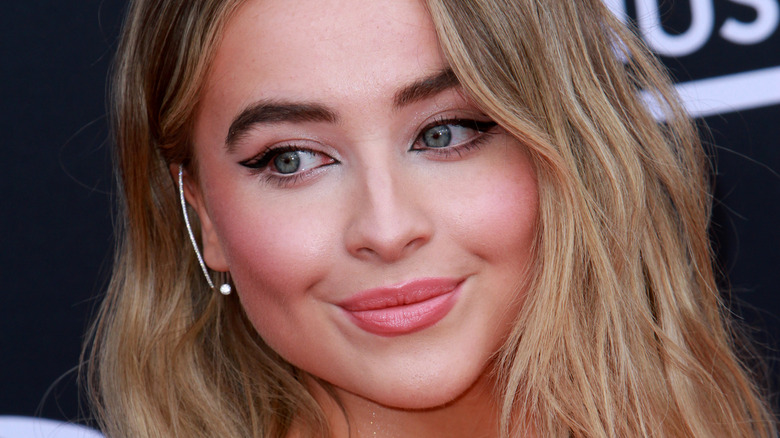 Kathy Hutchins/Shutterstock
Sabrina Carpenter first made a blip on the pop culture radar when she made a go at becoming the next big Disney star, and she hadn't yet reached her full height. Per Marie Claire, she participated in the "MileyWorld Superstar" singing competition at age 9, and she didn't let her failure to win dash her dream of making it big in the entertainment biz.
Carpenter told The Face that watching "Hannah Montana" at age 6 is what made her decide that she wanted to pursue the same career as the show's star, Miley Cyrus. This was probably a goal that she shared with millions of other kindergartners who got hooked on the Disney Channel series, but Carpenter took initiative and began building a modest acting resume. "At 10 years old people always said, 'You're so mature for your age,'" she recalled to W magazine. While some child stars get pushed into their careers by their parents, Carpenter assured GQ UK that this was not the case for her, saying, "It's always been my decision. It was always very much my own drive."
The ambitious Pennsylvania native kept hustling until she finally made it to the Disney Channel. Carpenter was 14 when she landed a role on "Girl Meets World," per Marie Claire, and viewers watched the multi-hyphenate grow up over the next four years. She gained immeasurable life experience before embarking on the next phase of her career, but her height measurement only made a modest gain.
How Sabrina Carpenter feels about her height
Sabrina Carpenter told Wired that she was no taller than 4-foot-11 during her time on "Girl Meets World," but a few months after the series finale, her height changed. "I remember when I hit 5-foot," she said. "I was doing the Macy's Thanksgiving Day Parade, and I found out that day." According to the "Skinny Dipping" singer, that was the end of her growth spurt.
Carpenter sometimes wears stiletto heels to make herself appear taller. In a February 2021 Instagram post, she showed her followers what a difference a pair of pumps with pointed toes can make when paired with a mini dress. "I know damn well I am 5 ft tall but here's this," she wrote. Carpenter even wore heels for the action scenes in her "Fast Times" music video.
However, the petite vocal powerhouse doesn't always traipse around in towering heels to look a little taller; she told Vogue that she also loves a good pair of Converse sneakers. "Once I realized that embracing how I was born was the easiest passageway to happiness, I found comfort in [wearing] Chucks," Carpenter revealed. The "Skin" singer also spoke to MTV News about learning to love the skin she's in. "My size is a huge part of me," she said. "So I wasn't born with long legs — who cares. You just have to embrace it. Being body positive is really important to your overall happiness."
What is the height difference between Sabrina Carpenter and Ava Michelle?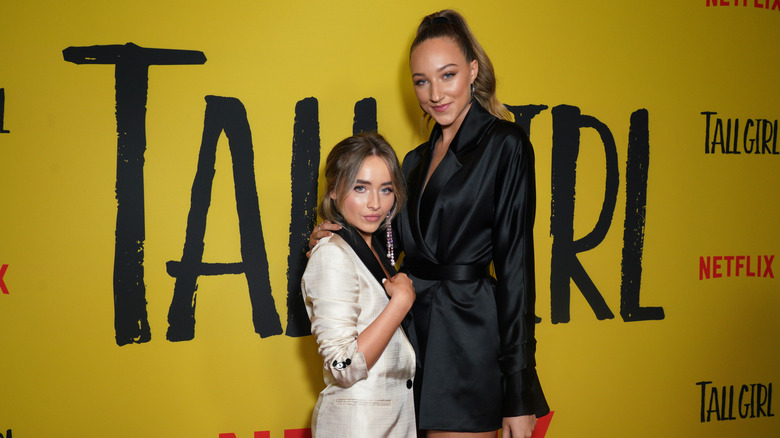 Jc Olivera/Getty Images
Sabrina Carpenter is, shockingly enough, not the titular character in the Netflix movie "Tall Girl" and its sequel. In the movies, she plays Harper Kreyman, a teen pageant queen with a younger sister who towers over her classmates. Former "Dance Moms" star Ava Michelle landed the lead role of Jodi Kreyman, thanks in part to her actual height. According to People, Michelle is 6-foot-1 and a half, making her over a foot taller than Carpenter. During an appearance on "The Zach Sang Show," Michelle said of her co-star, "She's such an amazing person. The funniest human being, and honestly, the most talent I have ever seen in that little tiny body of hers."
Michelle revealed that her height has prevented her from landing acting roles in the past, and in an interview with The Buffalo News, Carpenter included her smaller stature on the list of reasons she's been turned down for some parts she really wanted as well. Clearly, both actors benefitted from being on different ends of the size spectrum when they were cast together, and Carpenter has an idea for one more entry in the "Tall Girl" franchise. While talking about the first film to NBC Palm Springs, she said, "It was about something that I, one, didn't have to go through it that way, but went through in the other way. Like, if they make 'Short Girl,' I'll be in that one, too."