What Are Octomom's Kids Up To Today?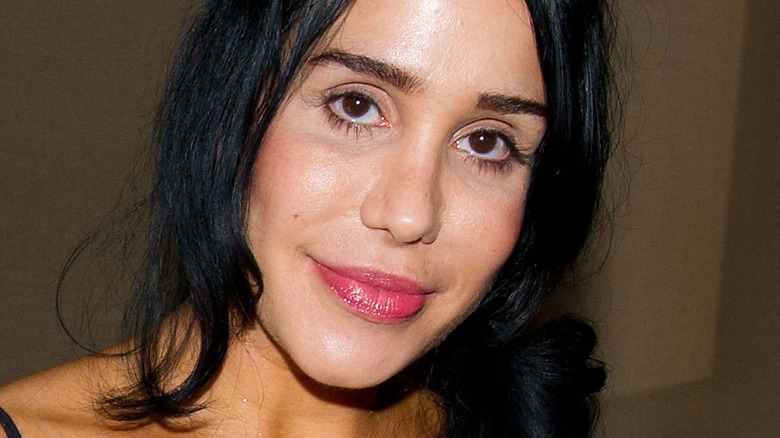 Jeff Fusco/Getty Images
Nadya Suleman, commonly known as Octomon, made headlines in 2009, when it was announced that she gave birth to eight children. According to The Guardian, Suleman — who was already a mother of five — underwent a series of in-vitro fertilization treatments, which led to the birth of her eight children. A short while after giving birth, Suleman revealed that she "coerced" a mystery man into fathering her 14 children, but expressed her regret for the move.
"I blame myself for bringing this on my own," Suleman told Radar Online (via ABC News). Adding, "These are my choices. I coerced him into helping me every year ... The more kids I had, the stronger connection I had with him, and I couldn't even imagine anyone else, and he knew that."
Suleman also received a ton of backlash from internet sleuths and even medical professionals, as some expressed concern over her ability to care for all of her children. However, with over a decade past and criticisms that have since quelled, the children are all grown up and are now teenagers.
Octomom's children are all grown up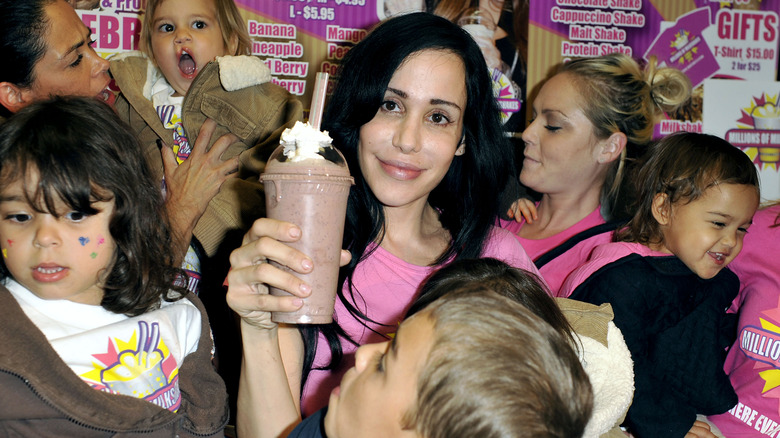 Toby Canham/Getty Images
Nadya Suleman has proved naysayers wrong, as she appears to be happily parenting her 14 children — which includes the octuplets. The eight children — Nariyah, Maliyah, Isaiah, Jeremiah, Josiah, Jonah, Makai, and Noah — are all now teenagers, turning 13 in January. In honor of her children's birthday, Suleman shared a touching message on Instagram.
"You are all growing into some of the most kind, humble, grateful and loving human beings I have ever known," she wrote alongside a throwback photo of the children. Adding, "I do not know what I could possibly have done to deserve being blessed so bountifully. I love you."
Suleman has also shared photos of her older children on social media. She gave her eldest daughter, Amerah, a special shoutout for her birthday, along with a slideshow of the two. Octomom's other children, Calyssa, Caleb, Elijah, Joshua, and Aidan, range from 16 to 20 years old. Suleman has also revealed that son Aidan is "severely autistic" and requires additional care.
How has Octomom's life panned out?
Nadya Suleman has seemingly shied away from her public persona and has remained relatively private in recent years. However, she revealed to the New York Times in 2018, she had secured a job as a substance abuse counselor and was living with all 14 of her children in a three-bedroom home in Orange County. She also told the publication that the birth of her eight children caused irreversible damage to her body.
"Four out of the five discs in my lumbar spine are ruptured, herniated fully. Think of a jelly doughnut being squashed, and it hits nerves, causing bilateral sciatica," Suleman said. "And I have irreparable sacral damage."
Suleman also makes regular use of her Instagram account — which boasts over 200,000 followers as of this writing. Suleman's social media grid is filled with images of her children throughout the years, including photos from holidays, family trips, and bonding sessions. The mother of 14 also appears to be a fitness enthusiast, and regularly shares images of herself in the gym.