Here's What Octomom Looks Like Today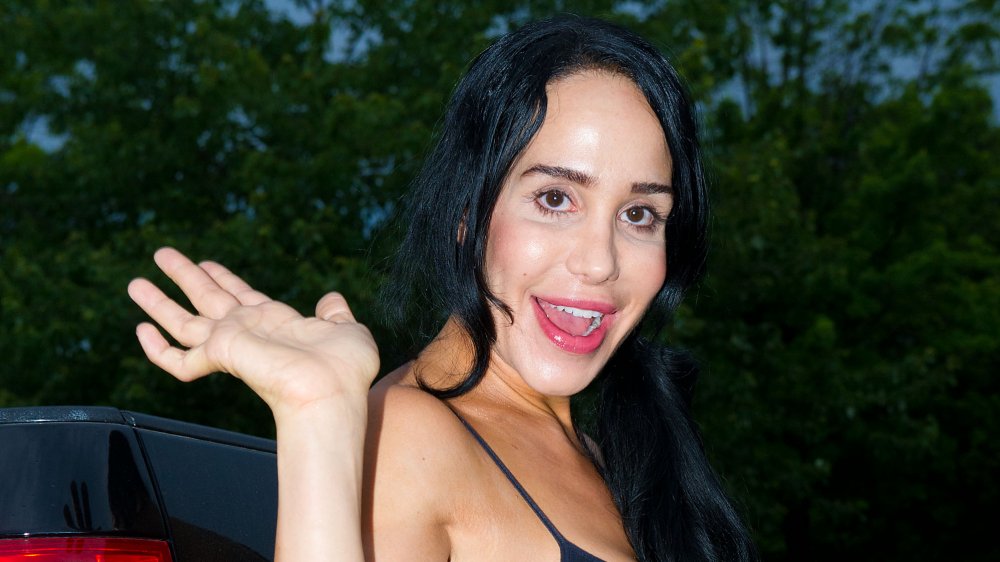 Jeff Fusco/Getty Images
For many, having a large family is a life goal. For Natalie Suleman (formerly known as Nadya), her unconventionally huge family became one of the biggest national sensations of the late 2000s. Suleman, aka "Octomom," catapulted into stardom when she conceived eight children at once through in-vitro fertilization. Suleman gave birth to six boys and two girls on Jan. 26, 2009, and managed to break a world record in the process. The eight children beat the former worldwide survival rate for an array of octuplets, per Guinness World Records.
Prior to her getting pregnant with octuplets, Octomom already had six children, according to Moms. Even as a mother to 14 children, Suleman surely doesn't look like it. While it's rare that she shares current photos of herself on her Instagram account, Suleman's July 2020 selfie video shows off her rather impressive post-pregnancy body.
Now that public interest in her life is waning, Octomom lives a private life in Orange County, Calif. with her children. The road, however, hasn't always been easy for her in the public eye. Keep reading to find out more of Octomom's life updates since giving birth.
Octomom's infamy resulted in a serious drug addiction
The public eye hasn't always been the best to Natalie Suleman. When her family first became the center of international attention, the money rolled in for a short-lived time. Octomom took on several different gigs in order to make ends meet for her large family. In 2011, Suleman took up celebrity boxing, from which she was later banned due to her agent allegedly owing money to several people, per HuffPost.
When celebrity boxing no longer became an option, Octomom dabbled in pornography and stripping. Her short stint in porn won her an Adult Video Network (AVN) award for "Best Celebrity Sex Tape," according to E! News. In 2012, Suleman did a semi-nude shoot on the cover of Closer, per USA Today.
Balancing infamy and caring for all 14 of her children, Suleman turned to Xanax and alcohol to numb her "deep toxic shame and self disgust," she told The Daily Mail in 2016. She told the outlet that she "made the decision to 'kill' the Octomom character in March 2013 in a bid to save her life." Suleman revealed to The New York Times: "I was pretending to be a fake, a caricature, which is something I'm not, and I was doing it out of desperation and scarcity so I could provide for my family." Since then, Octomom has made a huge turnaround. She's no longer using prescription drugs and she currently works as a counselor, per The Independent.

If you or someone you know is struggling with substance abuse and mental health, please contact SAMHSA's 24-hour National Helpline at 1-800-662-HELP (4357).