Uma Thurman's Daughter Maya Is Her Twin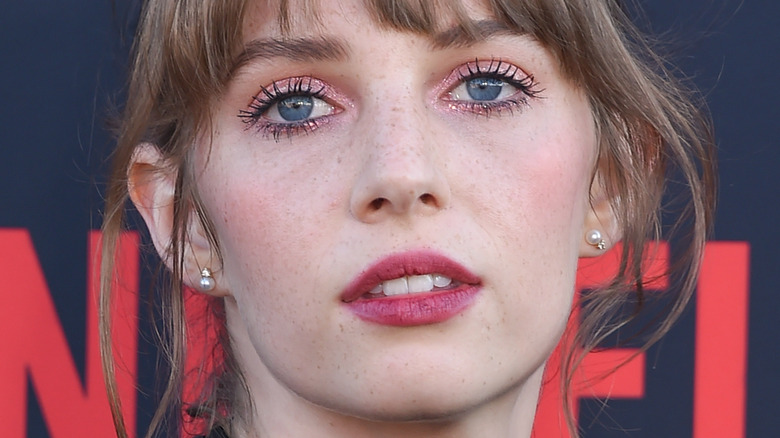 DFree/Shutterstock
Maya Hawke is following in her famous parents' footsteps. By 23, Hawke already had a legion of fans thanks to her breakthrough role as Robin in the mega-popular Netflix TV series, "Stranger Things." But as the daughter of Hollywood stars Ethan Hawke and Uma Thurman, Maya has acting in her blood.
She's also the spitting image of her mother as well, but many "Stranger Things" fans were shocked to discover that Maya was Thurman's daughter. One surprised fan wrote on Twitter, "Why am i just finding out Maya Hawke's parents are Ethan Hawke and THE Uma Thurman!!???!!?"  Another commented, "maya hawke and uma thurman are literally the same person."
Even director Quentin Tarantino, a frequent collaborator of Thurman, imagined casting Maya in an hypothetical "Kill Bill 3" after she appeared in his 2019 film, "Once Upon a Time in Hollywood." "The idea of casting Uma [Thurman] and casting her daughter, Maya [Hawke], and the thing would be f***ing exciting," he said on "The Joe Rogan Experience." But Hawke is much more than just her mother's twin.
Maya Hawke opens up about being her own person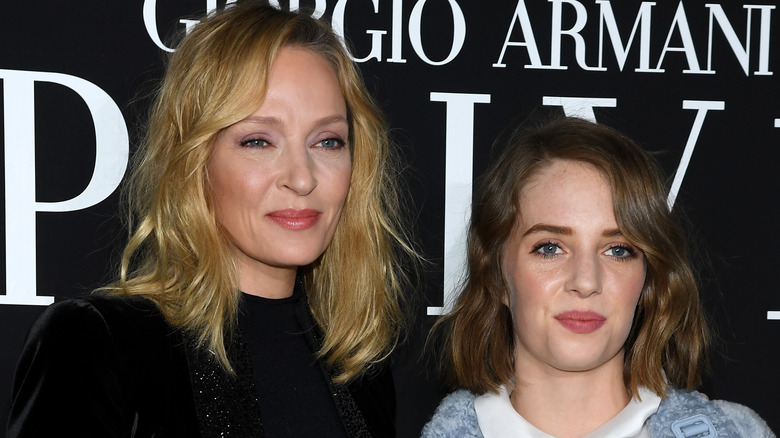 Pascal Le Segretain/Getty Images
Maya Hawke has always loved acting, but she quickly realized she would have to make the jump professionally if she planned on continuing her passion into adulthood. In an interview with People, Hawke talked about reckoning with her parents' fame while carving out her own career.
"I was always just doing school plays and acting camp over the summer," Hawke told the outlet. "I guess it clicked for me that I wanted to do it professionally when I realized that there were no school plays for adults. The happiest place in the world for me was on set or on stage." The star admitted that she believes her last name helped her, but she wants her success to be based on her own merit. "I think I'll get a couple chances on their name and then if I suck, I'll get kicked out of the kingdom."
Still, Hawke has turned to her mother for advice in making it in Hollywood. In an interview with Nylon, Hawke described her mother as "nurturing and loving and inspiring and safe and powerful." Hawke revealed that Thurman urged her daughter to make her own choices independent of everyone in the business — including her parents. "My mom understands in a different way from my dad how difficult that is. Because the voices are not as strong, the whispers are not as strong in men's ears." Thurman's is advice that Hawke has taken with her.
Maya Hawke thanks her parents for keeping her out of the business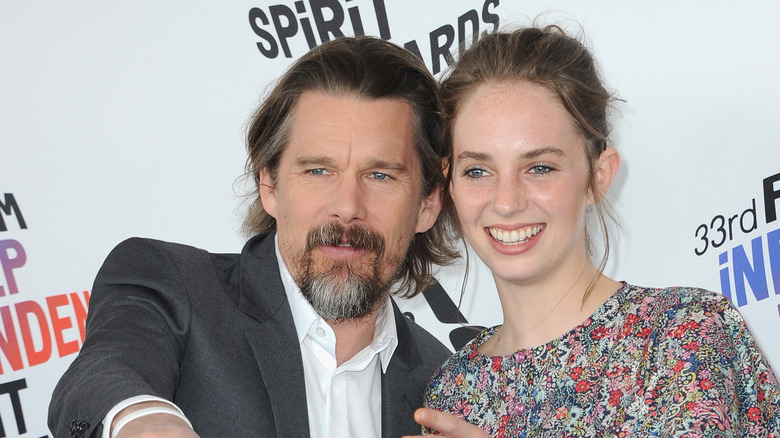 Albert L. Ortega/Getty Images
While Maya Hawke may be now finding her footing as an actor with the help of wise words from her mother, she's thankful that her parents kept her out of Hollywood growing up. In fact, she didn't land her first role until she appeared in "Little Women" in 2017. In an interview with People, Maya said her parents tried to "protect" her from acting.
"They wanted to ensure I had a strong enough backbone, my own passion for it and work ethic. They didn't want to cart me along every red carpet or have me do bit-parts in their movies," Hawke told the outlet. Still, they supported her acting dreams when she became an adult. For instance, both Maya and her father Ethan Hawke appeared in "The Good Lord Bird" together.
Meanwhile, Uma Thurman has also shared her thoughts on her daughter's acting career. In an interview with Access Hollywood, Thurman confessed while she wished her daughter would have pursued other avenues, she realizes what a gifted actor Maya is. "Obviously, there's nothing else that she would have ever done," Thurman admitted. As they say, like mother, like daughter!