Inside Sabrina Carpenter And Joey King's Friendship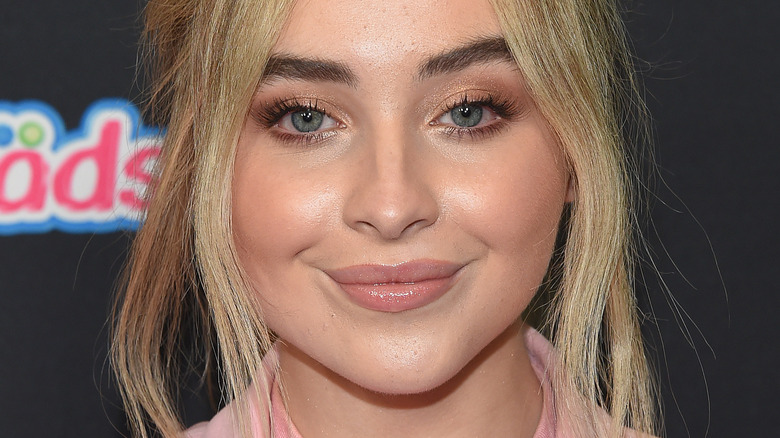 DFree/Shutterstock
Sabrina Carpenter began as an actress with small roles throughout the early 2010 in shows like "Law & Order: Special Victims Unit" and "Orange Is the New Black." Her career, however, took off thanks to Disney when she became best friend Maya Hart in "Girl Meets World," the spin-off of the iconic '90s show "Boy Meets World." She also worked behind the scenes as an executive producer on the Netflix movie "Work It." 
Carpenter then created her own label called At Last Productions and signed on to produce and star in a musical adaptation of "Alice in Wonderland" for Netflix, per The Hollywood Reporter. According to the young star, she pitched the idea to the streaming giant by singing over a Zoom call, she told Bustle. Outside of film and TV, Carpenter also became a music star. The music video for her 2017 hit song "Thumbs" amassed over 200 million views in a few years and in 2022, she released her single "Fast Times."
Another actor to watch under the age of 25 is Joey King, who began acting when she was only 4 years old. Throughout her career, King appeared in a wide range of genres from horror to comedy before landing the lead role in the 2018 Netflix film "The Kissing Booth" and two sequels, Byrdie recapped. Both King and Carpenter found their own ways to entertain audiences but in real life, the two entertain each other as best friends.
Here's how Sabrina Carpenter and Joey King first met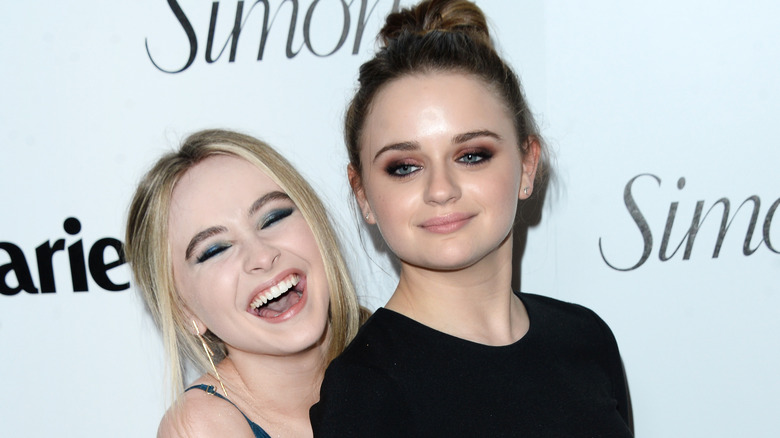 Matt Winkelmeyer/Pret-a-Reporter/Getty Images
Though Sabrina Carpenter and Joey King are relatively young in Hollywood, their friendship makes up a significant part of their lives. While attending the same charity event, King told Wired Carpenter introduced herself. "We don't know why it took us so long to become as close as we are now," King said, revealing they'd only see each other about "once a year" prior.
As of 2020, King said she was very close with Carpenter for about five years but the two knew each other for almost ten years. Carpenter even made a cameo in King's video interview for Rolling Stone. During the recording, King said that she had messages on her phone from Carpenter that said, "I love you." And for official joint appearances, King appeared alongside her friend in Carpenter's music video for her song "Sue Me." Carpenter also revealed that she would love to appear in the same movie as King and become a Gen Z version of Tina Fey and Amy Poehler. "It will be fun when it happens," Carpenter guaranteed to PopBuzz about a joint project with King.
The two might spend a little less time together because in 2022, King posted about her engagement to director Steven Piet. Among the comments, Carpenter showed her support while still joking with her friend by saying, "Still getting used to our open relationship but really happy for you guys" (via Just Jared).
The common connection between Sabrina Carpenter and Joey King
Lester Cohen/Getty Images
Sabrina Carpenter stayed on "Girl Meets World" for all four seasons between 2014 and 2017, per IMDb, but all along, she had bigger aspirations than just family-friendly television (similar to other ex-Disney stars like Zendaya). "There's so much more than the Disney blanket," Carpenter told Bustle. 
Joey King can also thank Disney for helping boost her career. Her first credited acting role was in "The Suite Life of Zack & Cody" when she was 6 or 7 years old, according to IMDb. Years later, King starred as a princess imagined as an action hero in "The Princess." Initially a Hulu release, the film would be made available on Disney+ in some foreign markets. As a result, King told ComicBookMovie.com, "Technically I'm a Disney princess here." 
Both stars would eventually step away from Disney, but became close with each other. In celebration of her bestie's birthday, Carpenter posted a series of photos of the two. She wrote in the caption directed at King, "the day u were born this world was cursed ... happy birthday my angel." Outside of their busy schedule in entertainment, Carpenter and King like to spend time together posting videos on TikTok or hanging around town. For example, paparazzi spotted King and Carpenter laughing and enjoying themselves in Los Angeles, the Daily Mail reported. Sometimes the two mix business and pleasure by attending the same parties, like Vanity Fair's 2022 Young Hollywood event, WWD reported.