The Truth About Tina Fey And Amy Poehler's Relationship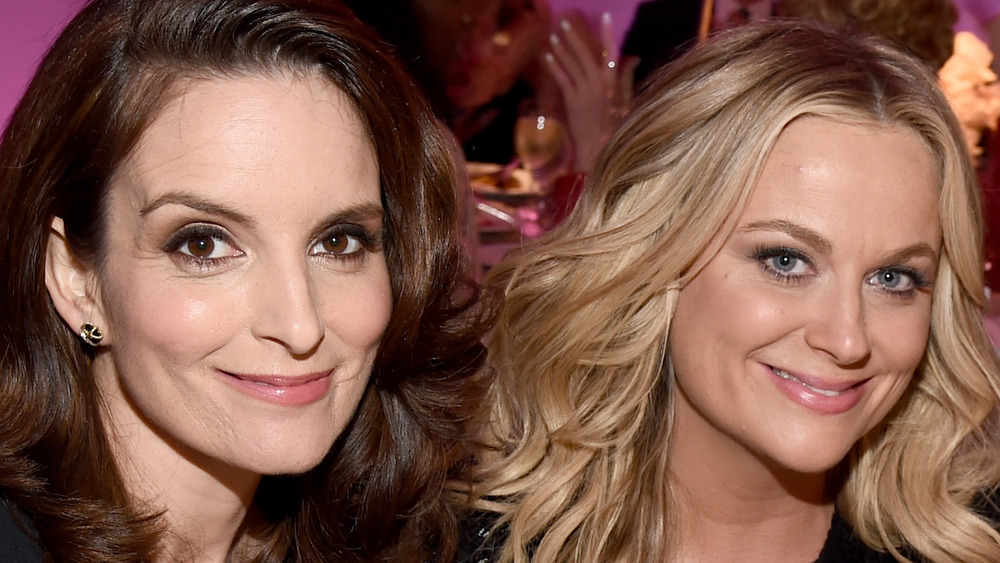 Michael Buckner/Getty Images
Comedians Tina Fey and Amy Poehler developed their friendship through a long history of sharing the stage and screen together. While many fans may assume they connected during their time on Saturday Night Live, the two actresses first started working together in the early 90s, per Refinery29. They met while taking classes at the ImprovOlympic in Chicago before joining the Second City Touring Company together. 
They reunited in 2001 on the set of SNL, where Fey had been working as a writer since 1997. "I was so happy," Fey shared in her 2011 autobiography Bossypants. "Weirdly, I remember thinking, 'My friend is here! My friend is here!' Even though things had been going great for me at the show, with Amy there, I felt less alone."
Over the next decade, the two friends teased their girl-mance through SNL sketches, working together in films like Mean Girls, Baby Mama, and Sisters, and even hosting the Golden Globes together three times in a row. The two longtime friends had come a long way together. "We met each other when we were poor and single," Poehler wrote in her 2014 autobiography, Yes Please (via The Guardian). "Now we are both rich as s**t and have husbands all over the world." 
As strong as their real-life friendship is, there is still a boundary that it seems they won't cross.
Why Tina Fey and Amy Poehler won't do a series together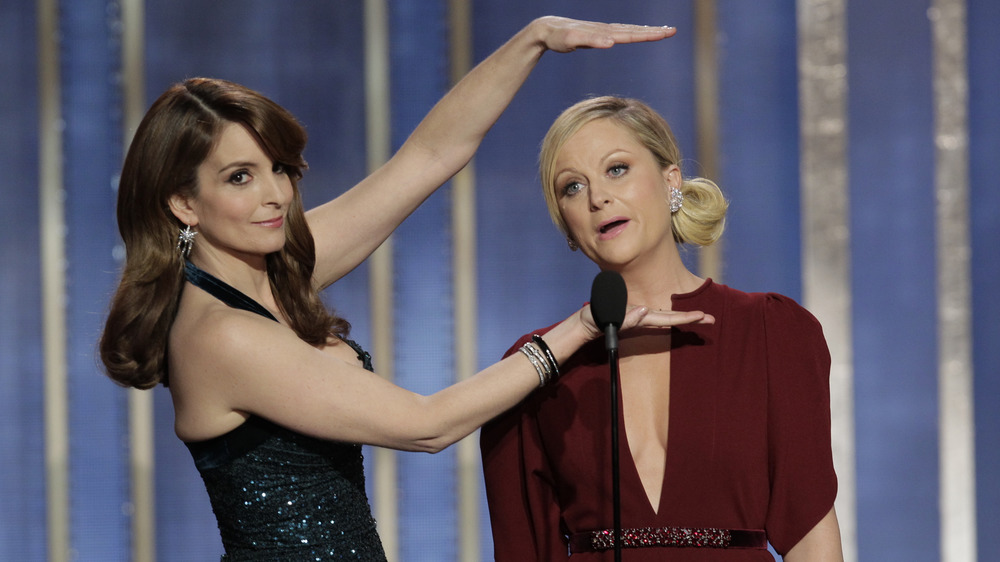 Handout/Getty Images
In 2015, Tina Fey and Amy Poehler took their friendship to new heights starring alongside each other in the comedy flick Sisters. The film's plot proved more than perfect for the longtime friends to pull off. "Neither Tina or I have sisters in real life," Amy told Entertainment Weekly. "We are each other's chosen sister. We're kind of like sisters and our parents are show business. We call each other to complain about how mom and dad have treated us at Thanksgiving." Too cute and too funny. The pair couldn't stop their gushing over their decades-long relationship. "It just wouldn't make sense playing sisters with anyone else," Fey glowed. 
As much as fans love seeing them on screen together, Fey has revealed why the two companions spread out their team projects rather than working on a series together. "She and I haven't really talked about this, but I don't know if we could ever do a series together," Fey told The Advocate in November 2015. "We're both alphas who like to do our own thing and then meet up occasionally." True friends know each other's limits and make sure not to overstay their welcome, which is something Tina Fey and Amy Poehler might have learned during their SNL days.