How Adam Sandler Almost Died While Filming Uncut Gems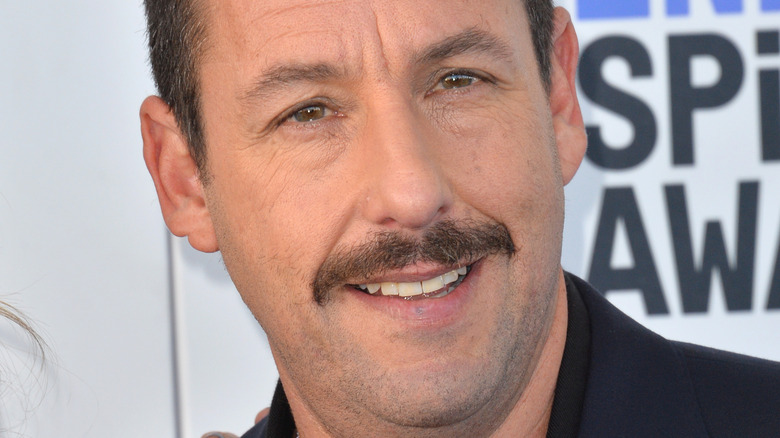 Featureflash Photo Agency/Shutterstock
You've heard of actors suffering for their art. Remember when Leonardo DiCaprio ate raw bison liver on his way to winning the Academy Award? But Adam Sandler may have topped him in the suffering department. Sandler had a health scare while filming "Uncut Gems" back in 2019.
Many critics called the thriller a resurgence for Sandler's career, which had stagnated with multiple screwball comedies. The thriller cast Sandler as Howard Ratner, a gambling addict that was in over his head. Sandler enjoyed working with the directors, Josh and Benny Safdie, so much he's partnering with them again for their next project, according to Entertainment Weekly. "Their work ethic is bananas," Sandler said of the Safdies to EW. "They're always working, always writing, always thinking. I don't know what I can tell you, but it's gonna be very exciting."
But despite Sandler's enthusiasm for both the directors and the role, the actor ended up in real peril while filming the future classic "Uncut Gems." In fact, he almost died! Unlike DiCaprio, Sandler didn't even get an Oscar for his efforts, which he promised to make audiences pay for in an interview with Howard Stern. "If I don't get it, I'm going to f***ing come back and do one again that is so bad on purpose just to make you all pay," Sandler teased, via Insider. "That's how I get them."
Adam Sandler almost died while filming Uncut Gems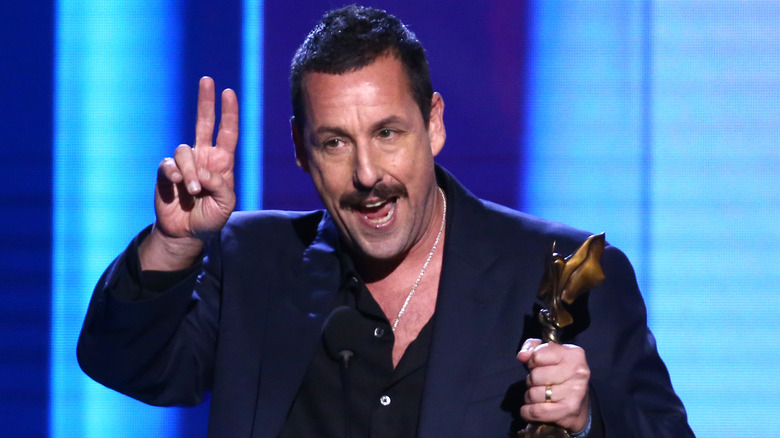 Tommaso Boddi/Getty Images
So, what happened to Adam Sandler on the set of "Uncut Gems?" Well, in the film, Sandler's character Howard Ratner gets pretty roughed up by guys he owes money to. When it came to filming the scene, Sandler was left gasping for air. According to Entertainment Weekly, the stunt ended up going wrong when a cue was missed.
Director Josh Safdie explained to EW how it all went south. During the stunt, Sandler got choked by his co-star. But the actor quickly realized he couldn't breathe and tried to tap out. Unfortunately, Sandler's co-star thought the actor was still in character as Howard and actually choked him harder. The stunt coordinator ended up coming to Sandler's rescue before things got taken too far. "A safe word? He couldn't speak!" Safdie said. "But he never said anything till after we cut and then he was like, 'Thank you.'"
Talk about suffering for your art, but that wouldn't be the last time Sandler narrowly escaped death in the past few years. In January, TikTok and Twitter users perpetuated that Sandler died in a viral hoax, according to the U.S. Sun. Fortunately, Sandler was very much still breathing, though he would go on to get injured on a movie set again.
Adam Sandler gets injured while filming Hustle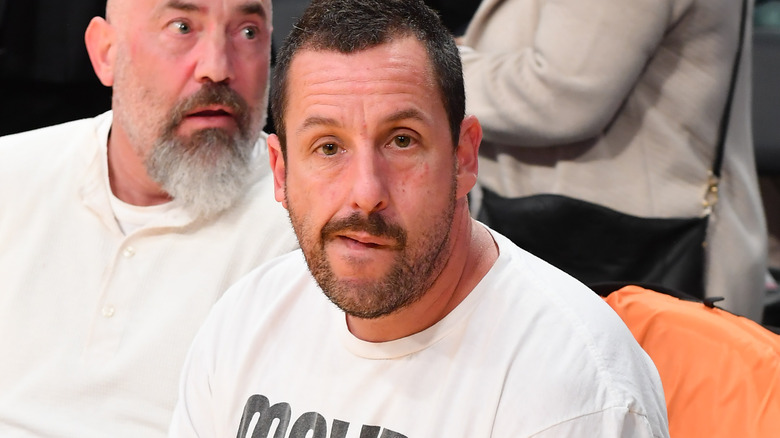 Allen Berezovsky/Getty Images
Adam Sandler didn't stay true to his word about following up "Uncut Gems" with a bad film. In fact, his latest effort, Netflix's "Hustle," has gotten some of the best reviews of his career. That film casts Sandler as a disgruntled talent scout for the NBA in what may be one of his most subdued acting efforts. But like "Uncut Gems," "Hustle" also brought significant pain for the actor as well.
According to Entertainment Tonight, Sandler ended up "popping his groin" while attempting to play basketball with some of his co-stars. The injury ended up being severe, according to the actor. "There was one night my groin couldn't take it anymore then I said, 'I guess I'm gonna have to watch these guys go,'" he recalled. In fact, the actor still experiences pain from the injury a year later, now walking with a limp.
Additionally, Sandler also recently gave himself a black eye as well during a bedtime mishap. According to Huff Post, Sandler said, "I had my phone in the middle of the bed. I kicked my feet up [to] untuck it. The phone went flying, hit me in the head." The actor appears to be accident-prone, but it's also working out for his career.