The Truth About Demi Moore's Plastic Surgery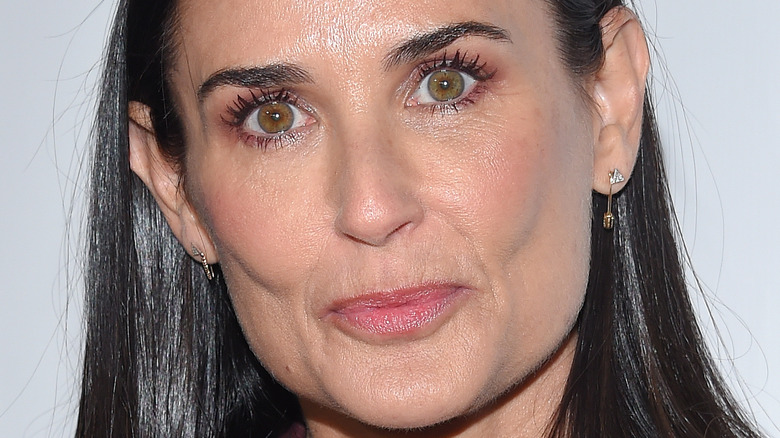 DFree/Shutterstock
Lots of celebrities get plastic surgery, but not everyone comes clean about the specific work they've had done. Demi Moore is no exception to this Hollywood trend. The "Ghost" star has wowed us for years with her distinctive beauty. But at times, her face has looked shockingly different. While Moore has opened up about her appearance before (like her missing teeth), her evolving face has remained somewhat of a mystery.
According to Yahoo, Moore talked about plastic surgery rumors in a 2010 Elle UK cover story. "I have had something done but it's not on my face," she said. "Maybe one day I'll go under the knife. It just irritates me that people are constantly saying how much I've spent on plastic surgery." Despite her brief commentary, Moore has basically kept quiet on this matter and continued to spark speculation. Although factors like aging and makeup can certainly impact one's looks, there definitely seems to be more to the story with Moore. There's no shame in going under the knife and keeping that information private. But certain photos have prompted fans to ask: Is plastic surgery responsible for her dramatic transformation? What cosmetic procedures has she had done?
Unless you are Moore's doctor, it'll be hard to crack the exact details of this case. But there's an abundance of public opinion addressing these plastic surgery rumors. Let's break down some of the information that'll point us closer to the truth about Demi Moore's changing appearance.
Demi Moore shocked fans at Paris Fashion Week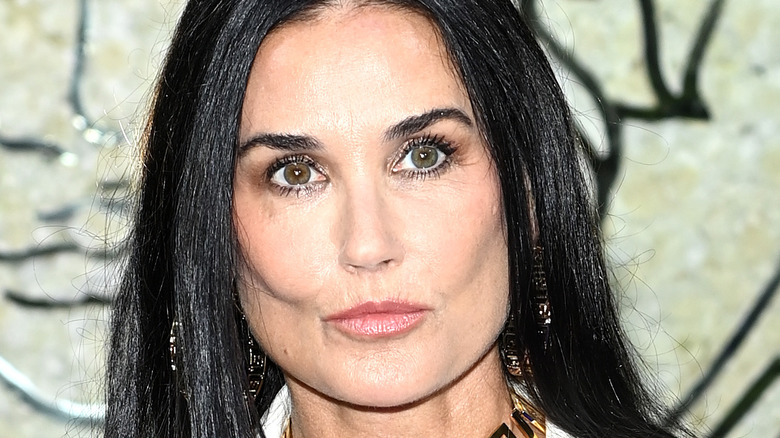 Daniele Venturelli/Getty Images
After Demi Moore opened a Fendi runway show at Paris Fashion Week in January 2021, fans reacted in shock at her seemingly unrecognizable face. Her excessively chiseled cheekbones didn't appear to be the result of too much contour. These noticeable differences led doctors to believe she went too far with fillers.
Celebrity injector Heather Rohrer told OK! magazine that February, "Her cheeks appear to be overfilled, causing the filler to migrate downward to the corner of her mouth." Plastic surgeon Dr. Frank Agullo also weighed in, saying Moore "has certainly gone overboard with the cheeks, lips and mandible — to the point of looking unnatural." He went on to describe the smoothness of her face and neck skin, which he attributed to "a combination of Micro-Botox and radio frequency." What does all of this translate to? A lot of plastic surgery. Quite possibly.
Meanwhile, Twitter had a field day with this seemingly cosmetic transformation. One user wrote, "It's the worst plastic surgery I've seen in ages." Others were less concerned with her actual appearance. "I've always said that fighting ageism is about having the choice to age however you choose," tweeted another person. Where does the catwalk queen stand on all of this? You guessed it; she chose not to get involved. Moore did post the runway video on her Instagram with a caption expressing gratitude, though. "Fulfilling a teenage dream," she wrote.
Demi Moore has a 'love-hate relationship' with her body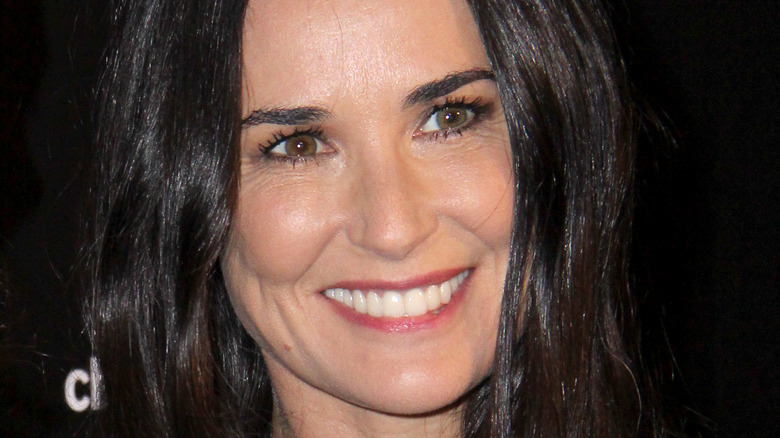 Kathy Hutchins/Shutterstock
While Demi Moore's face has been an area of debate, the public figure has been upfront about other aspects of her appearance, like her body image. In an interview by Harper's Bazaar in 2012, she said, "I have had a love-hate relationship with my body." She elaborated on her experience with aging, saying, "I find peace when I don't see my body as my enemy, when I step back and have appreciation and look at all that my body has done for me." Hmm ... does that perspective also extend to her face?
Although Moore may not be comfortable disclosing the details of her rumored plastic surgery, she hasn't shied away from sharing her skincare routine. In a Harper's Bazaar video titled "Demi Moore's Anti-Aging Nighttime Skincare Routine," Moore demonstrated a step-by-step tutorial that included cleansing and moisturizing. "My skincare routine is generally less is more," she described before digging into her go-to products, which she claimed work well for her "hypersensitive skin."
Though she's a fan of aromatherapy and serum, she revealed that "smiling" is her best-kept secret for free anti-aging. Is plastic surgery her best-kept anti-aging secret too? In Demi Moore's case, fans are quick to assume yes — for better or for worse.