Rudy Giuliani's Viral Fight With Grocery Store Employee Fully Explained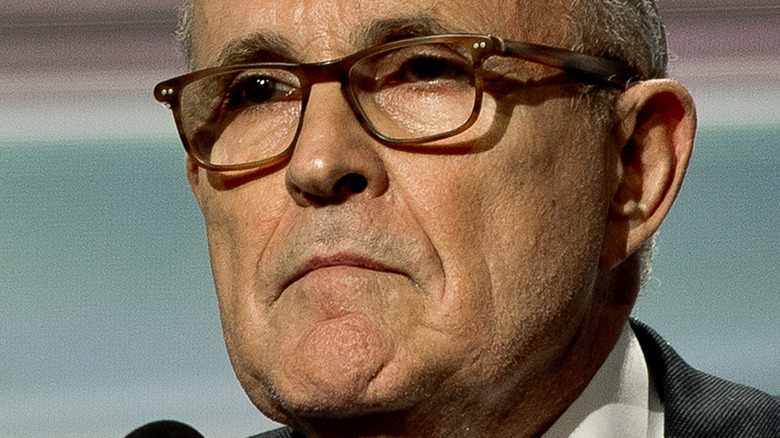 Mark Reinstein/Shutterstock
Update 6/27/22: The second-degree assault charges have been reduced to misdemeanors. 
Rudy Giuliani isn't exactly a stranger to controversy. The political figure turned former lawyer to Donald Trump has pretty much courted controversy for much of his career, with one of his biggest dramas coming when he unexpectedly featured in the 2020 movie "Borat: Subsequent Moviefilm" and was accused of some, well, pretty questionable behavior, per The Guardian.
Giuliani hasn't been afraid to make his true thoughts on various controversial topics known either, with some observers making it clear that, as NBC New York put it, the former New York mayor may have "gone off the rails." But Giuliani isn't too bothered about other people's opinions about him, apparently, as he told the outlet during an August 2021 that he's not the one who's changed. "I am aware of that. And what's happened is, our country has gone off the rails... I'm exactly the same person. They changed!" he hit back.
But it's no secret that not everyone is Giuliani's biggest fan thanks to his polarizing views — and someone decided to make that more than clear when the political figure took a trip to the grocery store. And the Twitter video of the moment everyone's talking about has gone viral with more than 2.8 million views.
Rudy Giuliani's viral slap incident
Video of the "assault" on Rudy at ShopRite, where Rudy had the person arrested, and said if he wasn't in better shape he would've fallen, cracked his skull, and died. pic.twitter.com/EpgSpPu2fk

— Ron Filipkowski 🇺🇦 (@RonFilipkowski) June 26, 2022
Rudy Giuliani felt the public's wrath on June 26 at a ShopRite store in Staten Island, as Giuliani was seen in CCTV footage chatting to people inside the store when an employee slapped him on the back, which he compared to a gunshot. "All of a sudden, I feel this 'Bam!' on my back. I don't know if they helped me not fall down, but I just about fell down," he said on 77 WABC (via New York Post), despite the video seemingly contradicting his version of a violent attack. "I feel this tremendous pain in my back, and I'm thinking, what the — I didn't even know what it was." He also said the man swore and called him a "scumbag." 
The assailant reportedly told Giuliani he wasn't happy about the June 24 Supreme Court ruling, giving each state the right to decide its own abortion laws. "The Supreme Court made a decision," Giuliani said in an interview after the scuffle. "You don't go around attacking people because of it. I mean, go get it changed." The employee has since been arrested for second-degree assault, which is a felony as Giuliani is a senior citizen.
Plenty reacted to the incident on social media, coming out both in support of and against the controversial politician. "Thoughts & prayers to Rudy Giuliani, who visited Staten Island today and had his privacy and body autonomy challenged by a man," one wrote in a viral tweet, while someone else tweeted, "The Supermarket employee who violently assaulted Rudy Giuliani should be jailed."