For Every Time Rudy Giuliani Has Been Controversial, This Moment Stands Above The Rest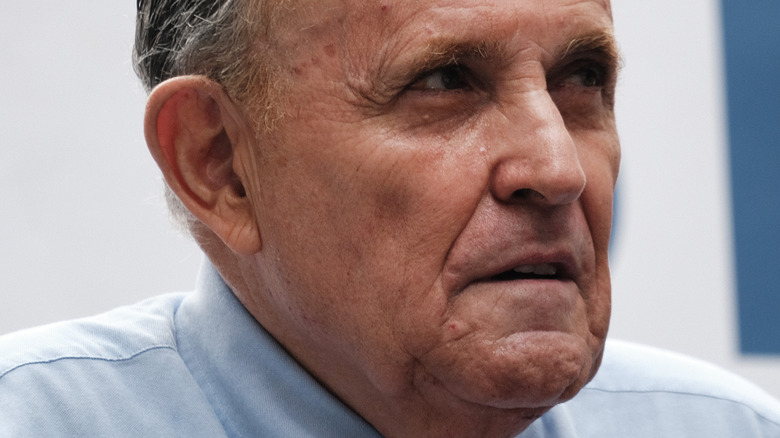 Spencer Platt/Getty Images
Former New York City mayor Rudy Giuliani once polled as the most popular politician in America from either party. A lot of this was due to the fact that he displayed a steady hand and comforting leadership following the terrorist attacks on September 11, 2001. But, ever since, Giuliani has been steadily falling from grace and out of favor with Americans. Fast forward to 2020, when he became a regular character on "Saturday Night Live," where Kate McKinnon portrayed him as a crazy individual prone to outlandish statements on behalf of then-President Donald Trump.
That same year, the ex-mayor was making headlines for all the wrong reasons. Whether he was holding bizarre press conferences that had everyone talking about his dripping hair dye, or meeting with reporters at Four Seasons Total Landscaping (and not the Four Seasons Hotel, as people understandably assumed), Giuliani was the butt of everyone's jokes. The fact that he continued to present unsubstantiated claims about voter fraud even after Joe Biden was declared the winner of the 2020 presidential election also did not exactly help his cause. It is fair to say Giuliani generated plenty of controversy — but even among all of his gaffes, one moment stands out above the rest. Keep reading to find out which one it is!
Rudy Giuliani caused a stir in 'Borat 2'
In October 2020, Rudy Giuliani made a cameo in the mockumentary "Borat 2," and as with many things in the film's franchise, it was highly controversial. Per USA Today, the scene shows Giuliani sitting down to speak with breakout star Maria Bakalova, who posed as a right-wing interviewer. The outlet reported that, after Bakalova invited Giuliani up to her hotel suite for a drink, she untucked his shirt to get his mic, and he laid down on the bed with his hand in his pants. Minutes later, Bakalova's co-star and on-screen father, Sacha Baron Cohen, burst into the hotel room to reveal the prank. But by then, the damage (to Giuliani's reputation) had already been done.
Giuliani responded angrily on Twitter, accusing the media of putting a "hit job" on him after he obtained a hard drive from a laptop that allegedly belonged to Hunter Biden. "I leaned back and I tucked my shirt in ... they have this picture ... that looks doctored, but in any event, I'm tucking my shirt in," he later said on his radio show (via USA Today). But no one else was convinced. "Having seen #Borat2 I can now safely tell you #RudyGiuliani is over in a very big way," actor Josh Gad tweeted. "It's worse than you think and more uncomfortable than anything I've seen in a recent film, documentary or otherwise." It still remains to be seen whether Giuliani can salvage his reputation after this.