How Many Times Has Robert Downey Jr. Been Arrested?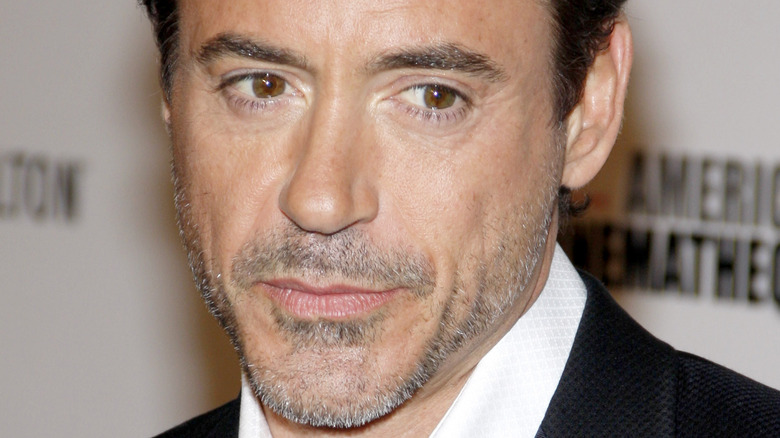 Tinseltown/Shutterstock
In recent years, Robert Downey Jr.'s fans have watched him on the big screen, making appearances in the Marvel Cinematic Universe as Iron Man. This latest role is certainly high profile, but Downey's career took off long before he got his repulsors. He was even a regular season of "Saturday Night Live" (1985 to 1986), although the star joked to Jimmy Fallon that it was "arguably the worst season" and that he was also dubbed the "worst cast member."
While the '80s featured roles that would help launch his career, the following decade saw things take a turn for the worse. In 1996, People reported to readers that Downey had "[become] the most recent casualty of Hollywood's heroin resurgence."
Unfortunately, Downey's brush with the law was not a one-and-done occasion. In the subsequent years, he would often find himself in the courtroom. While these appearances may have helped him prepare for his 2014 role in "The Judge," they were certainly worrying at the time.
Robert Downey Jr. has been arrested 6 times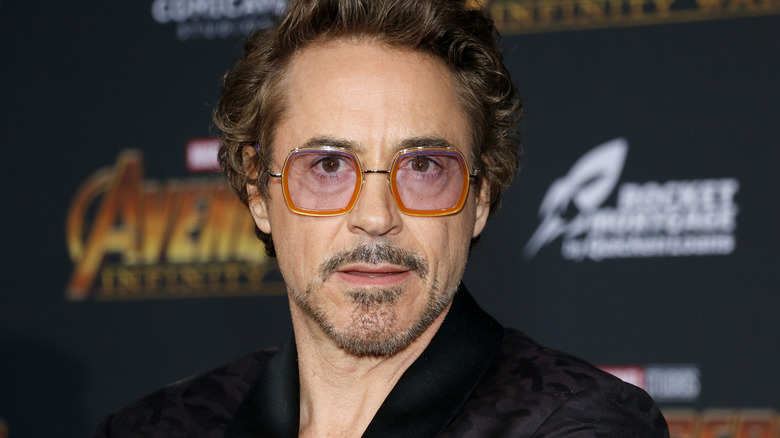 Tinseltown/Shutterstock
According to the New York Times, Robert Downey Jr.'s father and namesake passed him his first joint when he was a young child. This early exposure was his first step on a long struggle with addiction. That pathway wouldn't land him in jail until 1996, however, when was 31-years-old. People reported that the actor faced two felony charges and three misdemeanors, built up because of actions like driving under the influence, possession of illegal drugs, and carrying a handgun in his truck.
Once the floodgates had opened, it seemed like Downey could not escape. The Chicago Tribune reported that mere hours after his initial charges were finalized, Downey was arrested again on trespassing charges; he had broken into and fallen asleep in a neighbor's house while under the influence of drugs. Three days after that, CNN recounts an additional arrest due to Downey leaving his mandated recovery program. According to their report, Downey was then placed on probation, and sentenced to three years in prison when he violated that as well.
As BBC News reported, Judge Lawrence Mira felt as though she didn't "have any alternative [to jail.] We have used them all." However, after serving less than a year, Downey was out on bail, per Entertainment Weekly. This bail would come back to haunt him when he was arrested for drug possession in 2000, and once again for being under the influence of illicit substances in 2001. 
Robert Downey Jr. turned things around in 2003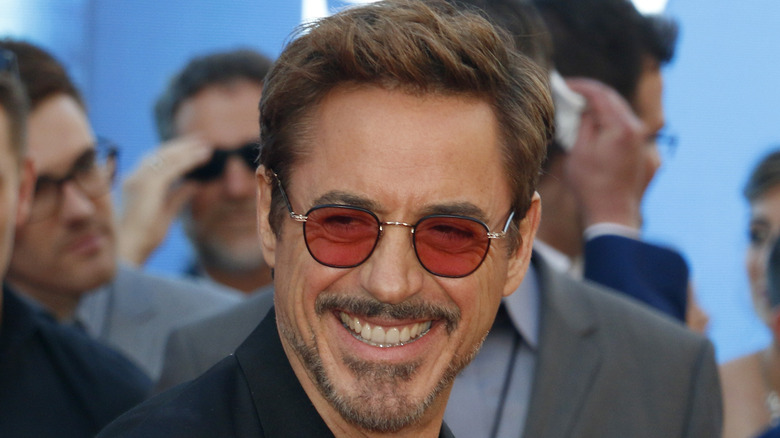 Tinseltown/Shutterstock
At the onset of his legal trouble in 1996, Robert Downey Jr.'s manager told People, "Every day I look in the newspaper and I think I am going to read [his] obituary." During his three-year sentencing, via BBC News, Downey told the court, "It's like I've got a shotgun in my mouth, with my finger on the trigger, and I like the taste of the gun metal." As his arrest record grew longer, Downey's chances of recovery and a smooth return to Hollywood seemed to diminish. But the star was determined. 
In 2003, he shared with the New York Times that he was done with drugs, having tossed his entire supply into the ocean. The actor gave Vanity Fair a closer look into his process for overcoming his addictions, saying in 2014, "For some folks it's just a function of age. It's perfectly normal for people to be obsessive about something for a period of time, then leave it alone." He also speculated that he inherited his addiction from his dad. Still, he seems to harbor no resentment. When asked about his dad's role in introducing him to drugs, Downey told the New York Times, "Can't we just get past that? There was a lot of other stuff, too. Texas beef and rice, my dad mixing iced tea with an upside-down hammer." 
If you or anyone you know is struggling with addiction issues, help is available. Visit the Substance Abuse and Mental Health Services Administration website or contact SAMHSA's National Helpline at 1-800-662-HELP (4357).