Why Jessica Alba Regrets Two Of Her Tattoos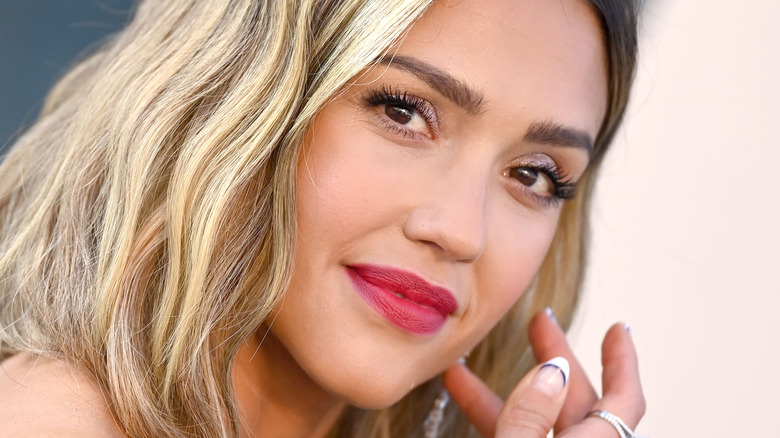 Lionel Hahn/Getty Images
Jessica Alba knows a thing or two about beauty trends and skincare. As the founder of The Honest Company, she's on the pulse about the latest skin technology and treatments — she certainly knows how important it is to take good care of your skin. She told NBC's Today, "I would say my No. 1 beauty advice for my kids is just being consistent since their skin is going to be changing with hormones." At the same time, the entrepreneur isn't shy to try out new techniques and fads. She revealed that her teen daughter taught her how to do a "puppy dog eyeliner" look that she now likes to "kind of experiment and play with that."
There's also nothing like showing off some meaningful body art on glowing skin. In 2019, the mom-of-three honored her kids in a special way. She took to Instagram to share a pic of the zodiac sign tattoos she got for each of them. She captioned the image, "Honor Gemini Haven Leo Hayes Capricorn." The constellation designs are placed on her inner right arm, and they are a permanent reminder of her children's birthdays. The "L.A.'s Finest" actor, however, has a couple of other tattoos that she's not as happy about, and she confirmed why she may have some regrets with some of her body art.
Jessica Alba succumbed to an early 2000s trend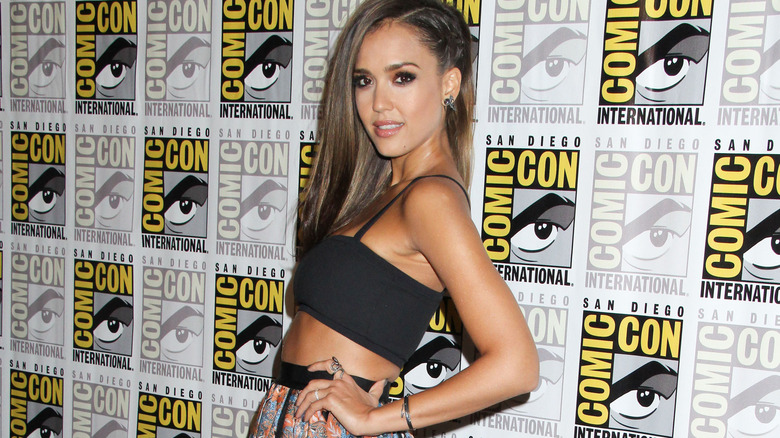 Kathy Hutchins/Shutterstock
Jessica Alba is a style icon and beauty guru, but that doesn't mean that she has never made some choices that she would later regret. Alba shared with Refinery29, "I do have a few tattoos, and I regret one of them... maybe two." She said that one of the tattoos she regrets is her lower back tattoo. In an interview with James Corden, she revealed, "Yeah, I have a tramp stamp," obviously flustered. Ben Schwartz, who was also talking to Corden that night, then asked her about it. She decided to come clean and said, "You know what, I was going through a breakup."
In 2016, she appeared on "The Late Show with Stephen Colbert" and revealed that she also has a tattoo on her wrist that she called "My First Breakup." She dished, "He [her ex-boyfriend] was really anti-tattoos, and I felt like after I broke up with him, I ... found myself again." Although she doesn't mention a boyfriend's name in either interview, Alba once told Cosmopolitan that Michael Weatherly was the first guy she had a serious relationship with. "I was so young, 18, when I started dating him. I was a virgin," she said about her ex-fiancé.
Alba's previous relationship may have inspired a tattoo or two, but she has come to regret her decision. She has revealed that she has struggled to get rid of another tattoo that is easily visible.
Jessica Alba has tried to get rid of this tattoo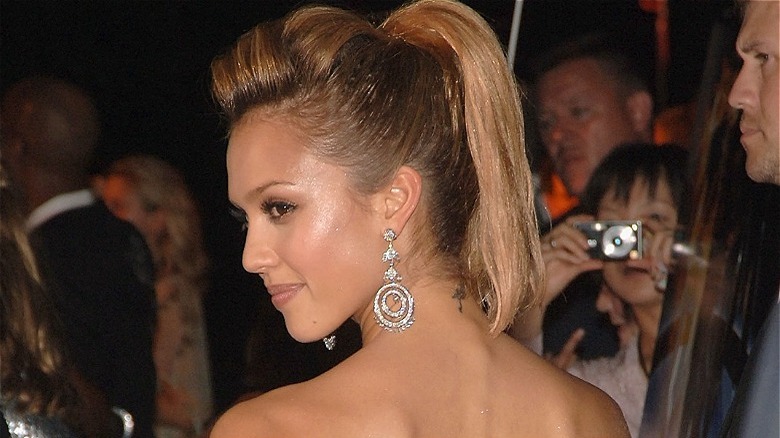 Brad Barket/Getty Images
Jessica Alba revealed that she made a decision as a teenager that had a decades-long impact. The "Fantastic Four" actor told Refinery29 that she has a tattoo of a flower on the back of her neck that she regrets. She shared, "I got it when I was, like, 17 and I'm so irritated that I got it." She continued, "I got it lasered many times and it's not coming out." Unfortunately, Alba has struggled to get rid of the tattoo, but to no avail. It would also seem that the body art on her neck is much more visible than the tattoo on her lower back due to its location. In a 2016 Allure interview, she said that she would advise her younger self to be careful about getting tattoos. She said, "You're never going to be in the same place emotionally and mentally at 18 that you are at 20 or 25 or 30." However, hindsight often comes too late.
The mother of three often shares her hard-won wisdom with fans. One of the things she has learned is that skin-deep beauty will only take you so far. She told Women's Health, "Confidence is always the most beautiful thing." Alba revealed that she tries to expose her children to a diverse group of people so that they know that everybody looks different, and that's okay. In fact, confidence matters more than any trend, fad, or body art statement.