The Truth About Lisa Kudrow And Courteney Cox's Real-Life Friendship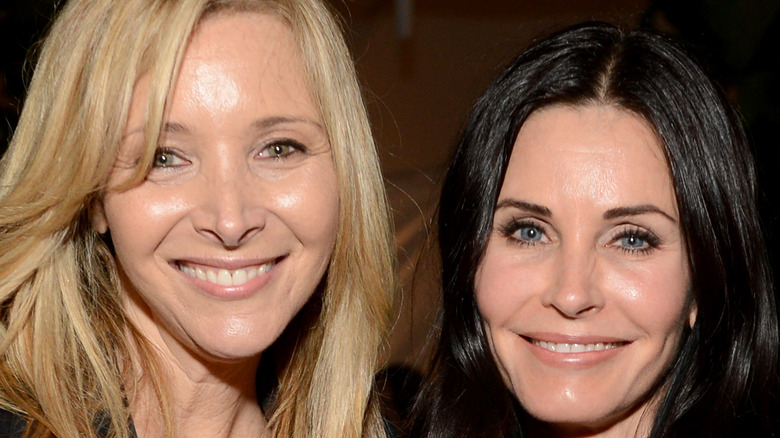 Michael Kovac/Getty Images
For over a decade Lisa Kudrow and Courteney Cox shared the screen on one of the most iconic shows in history — "Friends." According to IMDb, the NBC hit series first aired in 1994 and also featured Jennifer Aniston,  Matt LeBlanc, Matthew Perry, and David Schwimmer. The legendary television sitcom not only played a vital role in launching their careers, but they also formed a family bond with one another. While becoming close with your co-stars isn't unusual, it surely is rare.
In 2002 all six cast members took a stand together and demanded equal pay among the main cast, as no one actor was doing more work than the others, per Us Weekly. Because of their unity, the group managed to negotiate a whopping $1 million per episode. "That was the first time that people had all stuck together in a cast," Cox told Howard Stern. "It just got rid of bitterness," Kudrow added in the joint interview. The "HouseBroken" star also believes her former co-star played a huge role in the production's decision to give the green light on their salary demands. "I think Courteney had a lot to do with it, too, because she was the most well-known," she said. 
Kudrow and Cox shared some big life moments on-and-off air and together they became more like sisters rather than friends.
Courtney Cox showed up for Lisa Kudrow during a really hard time in her life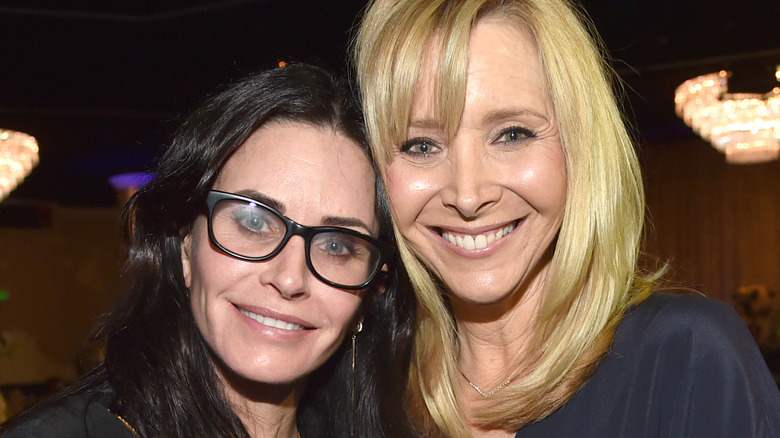 Alberto E. Rodriguez/Getty Images
Courteney Cox has been there for Lisa Kudrow during the good times and the hard ones also. According to People, Kudrow opened up to Howard Stern about dealing with the loss of her mother who died in February 2020 as a result of COVID-19. While that moment was incredibly tough for her, Kudrow credited her friends Cox and Jennifer Aniston for showing up to help her through it all. "These women came running to support, that was really nice," the actor told Stern (via People). 
Although they are like family, Kudrow was still amazed that the ladies were able to show up in a short time frame and during the beginning stages of the pandemic. "They came to the funeral, it wasn't a lot of notice, and they were there," she added.
While Cox was comforting Kudrow during her mother's death, the "Cougar Town" star had no idea she would be feeling the same pain less than a year later. The actor revealed on Instagram that her mother died in December 2020 — just 10 months after Kudrow lost hers. "Missing my sweet moma," she wrote on the one-year anniversary. Cox and Kudrow have proven to have a lot more in common than many realize. 
Lisa Kudrow and Courteney Cox don't remember filming 'Friends'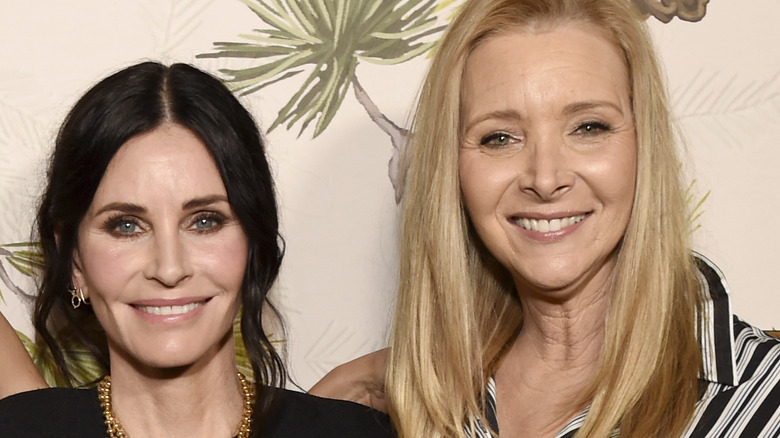 Michael Kovac/Getty Images
Although Lisa Kudrow and Courteney Cox shared a set together for over a decade, they both seem to have a bit of amnesia when it comes to being on it. During a "Sunday Sitdown" interview with Willie Geist, Cox confessed she doesn't remember filming "Friends" and often forgets what episodes she's appeared in. "I see it on TV sometimes and I stop and go, 'Oh my God, I don't remember this at all,'" she said. "It's so funny." Cox even admitted she doesn't even recall being in a lot of episodes. (She's been in over 200!) 
"When I did the reunion and was asked questions, I was like, 'I don't remember being there,'" she added. Even though it's been over two decades since Cox starred in many of those scenes, believe it or not — she's not the only one whose memory is a bit foggy. During an appearance on Sirius XM's "Andy Cohen Live," Kudrow revealed she too doesn't remember much of filming. "Courteney and I are completely in the same boat," she told a caller. "We don't even remember what the episodes were."
But, the most shocking revelation of all, was when the "Space Force" actor admitted to not watching all 10 seasons. "I know I haven't seen all the episodes," she added. Regardless if the ladies never remember anything about the show, "Friends" will always be what brought them together and what made them become a family.