The Truth Behind Hilarie Burton's Exit From The Hallmark Channel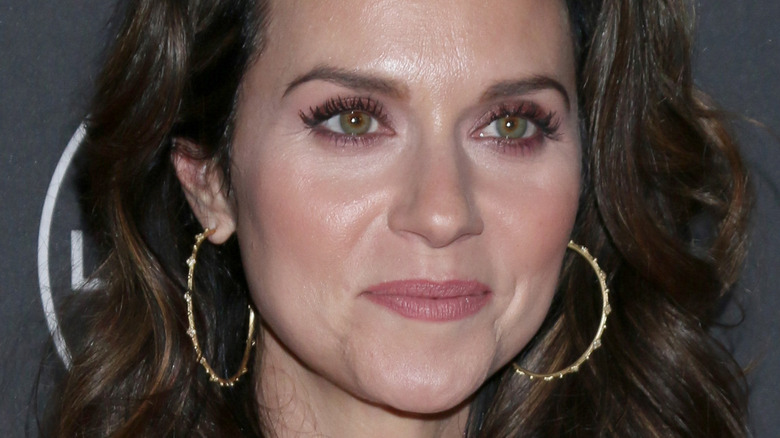 Kathy Hutchins/Shutterstock
Hallmark Channel is no stranger to scandals, as actors and viewers alike have been pushing for more diversity and inclusivity in the channel's iconic movies. Plus, some stars have also sparked backlash for their personal views or controversies. For example, Broadway actor Laura Osnes has starred in a number of Hallmark's movies. The self-described Christian conservative was apparently not allowed to perform in a show in the Hamptons in 2021 due to her co-stars complaining about her vaccination status, per Page Six.
The network has been in the news for other reasons as well. In early 2020, it was announced on Hallmark's website that the CEO of Crown Media, Bill Abbott, was stepping down from his role. "I want to thank Bill for his many years of success and contributions to Crown Media and wish him continued success," president and CEO of Hallmark Cards Mike Perry said in the statement. "I have tremendous confidence in the Crown Media management team and with this team in place, I will begin a search for Bill's replacement."
While the network has gone through changes over the years, Hilarie Burton is among the Hallmark Channel actors who have spoken out against the channel's lack of inclusivity in their movies. The actor starred in "Naughty or Nice," "Surprised by Love," "Summer Villa," and "The Christmas Contract," per TV Guide. Now, just like Abbott, she no longer works for the channel.
Hilarie Burton left Hallmark after fighting for diversity
Kathy Hutchins/Shutterstock
Hilarie Burton claims she was "let go" from a Hallmark movie, and Hallmark Channel in general, after standing up for more inclusivity in their movies, per Entertainment Tonight. She referred to her work with Lifetime as an example of what she had hoped Hallmark would do. These complaints came shortly after it was announced Hallmark Channel pulled advertisements with a same-sex couple in them, per CBS News.
Burton looked to Twitter to share her thoughts as she was going through old emails from Hallmark. "I had insisted on a LGBTQ character, an interracial couple and diverse casting," the actor stated in a series of tweets from 2019. "I was polite, direct and professional. But after the execs gave their notes on the script and NONE of my Requests were honored, I was told 'take it or leave it.' I left it."
Burton also mentioned that she would do it again — that is, leave again — "in a heartbeat." Although she stated that she wanted the job, as it was close to home and payed well, she told her Twitter followers that she didn't need the job because her husband, actor Jeffrey Dean Morgan, also helps out with paying the bills. She then went on to say that she feels lucky that she could walk away, as other actors starting out in Hallmark movies may not be as fortunate.
Controversy hit another Hilarie Burton project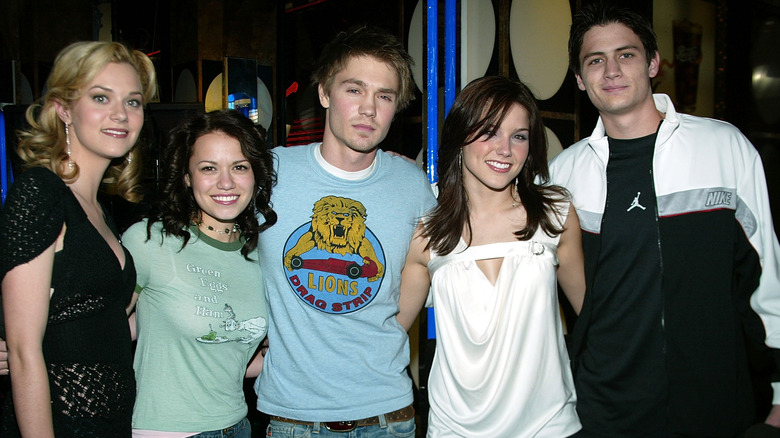 Frank Micelotta/Getty Images
After the tweets were posted, a Hallmark Channel representative told Fox News that Hilarie Burton was never employed at Crown Media Family Networks, and therefore never worked for Hallmark. Burton responded to Hallmark's response in a tweet, sarcastically writing, "They said they don't know me. Uh huh."
The outspoken actor previously starred in USA Network's "White Collar" alongside actor Matt Bomer, who is openly gay. The show also had one of its actors in a same-sex couple. But Burton is best known for her role as Peyton Sawyer in "One Tree Hill." Many people believed her departure from the show was because of something that was going on between her and her co-star Chad Michael Murray, but Burton claimed that the working environment was abusive. She took part in writing a letter, accusing the showrunner, Mark Schwahn, of sexual harassment and abuse.
"Many of us were, to varying degrees, manipulated psychologically and emotionally," the letter stated, reported by Variety. The letter, signed by multiple female cast members, stated that the reason they kept silent publicly was because the show was important to them, and they didn't want it to get canceled. However, it was mentioned that the women found a way to talk about their experiences to each other.
In addition to her acting work, Burton continues to make a name for herself by speaking up about topics she cares about — whether calling out on-set abuse or pushing for more diversity on-screen.