Former Federal Prosecutor Makes Grim Prediction About The Future Of Todd Chrisley's Business Empire - Exclusive
TV personality Todd Chrisley and his wife, Julie Chrisley, have found themselves in a world of legal trouble and their future doesn't look too promising. The "Chrisley Knows Best" stars have remained a staple on USA Network since their show premiered in 2014. However, the reality show family are now in the thick of a messy legal battle, as the pair were recently found guilty of bank fraud and federal tax evasion, per TMZ. Federal prosecutors said the famous duo "swindled" $30 million from different financial institutions in Georgia over the course of five years, per the Atlanta Journal Constitution. The outlet reports the couple is looking at a maximum of 30 years in prison after the guilty verdict.
Since their conviction, the Chrisleys have since revamped their legal team as they prepare to fight the court's ruling, according to Radar. However, some fans may be wondering what will happen to Todd's many business ventures if he is indeed sentenced to jail. From their hit show to their brand partnerships, the Chrisleys have a lot of opportunities hanging in the balance — and an expert exclusively tells us the future of their business empire is bleak.
Todd Chrisley could potentially lose a lot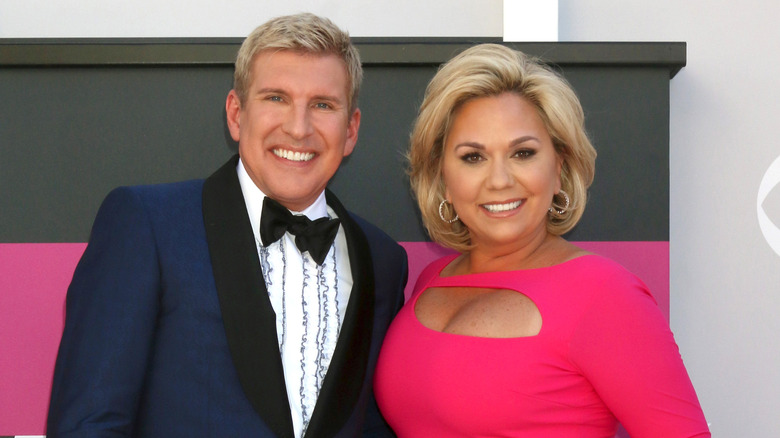 Kathy Hutchins/Shutterstock
Former federal prosecutor Neama Rahmani has weighed in on Todd and Julie Chrisley's ongoing legal battle to Nicki Swift, and suggested that the reality stars will undoubtedly face some hard time. "The Chrisleys are going to federal prison. It's not a question of 'if,' but a matter of 'how long?'" said Rahmani, who is president of Los Angeles-based West Coast Trial Lawyers. He adds, "Many network and sponsorship contracts contain provisions that allow the companies to terminate the agreements for cause if the actor or actress is convicted of a crime."
Rahmani goes on to explain that even if USA network decides to uphold Chrisleys contract, their stints in prison would prevent them from physically filming the show. However, the network appears to be standing by the reality show family, at least through "Chrisley Knows Best" Season 9. According to Deadline, the network was committed to airing the already filmed season of the show, but has not yet announced plans to continue working with the family.
"The Chrisleys will be able to communicate with the outside world and theoretically continue posting on social media while they're inside," Rahmani explained, "but they won't be able to photograph or film themselves in prison, so how valuable is content without their likeness? Not very valuable."