The Truth Behind Trixie Mattel's Drag Name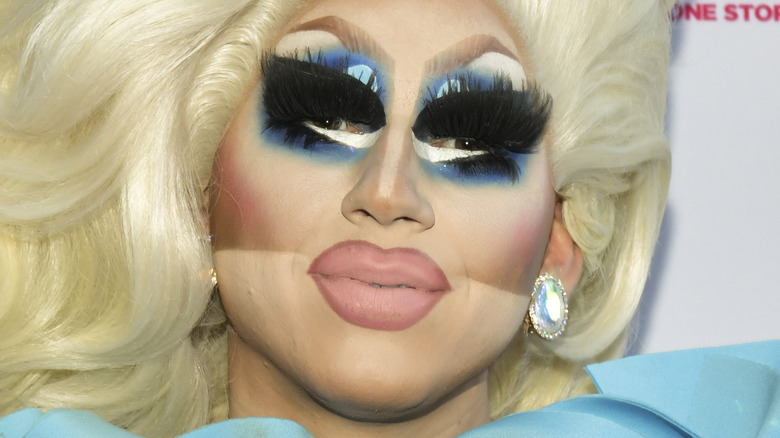 Rodin Eckenroth/Getty Images
Perhaps one of the most well-known queens to come out of "RuPaul's Drag Race," Brian Firkus — aka Trixie Mattel— has certainly transcended who she was when she originally appeared on the drag competition show. When we first met Mattel in Season 7, she was just a drag queen from a small town with a dream. In fact, Mattel was the first-ever queen on the show to hail from Milwaukee, Wisconsin, which has a very different drag scene than big cities like Los Angeles or New York. Although she wasn't as polished or fashionable as her competitors at the time, Mattel stood out for her quick wit and snappy one-liners. Sadly, the Milwaukee queen was sent home early and fought her way back into the competition, only to be eliminated again in 6th place.
But something remarkable happened once she left "Drag Race." Even though she didn't win, Mattel quickly became a fan favorite because of her ventures outside of the show, like her popular web series "UHNhhh" with fellow "Drag Race" alum, Katya. So when she was brought back for "RuPaul's Drag Race All Stars" Season 3, Mattel had droves of fans rooting for her. In the end, Mattel triumphed in the competition and entered the "Drag Race" Hall of Fame!
Now, millions of people know the Mattel's name. But where exactly did that name come from?
Trixie Mattel's drag persona comes from personal experience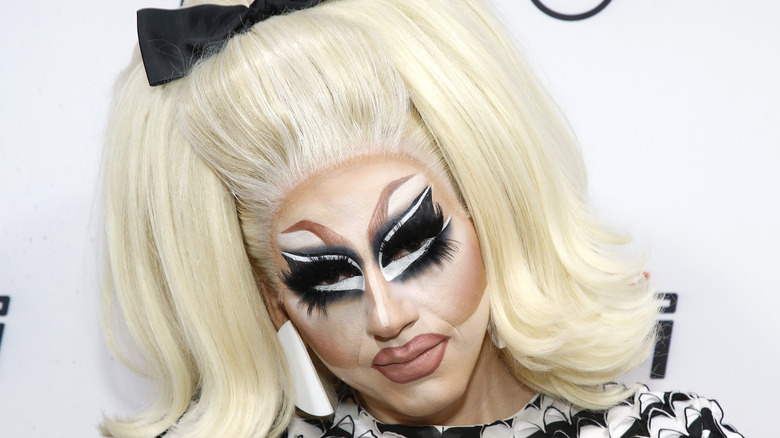 John Lamparski/Getty Images
When it comes time for a drag queen to pick a name, it's important that the name represents who they are. And Trixie Mattel is the perfect drag name for her, as she often takes style inspiration from Barbie dolls. She has a series on her YouTube channel where she shows off her huge collection of vintage Mattel Barbies in her home. "Growing up, I was never allowed to have dolls," Mattel opened up to Vogue. "I grew up poor and went to school for theater and didn't know anything about fashion, and [Barbie] was the one who really taught me what head-to-toe dressing was all about."
If that is where her last name comes from, where did "Trixie" come from? Well, that story is much sadder. "When I was younger, I had an abusive stepfather," Mattel shared in a Q&A with Milwaukee Magazine. "He would call me a 'Trixie' when I was acting too feminine or gay or being emotional." Then Mattel explained that she reclaimed the name when she played the role of the usherette Trixie in a local production of "The Rocky Horror Picture Show."
Mattel also revealed in an episode of her web show, "UNHhhh," that her stage name was almost "Cupcake." Could you imagine?
Trixie Mattel is a superstar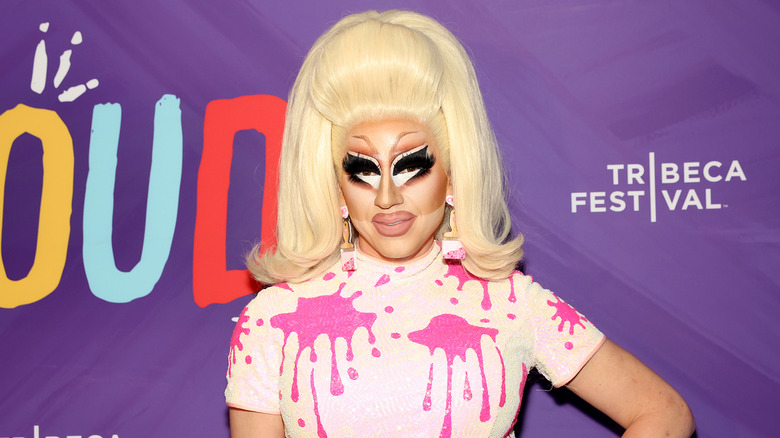 Monica Schipper/Getty Images
Even though the name "Trixie" originated from pain, Trixie Mattel has certainly turned it around and used it to become one of the most famous drag names in the world — probably just below RuPaul!
In 2019, Mattel established her very own makeup brand called Trixie Cosmetics. Selling everything from eyeshadow palettes to lip gloss, Trixie Cosmetics has become one of the premiere drag queen-owned brands and helped Mattel reach her $10 million net worth, per Celebrity Net Worth. Another one of Mattel's business ventures is her boutique motel, "Trixie Motel," which has gotten its own home-renovation-style series on Discovery+. She also stars as one of the judges on the drag singing competition show, "Queen of the Universe." Yes, Mattel is certainly a busy bee, but she is inspired by those who came before her.
"I'm just always thinking, how can we do more?" Mattel told Out Traveler. "How can Sylvester, and RuPaul, and all these people who literally paved, brick by brick, [the way to make] this possible for someone like me to do this in 2022 — I almost feel like, well, how dare I not pursue these things?"