Inside Tom Holland And Jake Gyllenhaal's Real-Life Friendship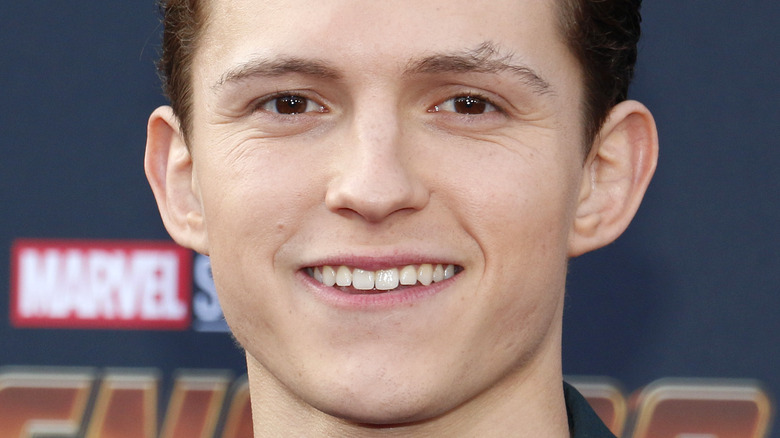 Tinseltown/Shutterstock
Despite the backlash actor Jake Gyllenhaal gets from Taylor Swift fans, he still has very good and supportive friends by his side. One of these pals is Spider-man himself, Tom Holland. The two actors met and became friends when they were filming for "Spider-Man: Far From Home." Gyllenhaal played a magician named Mysterio in the film, who fights alongside Spider-Man.
"They really just got along almost immediately," director Jon Watts told Entertainment Weekly in a 2019 interview. "They would always crack each other up during takes, and that was the only downside. We'd get halfway through an amazing take and then they'd make each other laugh, and we'd have to cut."
Holland is the youngest out of the actors in the Marvel Cinematic Universe, so the older actors often take him under their wing. For example, Benedict Cumberbatch — who portrays Dr. Strange in Marvel movies — mentioned in a LADbible "Agree to Disagree" video that he was often paired up with Holland during Avengers interviews so he could "babysit" Holland, as he is known for spilling the beans on the secretive plot of the movies. Gyllenhaal, who is 15 years older than Holland, has also stopped Holland from spoiling Marvel's movies.
Tom Holland calmed Jake Gyllenhaal's nerves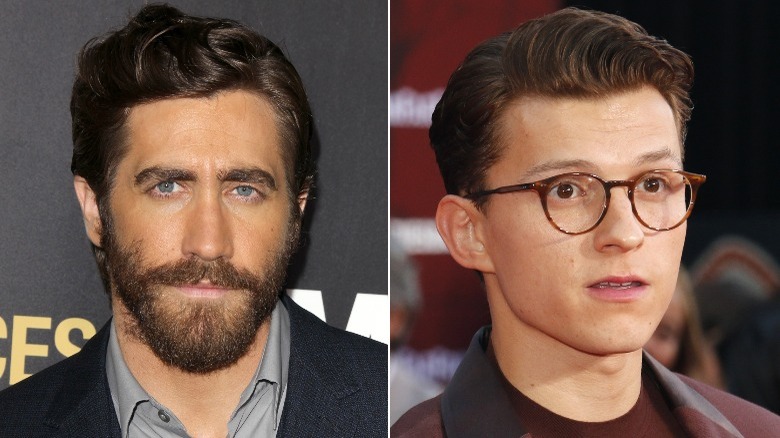 Kathy Hutchins & Tinseltown/Shutterstock
Putting Tom Holland spoiling Marvel movies aside, the 26-year-old actor and Jake Gyllenhaal have undeniable chemistry off-screen. According to People, Gyllenhaal recalled a time when he felt a little rush of nervousness while filming for "Spider-Man: Far From Home." He had a bit of a moment, as taking in the whole "I'm an actor in the MCU" feeling was starting to feel overwhelming. The actor described how he went to Holland for help, when he was the one who was usually giving out advice to the younger actors.
"The first day of shooting, I remember not being able to remember my line," Gyllenhaal said in an interview on "The Howard Stern Show" in 2021. "I was the wooden board, right? ... I went up to Tom Holland and I was like, 'Dude, help me out.' He's like, 'It's all good, just relax.' It was like he was me in so many situations."
The two Marvel actors not only respect each other as actors, but it's clear they love working together. Gyllenhaal even joked to Access Hollywood in 2019 that the "bromance" has gone too far to be called that, and deemed it a "straight-up romance" instead. Holland responded by saying that they're getting married.
The bromance continues after Far From Home
After a successful press tour for "Spider-Man: Far From Home," and many YouTube video compilations from fans that included the two's best and funniest moments together, fans wondered if the bromance between Tom Holland and Jake Gyllenhaal would last. We are happy to announce that these two actors are still the best of friends.
In June 2021, Gyllenhaal posted a picture on his Instagram Story to wish Holland a happy birthday. "HBD Tom Holland," the text on the story read, reported by Independent. "I miss ussss." Holland responded to the birthday Story by reposting it and adding three drooling emojis. According to Bustle, these birthday posts between Holland and Gyllenhaal have been a tradition since 2019, starting with Holland wishing Gyllenhaal a happy birthday and posting the hashtag "#husbandgoals" at the end of the caption of his Instagram post. The image above accompanied that message.
So, while fans are happy to be gushing about Holland's romantic relationship with Zendaya, they can also appreciate his friendship with Gyllenhaal.