Elizabeth Olsen Cried When Met This Iconic Actor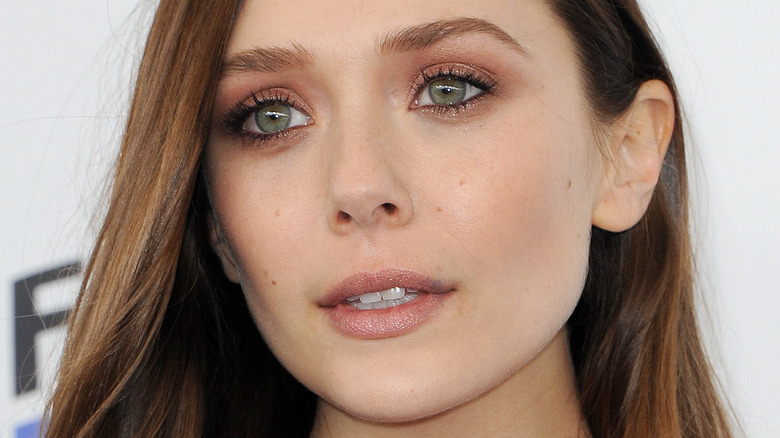 Tinseltown/Shutterstock
Actor Elizabeth Olsen has grown up in the spotlight. As the younger sister of the famous Olsen twins — Mary-Kate and Ashley — she has been surrounded by the fame from her sisters' acting careers and now fashion careers. As Elizabeth's older sisters gained recognition from the show "Fuller House," she also got to interact with the actors and she even got to make a cameo, per Entertainment Tonight.
"I always felt that having older twin sisters was an advantage," Elizabeth told Harper's Bazaar this past May. "I felt very clear about how I was going to navigate lots of things because of watching them. I also felt very protected." She went on to explain how her twin sisters would compete for her love and attention, adding that if one "spoiled" her, the other one wanted to do the same thing to one-up the original.
While Elizabeth's sisters eventually focused on their fashion line — even declining to make a cameo on the "Full House" sequel series "Fuller House" (per Us Weekly) — the younger sister stuck with acting, making a name for herself in the industry. But even though she's a Hollywood star, that doesn't mean Elizabeth is immune to fangirling over other celebs.
Elizabeth Olsen fangirled over Mark Hamill
Elizabeth Olsen, who originally wanted to go by her middle name Chase to separate from her sisters' careers, has gained a lot of recognition for her role in the Marvel Cinematic Universe, Wanda Maximoff aka the Scarlet Witch. From her first appearance in "Avengers: Age of Ultron" to her most recent appearance in "Dr. Strange in the Multiverse of Madness," Olsen has gotten to work with some of the biggest names in Hollywood including Robert Downey Jr. and Benedict Cumberbatch.
But the actor still gets starstruck when meeting other celebrities. One of those celebrities being Mark Hamill, who is known for portraying Luke Skywalker in the "Star Wars" films. Olsen and Hamill met at the "Captain America: Civil War" premiere, and PopCulture described Olsen's reaction as "priceless" as a fan shared pictures of the interaction on Twitter, hilariously misspelling Hamill's last name and correcting themselves in the thread.
"[R]emember when elizabeth olsen spotted mark harmill in the civil war premiere and started crying," the fan captioned the tweet. "same girl." Hamill responded to the tweet by saying, "That's MISTER Harmill to you!" and added an eye-roll emoji, making a joke at the fan's typo.
Elizabeth Olsen is a huge Star Wars fan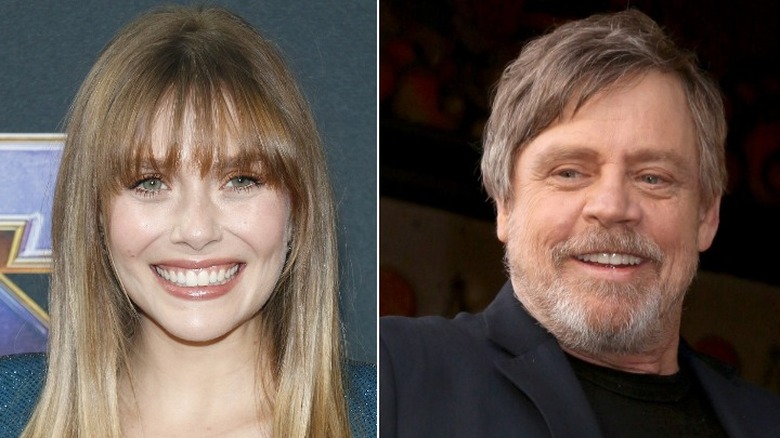 Tinseltown & Kathy Hutchins/Shutterstock
Elizabeth Olsen had been a fan of Mark Hamill from an early age. She mentioned how she was able to star in blockbuster action films because she expressed to her agent and manager that she was a fan of those types of movies. In fact, her interest in "Star Wars" helped her land the role of the Scarlet Witch, per Fansided.
"I told them, 'I want to be considered for the projects that I grew up [watching],'" Olsen stated to Collider in 2021, "Like, as a kid, looking at Star Wars and I was obsessed with Star Wars. You couldn't peel me away from Star Wars as a child. And so I was trying to figure out, how do I start putting that out there because I feel like all I'm getting are these really disturbed women in independent films."
According to Express, YouTube leaker Mike Zeroh may have spilled the beans on Olsen joining the Star Wars world. Although Express notes that Zeroh's theories are unconfirmed and aren't always true, it is rumored that Olsen will play one of the new Sith characters in the next trilogy. If the rumors is true, Olsen could be living her ultimate dream.